Interview: Wayne Blair, director of 'The Sapphires'
The rollicking Australian film is based on the true story of an Aboriginal girl group who went to Vietnam to entertain the troops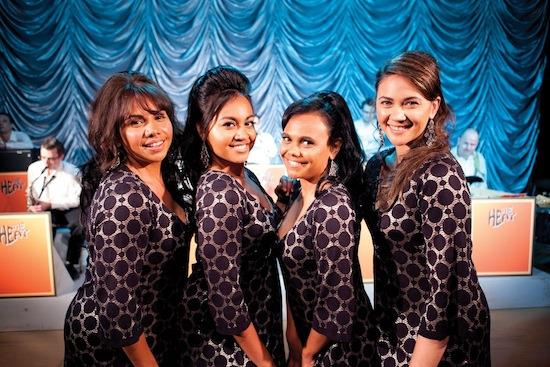 I can't imagine how anyone could sit through "The Sapphires," Wayne Blair's film about an Aboriginal girl group in 1968, and not fall in love with the four talented women in the lead roles: Deborah Mailman (Gail), Jessica Mauboy (Julie), Shari Sebbens (Kay), and Miranda Tapsell (Cynthia). Based on a true story, this hugely entertaining film also features actor Chris O'Dowd as a down-on-his-luck Irish guy marooned in rural Australia who teams up with the group as their manager and helps land them a gig entertaining American troops in war-torn Vietnam. In addition to a funny, moving, and toe-tapping story about love and friendship, you'll also learn about some of the challenges faced by indigenous peoples in Australia.

I talked to director Wayne Blair in Los Angeles.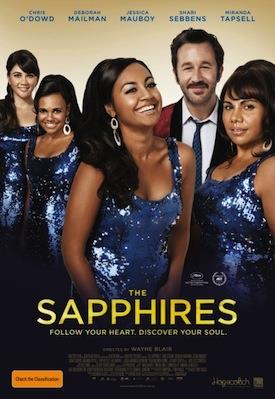 MSN Movies: I know you auditioned hundreds of women for this film, but the four you chose are simply fantastic.
Wayne Blair: Yeah, they were crazily beautiful to work with, their charisma was just infectious. What you see on the screen is the same love and energy that they have in real life.
I especially loved Deborah Mailman as Gail, the older sister. I understand she was in the original stage play written by Tony Briggs (the son of one of the original Sapphires who also co-wrote the screenplay)?
Yes, Deb was in the original show in 2004, but back then she played Cynthia. I was in the show, too. We did two seasons in Sydney and Melbourne, both sold out. Deb is a very well known actress in Australia. She really brings something special to that role, I think it was the hardest one to play out of the four girls!
How close is the film to the original play?
Well, a lot of the songs changed, and in the play, Chris O'Dowd's character was Australian.
I wondered about that. Did you make him Irish just because you got Chris O'Dowd?
Yes! And it fits because he seems even more like a fish out of water in this small country town in Victoria. Chris is pretty believable as a down-on-his-luck heavy-drinking womanizer! We definitely scored when he said yes.
Jessica Mauboy who plays Julie is a big pop star in Australia but I know some of the others do not actually sing on the tracks. Did you make the choice to choose actors over singers?
About 60 percent of what you hear is their actual voices. Whenever they're singing a capella, that's them. But first and foremost we went for the best actors. Jess was a great find—she hardly had any acting experience at all but she was great in that part. All of the girls auditioned about 4 or 5 times, it was important to find that perfect family dynamic!
I'm afraid that most Americans aren't that familiar with the plight of Aboriginal people in Australia. The missions seem a lot like our reservations—land set aside for these groups in less than optimal settings.
Absolutely. The Australian government would put Aboriginal groups in a place they weren't familiar with at all—completely new surroundings, usually in desolate areas with no natural food source and a harsh environment. But by the time we meet the four girls in this story Aboriginals had just gotten the right to vote in Australia. The times are a-changing and these girls just want to follow their dreams.
I loved how even though we see them having to deal with a lot of prejudice, they didn't seem like victims at all.
Yes, they were very self-empowered in a bad situation, that's the beauty of this story. All they want to do is sing, have a job, fall in love, even though they're still part of this oppressive system.
The horrible forced removal program when light-skinned Aboriginal children were taken from their homes and given to white families reminds me of what happened with some Native American children here. In the film the sisters' cousin Kay was part of that program. It's so moving when she finally reunites with her family. Did that start happening a lot in the 1960s?
There were many beautiful stories where a daughter or son would be reunited, but there were also many stories that would just break your heart.
The movie is totally enjoyable even if you know absolutely nothing about the history of Aboriginal people, but do you think American audiences may respond differently than Australian audiences?
I think so. I've been to five or six American cities in the last week and a half. The audience response has been very positive but the Q&A's after the screenings have been fascinating. Americans want to know all about the political history of Australia, especially the Aboriginal history. They know about the Vietnam War but the correlation between the civil rights movement here and the Aboriginal movement seems to be of great interest to American audiences, it's the first thing they ask about.  
Was it surprising to you how ignorant we are about this history?
Well, you guys have a lot to think about in your own little country!
Right—including our own hideous examples of discrimination!
Exactly. But that's why movies are so great. We can get informed and find out about new things by seeing them depicted on the screen.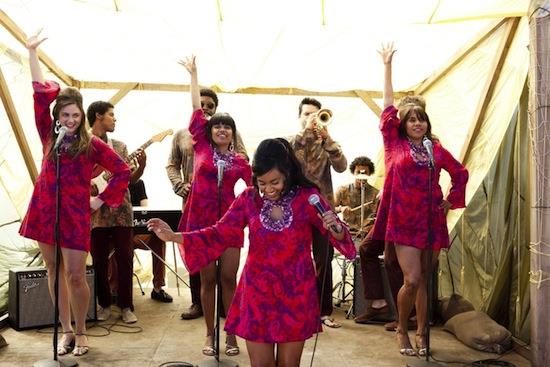 How closely does the film mirror the story of the real-life people it's based on?
They did have a group called The Sapphires who went to Vietnam. The group got some air time in Australia back then but they eventually disbanded when they got back from their tour and went on to live their lives.
Have the women who were in The Sapphires been going around with the film at all?
Yes, a little bit. They're in their 60s now and they've been greeted with standing ovations at screenings in Australia. It's great to see a film with such strong black Aboriginal characters. There are other films lately, too, like Warwick Thornton's "Samson and Delilah" and Rachel Perkins' "Bran Neu Dae" which Deborah and Jessica are also in. I think such films help influence the political landscape.
Would you say that life today for Aboriginal people in Australia is completely different than what we see in the film?


It's changed somewhat but there's still a long way to go. What I love most about this film is that by seeing this Irish guy and these four Aboriginal girls follow their dreams, they can become role models for people, both black and white. I imagine some young Aboriginal girl somewhere in the outback of Australia seeing the movie and thinking about how she can do what she wants in life.
If I've heard any criticism of the film at all, it's that you could've gotten into some of the uglier aspects of what these characters might have faced at the time, not to mention some of the harsher aspects of what was going on in Vietnam.
You know, we fleshed out the stage play somewhat, but we didn't want to make that kind of movie—we wanted this to be a joyous celebration of these four Aboriginal girls. Certainly the real women faced many dangers at that time and we tried to show some of that.
These are such great characters—any thoughts of doing a sequel?
There's nothing planned at this time, but I've fantasized about a film where the girls have to deliver someone's ashes to the Apollo Theater in the 70s. They start off in L.A. and then travel across the country to New York—
Ooh, it would be so interesting to see what they'd encounter as four black women traveling through the United States at that time—who they'd meet, what discrimination they might have to face.
I know, it would be great, and you'd have all that fantastic 70s music to pull from!
Does the shorthand label I've heard for the film bother you—the "Aboriginal Dreamgirls?"
Hmm, that just doesn't seem right. To me it's more the "Aboriginal Commitments!"
"The Sapphires" is currently playing in select cities. 
Are you sure you want to delete this comment?