Interview: Winona Ryder is in denial in 'The Iceman'
The Oscar-nominated actress plays the wife of a family man who's also a cold-blooded hit man for the mob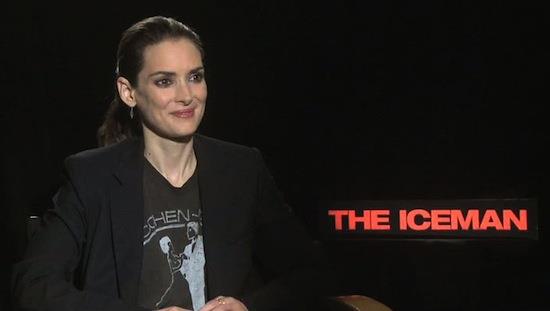 "The Iceman" follows real-life hitman Richard Kuklinski (Michael Shannon) from his early days in the mob until his arrest in 1986. Appearing to be living the American dream with his beautiful wife, Deborah (Winona Ryder) and their two daughters, in reality he's a killer-for-hire keeping his "job" hidden from his family. When he is finally arrested by the feds, neither his wife or children have any clue that he is a murderer. Avriel Vroman's film also stars Ray Liotta, Chris Evans, and David Schwimmer.

It's hard to believe that it's been over 25 years since Winona Ryder made her film debut. She starred in some of the most beloved films of the 80s and 90s and received Academy Award nominations for her performances in Martin Scorsese's "The Age of Innocence" and Gillian Armstrong's version of "Little Women" in which she played Jo March. Though her relationships and personal problems tended to overshadow her career in later years, the talented actress is always a welcome presence on the screen. I sat down with Winona Ryder in Los Angeles.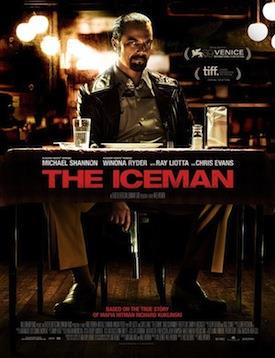 MSN Movies: It was actually quite believable to me how a person could lead the kind of double life that Richard Kuklinski had—maybe my wife should be concerned! But do you think on some level it was more that your character didn't really want to know what was going on with her husband?
Winona Ryder: Yes, I do. I've been hoping people would see that. We all know what denial feels like and we've all known people who may have problems with drugs or with cheating or whatever, but Richard Kuklinski was straight up murdering people for a whole lot of money. They were living very well and I think she really liked living well. I tried to infuse this a little bit in playing Deborah. There's this scene where we're dancing and she says, "I'm very proud of you." She liked her life. So I think to that extent maybe she bears some responsibility, maybe she knew it was blood money but just didn't want to think about it.
I felt that kind of complexity in the character.
I really appreciate you saying that. I tried so hard to show what was going on in the head of this woman, that she wasn't just an innocent bystander.
It's always easier for us to choose not to look at the negative things in the people we love—or in ourselves!  
I know. We've all known people, myself included, who were in relationships with people and had no idea what they were really doing. We all know those people and this is just taking it to the next level. This guy was not living in some war-torn country, it was not kill-or-be-killed. Richard simply chose to kill. I was really interested in who this woman was who would choose to stay with him. It's funny because when we were on a panel at the Venice Film Festival, someone asked Ray Liotta about his character, the gangster Roy DeMeo, and he said, "Well, I think there should be a movie made about my character!" He was kidding, but in a way we all feel that about our characters. We're all here to support Michael Shannon—it's definitely his film. But instead of being drawn to Richard Kuklinski, I was really interested in her!
Did you have any contact with the Kuklinski's real-life wife?
I didn't. She changed her name and I'm not even sure if she's alive. I think their kids changed their names, too.
Her real name was Barbara Kuklinski, I heard a harrowing interview with her on Larry King from a few years ago. I know that in real life she was far more terrorized by Richard than was depicted in the film, although she certainly stayed with him until he was arrested and claimed not to know the full extent of his activities.
What I heard, and I could be wrong, was that they had a pretty sick relationship and that she once came at him with a knife the way his mother once had. But I didn't do a lot of research of this specific woman because it would have affected how I was playing this character as it was written.
You know, despite all the horrific murders we see in this film, I was probably more on the edge of my seat during that scene when you're all in the car with Richard and he gets mad at another driver and starts to recklessly chase him through the streets. What was that like to shoot?
Well, it was the first day of filming for me and the girls, McKaley Miller and Megan Sherrill. They were amazing and tremendously helpful to me on this film—it was impossible not to love and want to protect them! Shooting that scene was very scary and I was not acting, I was truly freaking out! You know, this was not a big budget film and we didn't have a lot of time.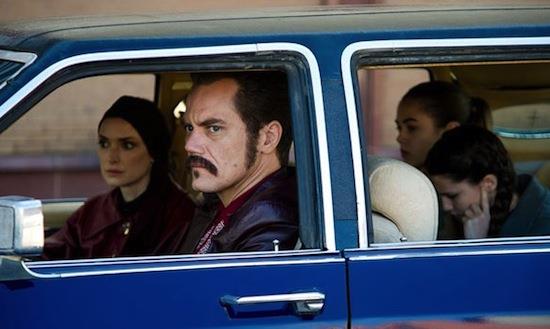 You mean you were really speeding around the streets in a car?
Oh yeah! Actually, I don't know if I should say this, but we had to switch cars at one point because we crashed! The continuity people must have had their hands full—there's a little hiccup there! Michael was very focused and very in his mode and it was our first day on the film and these little girls were scared and I was terrified! And we were supposed to be in the 70s so there weren't any seat belts!
I just read an article about the film that said, "I've never met Michael Shannon and I'm sure he's a nice guy but one look at his face and I believe he could be a murderer!" Does he seem that intense in real life?
He's an amazing actor and you never know what he's going to do between "action" and "cut." Which is great because it really keeps you on your toes and keeps you very present. But in real life he's kind of this sweet, sheepish guy, it's funny. I remember that he didn't eat during the day so every night he went out to dinner at a restaurant in Shreveport. I thought that was interesting that he was so social after work, after playing such an intense role.
You mentioned how much you loved the two girls. I don't remember many movies where you got to play a mother, was it fun having that relationship in this film?
It was great, we just bonded instantly. And they were the same age that I was when I started so that gave me a double dose of wanting to make sure they were okay. It's a very vulnerable age and I could relate to that. I give them as much credit as anyone in terms of helping me with my performance. I could not have done anything that I did in this movie without their help.
Do you think that it's very different for actresses today than when you were a teenager making movies?
I imagine that it is. I was very lucky, I had a great family, I was up in the Bay Area in public school. I stayed up there until I graduated. To go on an audition, I had to drive like nine hours in our '68 Volvo!
So you weren't part of the Hollywood scene as a kid?  
Not at all. It was funny, because people down here were like, "Oh, she's turning things down! She won't audition!" They thought I had some big strategic plan when it was more like we didn't have the gas money to drive to the audition! It actually worked in my favor in a weird way. But I was very lucky in having such a great support system—not every young kid does. And we've all seen what can happen. My parents were always asking, "Are you sure you want to be in the movies?" I had to sort of beg them, actually, because they had this whole Judy Garland scenario in their head! But again, I was lucky because I had great people around me. I still do!
It must have been fun wearing those clothes from the period in this film. Of course, after living through the 70s and 80s, we all thought those styles were awful. Now they're cool again!
It's funny—someone was telling me that RuPaul has a show and they did a "Heathers" thing that won. All those clothes are back now! But Deborah's clothes were elegant and beautiful and they really helped me carry myself in a different way.
And I loved all that 70s facial hair on the guys!
Yeah, Michael quickly realized that he couldn't really smile or talk with all that facial hair. It actually worked for his character but it was very restrictive! I'm glad I'm not a guy and didn't have to deal with that!
 "The Iceman" is currently in theaters.