LAFF Interview: The directors and stars of the indie charmer 'Forev'
Molly Green and James Leffler's quirky road-trip movie features winning performances by Noël Wells and Matt Mider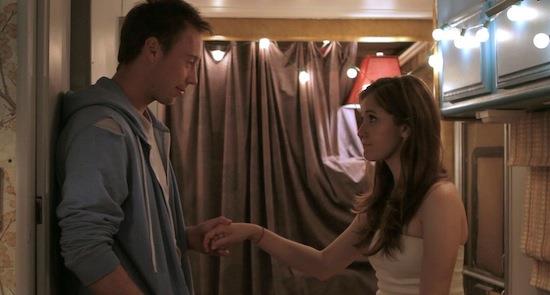 One of the most enjoyable parts of attending film festivals is getting the chance to see small indie films made by promising first-time directors and featuring talented actors who are not yet household names. The 19th Annual Los Angeles Film Festival (presented by Film Independent) started this week and I've already seen several very original films that completely won me over. One of these is an odd little romantic comedy (of sorts) called "Forev," written and directed by Molly Green and James Leffler. The film stars Noël Wells and Matt Mider as two slightly damaged souls who get engaged on their first date…sorta.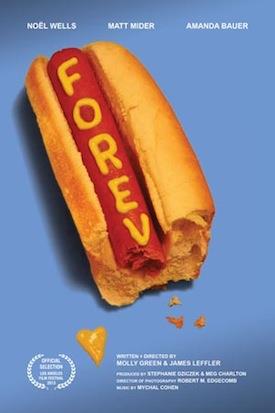 Sophie (Noël Wells) and Pete (Matt Mider) are kind of friends. Mostly they're just neighbors in a crummy East Hollywood apartment building. When Pete has to drive six hours to pick up his little sister Jess (Amanda Bauer) from college, Sophie invites herself along. Somewhere on the drive through the desert, a joke about getting married escalates, and by the time they arrive at Jess's sorority house in Phoenix, they are officially engaged. If their lives felt stalled before, then this is the perfect fix. They can split rent, buy milk by the gallon—and, if Sophie marries Pete, he never has to worry about getting up the courage to ask her out. They expect everyone to be as excited as they are by their news but Jess, who just broke up with her long-term boyfriend, is horrified. When their Jeep breaks down on the way home, they find themselves stranded at a seedy motel in the middle of the desert. And, after a night at a local bar, Jess disappears with a bearded drifter. Lost and suddenly dependent on each other, Sophie and Pete's scramble to find his sister and get back to L.A. exposes the cracks in their budding relationship. By the time they find Jess and her one-night stand, they've started to realize that falling in love can be a lot scarier than getting married. "Forev" is a romantic comedy about how far you can go without saying what you mean. It will also make you never want to eat a hot dog again.
I sat down with Molly Green, James Leffler, Noël Wells, and Matt Mider the day before the film's world premiere at the Los Angeles Film Festival.
MSN Movies: How long have you been working on this film?
James Leffler: A little more than two years from the moment we sat down with these guys and said "Let's make a movie!" to when we finished editing the film a week ago.
Sophie and Pete are such great characters. Did you have to work hard to make them as quirky as they are but still keep us rooting for them?
James: Our thought was that if you knew where they were coming from, you'd still be with them. Most of those moments of humanity came from working with these guys as we were writing the script.  
Molly Green: But we did spend a lot of time reining it in so they always seemed real.
Matt Mider: I come from sketch comedy so wacky and silly is what I think is funniest. My first instinct when we were making the film was always to do something really stupid. I feel like they had to do a lot of, "Okay, that was funny but now let's try it another way!"
Molly: But some of that stuff stayed in. It was good to have those moments, too! Matt's character is a guy whose only way to express emotion is through weird physical contact. He can only honk on someone or give them a giant hug or noogie. He can't actually be real with people.
Noël Wells: He treats everyone he knows, even Sophie who he's interested in, like a younger sibling.

Bing: More on the movie 'Forev' | More on the L.A. Film Festival
Did you do a lot of improvising on set?
Molly: We mostly improvised the scenes beforehand, and then we incorporated the best stuff into the script.
James: Yeah, we had the structure down but some great lines still came as we were shooting. And a few times we relied on Noël and Matt. One time we weren't sure how to describe something so we just wrote into the script, "Noël will make this work!"
Molly: Noël will always kill physical comedy!
Noël, so you also came from improv comedy?
Noël: Yeah, that's how Matt and I met each other. I was in his sketch magic show in Austin. I was a magician's assistant—and I also played Britney Spears.
Is there a difference?
Only in the boobs.
I'm guessing this was a pretty grueling shoot—especially out in the desert!
Molly: I think I was the one who said "Hey, let's film in the desert!" And then later I thought, "You idiot!"
James: It was a tough shoot, but we spread it out over seven weekends and one nine-day stretch.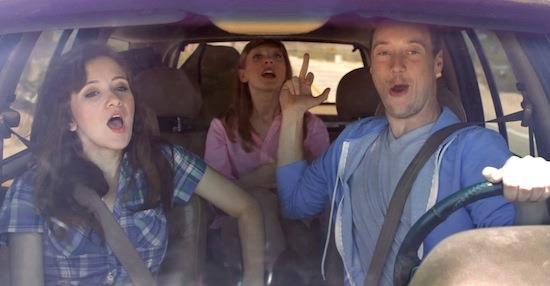 Did that make continuity a problem?
James: Well, if you look closely, you'll see Matt wearing three different hoodies! And Noël was supposed to have this 'X' on her hand from some club she was at the night before—it was supposed to be faded just the right amount.
Noël: Right, so every morning they'd draw an 'X' on my hand and I'd try to rub it off to the right fadedness! Sometimes we'd shoot a whole scene and I'd say "Oh, guys, I forgot the X!"
Hey, you need to have something to put in the "Goofs" category on your IMDB listing! How do you go about funding such a labor of love?
James: The good thing about having two directors is that you have two life savings—that was a big part of it! But we also had some close friends and family members who helped us.
Molly: It'll be such a golden moment if we can write them a check some day!
It's so cool that technology these days allows aspiring filmmakers to make movies with such small budgets.
Molly: Absolutely. And we had a great DP who made it look like it cost way more than it did!
James: We were lucky to have a lot of very enthusiastic people who wanted to work on the movie.
Were there ever moments of panic when you thought, "Oh my God, what the hell are we doing?"
Molly: We had a few rock-bottom moments!
James: I feel like my whole life is "Oh my God, what the hell am I doing?" But we were pretty organized once we got going. We planned everything meticulously because we knew we didn't have much money so we had to work out everything in advance.
You have a lot of wonderful actors in the film—it's a great ensemble.
Molly: Most of the supporting actors are my neighbors! I live in this building full of real characters in Hollywood. They all came up to the desert and had a great time.
It's a very funny movie but I also like how we see such vulnerability in these characters.
Molly: Noël really found the sadness in Sophie. She's funny and fun to watch but there's some really dark stuff going on and Noël just nailed it.
Was it hard to get into L.A. Film Festival? Especially for a film that doesn't involve serial killers, the end of the world, or the Holocaust?
Molly: Yes! I'm still shocked that we got in!
"Forev" has its world premiere at the Los Angeles Film Festival on Saturday, June 15th, at 6:50 pm at the Regal Cinemas at L.A. Live. It will also be screened on Wednesday, June 19th, at 9:50 pm. Click here for tickets. For more movie news, follow MSN Movies on Facebook and Twitter.