'Last Vegas' trailer shows Oscar-winning legends having a good time
Film stars Robert DeNiro, Morgan Freeman, Kevin Kline, and Michael Douglas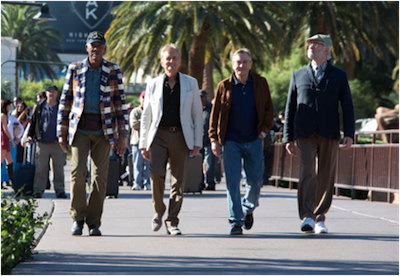 Call this "The Hangover" for the AARP set. Starring Robert DeNiro, Morgan Freeman, Kevin Kline, and Michael Douglas—Academy Award® winners all—"Last Vegas" at least has a prestigious pedigree going for it. Timeliness? Not so much. Nor does it's target audience usually leave the house. For anything except groceries. Or damnably serious Oscar-bait like "The Artist" or "The King's Speech." So, while "Last Vegas" might be a hoot and a half, and will certainly garner massive ratings whenever it premiers on CBS or Turner Movie Classics, a shoe-in for massive box office returns it is not.
What's the plot? Michael Douglas is getting married, and invites his old cohorts/partners in metaphorical crime DeNiro, Freeman, and Kline to meet him in Las Vegas for his bachelor party. Debauchery and, presumably, hilarity ensue. Also lots of old people jokes, plus Morgan Freeman gets drunk on Red Bull and vodka and then starts dancing by himself. So if you've ever wanted to see that—who hasn't?—there it is.
What say you, Hitlisters? Does "Last Vegas" have a chance to become the highest grossing "old people doing inappropriate things" movie since "Waking Ned Devine?" Could they somehow combine this with the "RED" franchise, just to add a few explosions? Check out the clip, posted after the break, courtesy of
Yahoo!
, and let us know what you think in the comments...

Not quite as old as these guys, but apparently quite a bit older than you...I do leave the house for things other than groceries and ya, I will probably plunk down the price of a ticket since these are some of my favorite doing a movie about what us "'oldsters" currently do. Hell, I may even order the extra large popcorn with extra butter and really walk on the wild side. :)
Are you sure you want to delete this comment?