Scarlett Johansson to star in Luc Besson's 'Lucy'
Actress would become latest in a long line of muses for the French director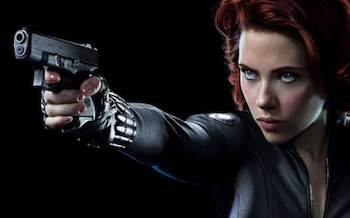 Luc Besson is known primarily for two things: directing awesomely outrageous action films like "La Femme Nikita," "The Professional," and "The 5th Element;" and for writing and/or producing a never-ending series of hugely trashy but undeniably enjoyable genre flicks like "Taken," "Taken 2," and "The Transporter." While he's recently slipped into an alarming pattern of attempted respectability, with Michelle Yeoh's "The Lady" and his upcoming Robert DeNiro-starring "Malavita," Besson will return to the gonzo-action of his heyday with "Lucy." And, according to
The Hollywood Reporter
, none other than Scarlett Johansson is currently in negotiations to take on the title role.
What will "Lucy" be about? According to a synopsis outlined in the attached article, the film will tell the story of a woman who's forced to become a drug mule, accidentally ingests a large quantity of said drug, and thereupon develops strange and unprecedented ass-kicking powers, like telekinesis, super-smarts, and the inability to feel pain. So, sort of like "Maria Full of Grace" meets Jason Statham's "Crank." Which sounds appropriately ridiculous.
Will Scarlett Johansson receive a "Taken"-like bump from appearing in the film? We'd be more inclined to say yes if it was evident that her career really needed it. Also, "Lucy" would hardly be the first film to posit her as ass-kicking, er, avenger. That said, if she does ultimately star in the flick, Johansson would join the likes of Natalie Portman and Milla Jovovich in the pantheon of Besson's action muses, certainly not bad company.