Streams and Channels: Bond… James Bond on Netflix
A dozen from 007 are available for a few weeks only on Netflix Instant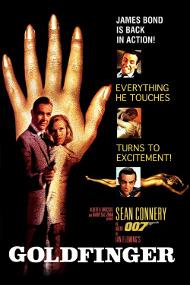 For a few weeks only (according to Instantwatcher.com),​​ a dozen films from the official James Bond series are
Sean Connery gave birth to the cinema's most cruelly charismatic cold warrior in "Dr. No" (1962), Bond's first big screen appearance. It's lean and hard edged, far from the glitzy, gadget laden sequels, but it establishes one 007 standard when Ursula Andress, the original Bond girl, makes her entrance rising from the Mediterranean sea in a bikini.
"Goldfinger" (1964) was the third film in the series but the first blockbuster hit and it solidified the Bond formula: groaning wit, Q's glorious gadgets, a megalomaniac supervillain bent on world domination, and of course girls, girls, girls. Connery is as suave as ever, and the villain is dastardly indeed: "Do you expect me talk?" "No Mr. Bond, I expect you to die!"
"Thunderball" (1965) was the biggest (and longest) film in the franchise to that time and climaxes with an elaborate underwater battle that still impresses. The gadgets almost take over in this Nassau based tale of stolen atomic weapons but Connery, more charming and ruthless than ever, commands. SPECTRE rears its conspiratorial head for the first time and Connery's Bond travels to the Far East to take on its cat loving mastermind Blofeld (Donald Pleasance) in "You Only Live Twice" (1967). Love that underground headquarters in an active volcano!
Roger Moore, already aging past his romantic prime, inherited the Bond mantle from Connery (after the interim appearance of one trick 007 George Lazenby) with style in "Live and Let Die" (1973), a Caribbean adventure of voodoo and drug smuggling.

Continue reading reading at Videodrone
For more releases, see Hot Tips and Top Picks: DVDs, Blu-rays and streaming video for week of April 9