TIFF Review: 'The Act of Killing'
Everybody loves the movies in this terrifying documentary of monsters and art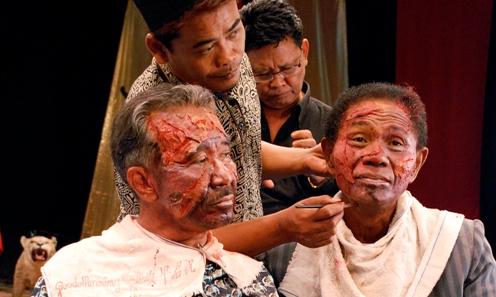 Rating: 4/5

Joshua Oppenheimer's documentary "The Act of Killing," presented here at the Toronto International Film festival in its world debut, is impossibly difficult to watch. It should be. Oppenheimer -- at great risk for he and his crew, too many of which have to go anonymously in the credits for fear of their very lives -- approached Anwar Congo, an elderly man in Indonesia. In 1965, when a military coup overthrew the elected presidency and replaced it with a military dictatorship, Congo was a young man, who made money scalping movie tickets and through other petty crimes.  In the next year, over one million 'communists' -- any enemy of the state or irritant to its agents -- were killed. And criminals like Congo were the killers, and those who stood by and let them kill gained power, and have stayed in power.
Oppenheimer and his crew asked Congo if he'd like to film his recollections, his experiences and his actions during anti-'communist' purges; he chooses to film adventure sequences, nightmares of his own death, noir­­-styled scenes of his capture and interrogation and musical numbers set to the muzak-like sounds of "Born Free" where his victims take the wire strangling-nooses he used to kill off and thank him for sending them to heaven …
BING: Indonesia | PKI Murders
It's a strange strain, to see the avuncular Congo -- waving, well-dressed, constantly checking his hair and his smile -- talk about how he used to work on a patio where enemies of the state were beaten to death. That, as he explains nonchalantly, left so much blood on the floor it became a safety hazard. So he figured out a way to just strangle them with wire -- one end affixed to a pipe at the neck-height of a kneeling man, one end free with a handle. He demonstrates: "This is ... the easiest way to kill." Oppenheimer and his crew give him free rein to film as he likes, and he's helped by both the politicians above him -- in many cases, ex-killers who rose along with the Suharto regime -- and the younger paramilitaries below, who venerate him as one of the gangster-heroes who helped save their country from 'communists.'
With a host of editors and cinematographers, I would still suggest that "An Act of Killing" could use some editing; at the same time, part of me gets the privilege of the complaint that some of the audience might not be engaged by the story of how a government let privateer murder and rape squads do their work for fear of its pacing being "off." The film is stoic and sterile -- you only hear Oppenheimer or other crew members speak when absolutely necessary -- and captures with a close view the braggadocio of men talking about the pleasures of sexually assaulting 14-year-old girls at events supported and attended by Government Ministers: "I told her 'It's gonna be hell for you, but heaven for me …'"
Oppenheimer does not lean too heavily on archival footage, but he does convey how these things happened and the world they led to. Congo's imaginings and visions -- as captured on film -- have the spectacular and grandiose nature of a fantasy, not the contemplation and depth of feeling one might expect or hope for in something like a confession or an apology. And yet, when he's filming his being strangled -- playing the victim, just as the Suharto regime played the victim of imaginary 'communists' and used criminal cronyism and politicalized Islam get the populace on their side -- he pauses, old and overcome, imagining perhaps for once the full cost of what he's done in the name of building a 'strong' nation.
Oppenheimer doesn't quite spell out how deeply the roots of the crimes of '65 still penetrate into the Indonesian government today, but when a low-level government minister arrives to cheer on paramilitaries in grey-and-orange camouflage to film the burning of a village as led by Congo, you can see how the murderers of Indonesia have not just escaped punishment but, in a sick way, found glory.
"The Act of Killing" also serves as a nice rebuke to the idea that art is civilizing or good for the soul or encourages empathy; Congo's filmed scenes have the bright, block-figures broadness of a crayon sketch drawn by a psychotic child. And yet in the end, Congo looks about at one of his old workplaces and retches with dull, hollow groans as if what he's done has taken 47 years to finally become clear. "The Act of Killing" is uncomfortable, disquieting and riveting; as the final credits rolled, with "anonymous" standing in for the names for the Indonesians who would surely be killed if their names were made public, you recognize that while the film is over, Indonesia's nightmare is not, and won't be and will never be as long as a government and a people make killers into movie-style heroes.
("The Act of Killing" is currently premiering at the Toronto International Film Festival; find more movie news on MSN Movies Facebook or through the MSN Movies Twitter.)