Top 10 worst movie in-laws and exclusive 'Peeples' image debut
Tyler Perry's latest reminds us that all families have their own dose of differences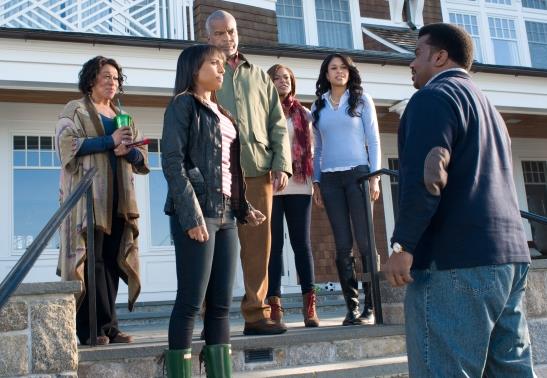 While most people may not completely enjoy the company of their in-laws, it's important to at least pretend like you do. So suck it up, put on a smile and consider the following - it could always be worse! Case in point- the tough, witty, and incredibly intimidating Virgil Peeples (David Alan Grier), from Lionsgate's upcoming comedy, Peeples. Check out this exclusive image from the film and get a little taste of the in-laws that Wade Walker (Craig Robinson) will have to deal with if he marries Grace Peeples (Kerry Washington). Make sure to check out "Peeples" when it opens this Friday, May 10th!
Joining the ranks of some of the most terrifying in-laws in film history, the Peeples family is most definitely here to stay. Now sit back, relax, and count your lucky stars - as we put things in perspective and look back at the top 10 worst in-laws in film history:  
10. King Triton -- 'The Little Mermaid'

The Little Mermaid may be a timeless childhood classic, but it's not surprising to see why King Triton would be a horrible father-in-law. Any father who wields a giant trident with him at all times is probably one you'd rather steer clear of.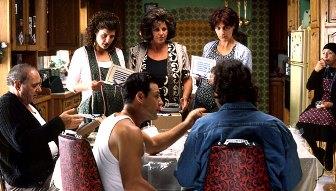 9. The entire Portokalos family -- 'My Big Fat Greek Wedding'

When it comes to large families, this one is bound to make things difficult! When Toula Portaokalos' Orthodox Greek family finds out she wants to marry a non-Greek man, hilarity ensues! Needless to say, these soon-to-be in-laws aren't too thrilled and will do anything to change their daughter's mind!
8. The Draytons -- 'Guess Who's Coming To Dinner'

As an older, non progressive couple struggles to accept their daughter's interracial engagement, it becomes clear things are about to get tough. Clearly they're crazy - who wouldn't want Sidney Poitier as their son-in-law?!
Bing: More about Kerry Washington | More on Tyler Perry
 
7. Norma Bates -- 'Psycho'

This 'sweet old granny' from Hithcock'sPsycho might not say a ton over dinner, making it a bit difficult to relate to her. Luckily for you, if you're dating her son Norman, you might already know Norma Bates a little better than you think...
 
6. Walter Warner -- 'Son in Law'

When Rebecca Warner returns home from her SoCal college life to a small town in South Dakota, she brings with her a little more trouble than what her family may have expected. Needless to say, Crawl, played by Pauly Shore, runs into a field of problems as the two's false engagement is confronted by this conservative, small town family.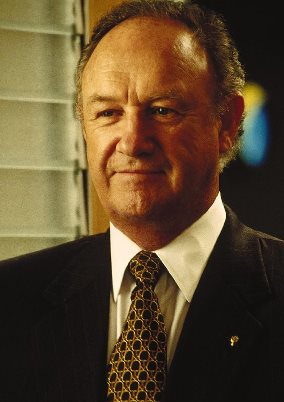 5. Senator Kealy -- 'The Bird Cage'

While everyone has that one uncle who's not as open-mided as the rest of the family, it's nothing when it comes to Senator Kealy inThe Bird Cage. This stuffy Republican representative and his wife cause quite a stir when they unknowingly dine with their future son-in-law's parents...two prominent gay nightclub owners! Having clearly opinionated (and differently so) in-laws always causes some trouble!
 
4. Viola Fields -- 'Monster-In-Law'
Every girl is always told to be wary of a mama's boy because of how crazy their mothers can be! Jane Fonda in Monster-in-Law takes crazy to a whole new level and can make some of us grateful that we don't have to end up dealing with her!
 
3. Daniel Plainview -- 'There Will be Blood'

This dapper oil tycoon may be a ton of things, but a family man definitely isn't one of them--and for good reason! Strung out on whiskey, and a milkshake with one very long straw, Daniel Plainview from There Will be Blood is one father we hope we never have to impress!

2. Mrs. Robinson -- 'The Graduate'

Think you and your love are unbreakable? Ben Braddock and Elaine Robinson were a match made in heaven until the original cougar, Mrs. Robinson sets her sights on her future son-in-law.  "Are you tying to seduce me Mrs. Robinson?"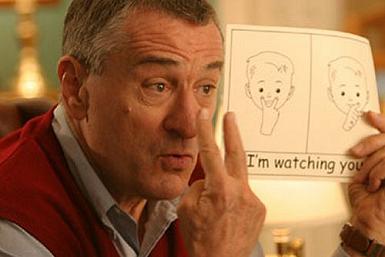 1. Jack Byrns -- 'Meet the Parents'
Robert De Niro as Jack Byrnes in Meet the Parents has since defined the role of  the overprotective father-of-the-bride.​ This retired CIA agent takes intimidation to the next level when it comes to meeting the parents.
Have a funny story about your in-laws?  Tell us on MSN Movies Facebook.

"Peeples" hits theaters everywhere May 10.