'World War Z' sneak peek footage
Brad Pitt introduced 3D zombie movie, 3D trailer & 20 minutes of footage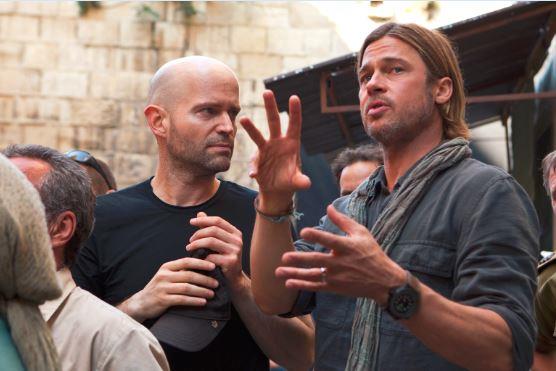 By Minh Nguyen
Special to MSN Movies

MSN Movies along with other members of the press were recently invited by Paramount Pictures to view a preview of the upcoming Marc Forster directed movie, "World War Z," starring none other than Brad Pitt. During the day, we were set to get an intro by Pitt, 20 minutes of never-before-seen footage of the film and then a 3D trailer.  After the viewing we'd have the chance to talk to Forster. As everyone settled in for the viewing, in strolled Brad Pitt and instantly grabbed the rooms attention with his smile and charming ways. He was obviously ready to go. 
Bing: More about 'World War Z' | More about Brad Pitt 

In his introduction to the film, Pitt said, "Thanks for traveling far and wide to see our little zombie effort. Four years ago I knew nothing about zombies plus I wasn't interested, now I know everything and can answer any questions you have.

I wanted to make this film so my sons could actually see me [act] before they get old. As you will see, I got a little carried away but was really intrigued with the idea.

We started with Max Brook's book, he is the son of Mel Brooks. In it we found much more than a zombie film, we found this global apocalypse, this zombie epidemic as ruled by pandemic. That really interested us.

I guess our first problems were how can we crack this book? If you are familiar with this book it travels around the world and tells multiple vignettes.  We had to figure out how to reinvent, originate our zombies in a field that's been done and done really well?

I think what you see now is the answer to that. I hope you enjoy it as much as my boys are [going to]. They're going to love it. Thanks for coming, especially on LA time." 

I can't say I am historically really into zombie movies or violent movies to begin with, but there are some qualities in this film that had me changing my mind about the genre.

In this film, they introduce the film, and the main family, in a more believable way… as if they did not believe in zombies and had to witness them for the first time. Like most of us.  Pitt plays Gerry Lane, a United Nations employee who travels the world to stop a pandemic threatening the life of the human race and is great in the role.  From what we saw, the film is bound to be action packed and quite exciting.

While the 20 minutes of footage wasn't yet ready for 3D viewing, the trailer looked amazing in 3D. Mark Forster, the director with ten Oscar nominations and two wins, known for directing films such as "Finding Neverland", "Monster's Ball", "The Kite Runner" and "Quantum of Solace" told us, "This is not just a zombie film. It's a film about a global crisis and in that sense it speaks about some global issues. I feel it might bring a different audience, hopefully."

Are you sure you want to delete this comment?