FEATURED POST
Parallel Universe visits the set of 'The Hobbit' in New Zealand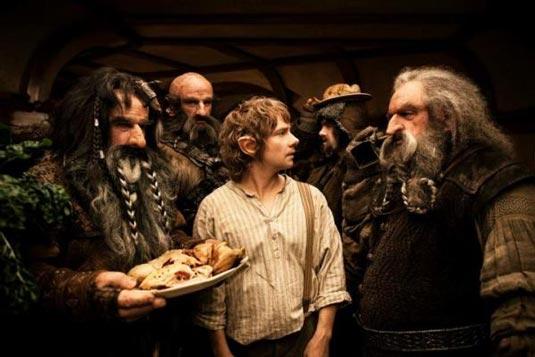 By Don Kaye
Special to MSN Movies
"Hobbits are always the greatest heroes 'cause they're us. They're the unlikely hero who is thrust into this incredible danger, and they have no choice but to find the goodness within themselves and the strength within themselves and try to survive and get through it, so they're always the most interesting heroes. They're not flawed; they're just unlikely heroes."
Bing:
More about 'The Hobbit: An Unexpected Journey'
|
More about Peter Jackson
So speaks director Peter Jackson, who first brought the legendary adventures of four little human-like creatures known as hobbits to life on the screen in 2001, 2002 and 2003 with the three films that comprised the epic "The Lord of the Rings." Jackson says these words on the set of "The Hobbit," the film version of author J.R.R. Tolkien's 1937 novel that introduced the hobbits and Middle-earth to readers and set the stage for his much more ambitious "Rings." Like the "Rings" films, "The Hobbit," which started out as two movies and eventually expanded to three, had a long and complicated road to the screen, and almost didn't make it. But also like the earlier trilogy, there is almost a sense that the story is being willed onto the screen, largely thanks to the passion and determination of Jackson himself.
Like the "Rings" pictures, "The Hobbit" is being shot in New Zealand on location and at Stone Street Studios, the massive soundstage complex that Jackson owns. It is at this facility that we find ourselves, alongside reporters from several other outlets, for a secret set visit after a 14-hour flight from Los Angeles. Jackson's creative empire -- which also incorporates Weta Digital (CG special effects), Weta Workshop (makeup, costumes, creatures and weaponry) and several other companies -- is a large presence in this small yet beautiful city, giving "Wellywood" a far higher profile in the global film industry than it had previously. The residents we get to speak briefly with -- a van driver, a tour guide and so on -- are thrilled that Middle-earth has sprouted up again in town more than a decade after the "Rings" films first went into production.
Leaving the U.S. on a Sunday night, we have crossed the dateline and actually arrived in Wellington on Tuesday. On Wednesday and Thursday -- with some rain and a hint of the coming winter in the air (the seasons down here are reversed from ours) -- we make our way to both Stone Street and another large facility being used for filming in the suburb of Trentham (about 45 minutes away), as well as Weta Digital and Weta Workshop, for a close-up look at the filming of "The Hobbit" and interviews with members of the cast and crew.
Now, due to studio embargoes, we cannot actually describe the scenes we observe being filmed on either stage until a later time. That's because the initial plan to release "The Hobbit" in two parts -- "An Unexpected Journey" this December and "There and Back Again" at the same time next year -- has changed in the months since our trip. There will now be three films, with "The Desolation of Smaug" coming next December and "There and Back Again" pushed back to the summer of 2014. The scenes our little group gets to observe are all from, at the time we see them, the second movie -- but now one of them might actually be in the final part. Get it?
We still get to speak with Jackson, as well as cast members Martin Freeman (Bilbo Baggins), Ian McKellen (Gandalf), Richard Armitage (Thorin Oakenshield) and many others, including most of the other 12 dwarves, besides Thorin, who make up the expedition that takes Bilbo in search of gold and into battle against the fearsome dragon Smaug. We also speak with Richard Taylor, Jackson's longtime right-hand man at Weta, and several other key crew personnel.
A few facts that we know at the time of our visit: "The Hobbit" has a 254-day production schedule that begins in early 2011 and incorporates some timed breaks that will take it into mid-2012. Jackson is directing the entire first unit filming, while second unit is being handled by Andy Serkis, who also returns to essay the role of Gollum via motion capture. Speaking of which, Jackson is using a new computerized camera system called "slave motion control," which allows actors to be filmed doing the same scene on different sets. This comes in handy, say, during scenes where McKellen as Gandalf has to tower over the dwarves and Bilbo -- he is on a different stage from them, but the camera filming him and the device filming them will integrate them seamlessly.
McKellen himself, however, admits that he was not a fan of the process, also called SimulCam. "The 13 dwarves are over there in their set, and I'm over in my set, which is a little green screen cutout to make me look tall, with nobody else, because my camera's enslaved to the other one," he explains. "There isn't an operator. I can't see the people I'm talking to, so they're represented by pictures on top of poles, which light up when they're talking, and I hear them through a sound piece in my ear. I didn't feel like being back. I wanted to go away. I was very, very unhappy, miserable ... I think because my reaction was so strong to it -- it was very difficult and bewildering -- Peter has managed to cut down the number of times we've done that since."
The other technological breakthrough on "The Hobbit" is that Jackson is shooting the movie(s) not just in 3-D but at the speed of 48 frames per second -- until now, the standard for theatrical films since around 1927 has been stabilized at 24 frames per second. Critics say that 48fps makes film look like video when projected; supporters insist it provides a stunning clarity and depth to the image that makes it more lifelike than ever before (a reportedly unfinished preview of footage earlier this year to an audience of theater owners and press got mixed reviews, and the 48fps version of "The Hobbit" will be available on only 400 or so screens).
Whatever the final 48fps footage will look like, the method's ability to pick up far more visual information has required all the production personnel to ramp up the quality and realism of their contributions to the film, whether it is makeup, costumes or weapons. "The heightened level of resolution of the image -- that's what's changed for us," says Richard Taylor, head of Weta Workshop. "You can't trick light like you could on film. Film would capture the moisture in the air between the foreground and the background. Somehow digital camera work penetrates that and sees everything. And that's required us to step up our game, as it has everyone across the world. It's really challenging."
"Challenging" doesn't begin to describe the amount of creativity, craftsmanship and sheer productivity that has gone into the making of "The Hobbit." Weta Workshop created 8,000 digital paintings in addition to 500 conceptual sketches -- all before actually bringing them to life in front of the camera. That in itself required things in bulk quantities, like 800 different weapons for the 13 dwarves and all their stunt and effects doubles; 600 to 800 pairs of ears for the Elves; at least three wigs per character, with some of the hairpieces costing as much as $10,000.
"For the dwarves this time round, we've made six wigs and eight beards for each character, because we've had to cover them in so many different aspects," says makeup and hair designer Peter King when we visit him in a department filled wall to wall with hairpieces, fake hands, fake ears and fake hobbit feet (which now slip on easily like long slippers as opposed to being glued to the actors' feet in the "Rings" films). King goes on to drop the astonishing fact that each wig is assembled one hair at a time. "I think we've had something like 100- something beards made for the dwarves, and like 78 wigs made for 13 characters," he continues. "Every single principal actor in this film has got hair on that's a wig, and has prosthetics of some description."
It all adds up to a project that several of the people working on it agree is bigger than "The Lord of the Rings" itself. "Yeah, I think so," says art director Simon Bright. "It's like we didn't know quite where it was going on 'Rings' and we knew on this one, the scope of it, but it's always blown out bigger than you ever think it would turn out to be, so probably bigger, yeah."
Read part two of our set visit to meet Bilbo and the dwarves and learn more about the epic production of "The Hobbit."