FEATURED POST
Cities and dates announced where fans can see original wardrobe worn in the movie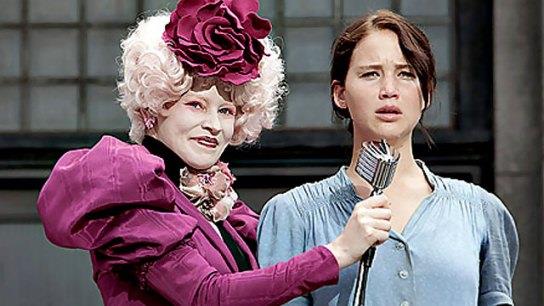 Entertainment Tonight
"The Hunger Games" fans looking to catch a glimpse of the film's incredible costumes up-close are in luck -- Haxbee, Inc. just announced the Hunger Games Costumes Exhibit & Auction tour, which will include original screen-worn costumes worn by Jennifer Lawrence as Katniss, Josh Hutcherson as Peeta, Elizabeth Banks as Effie, Stanley Tucci as Caesar, Liam Hemsworth as Gale, and more.
Bing: More about 'The Hunger Games' | More about Elizabeth Banks

Haxbee and Blacksparrow Auctions will provide a special sneak preview at The Hollywood Show convention in Los Angeles from January 11 to 13, after which the exhibit will continue its tour on March 1-3 at the Emerald City Comicon in Seattle, WA; April 26-28 at the Chicago Comic & Entertainment Expo (C2E2) in Chicago, IL; and lastly on October 10-13 at the New York Comic Con in New York, NY, with additional dates and locations to be announced.
Related: Wall Street predicts 'Catching Fire' to be 'biggest movie of 2013'

After the tour ends in New York, ReedPOP will hold an auction with over 200 costumes from the film, where interested bidders will be able to bid live in-person, by telephone, via absentee, and on the Internet.
More: 'The Hunger Games' at the 2013 People's Choice Awards

No word yet on if Elizabeth Banks' stunning shoes will be included in the mix, but you can bet that her Capitol Couture looks (as well as Jennifer Lawrence's famous "Girl on Fire" dress) will be amongst the most popular in the exhibit! 
Related stories on ETonline.com:
Missoni CEO Missing
Heidi Klum: I Don't Think Marriage Is Important