FEATURED POST
Ad for new issue might have given away J.J. Abrams' game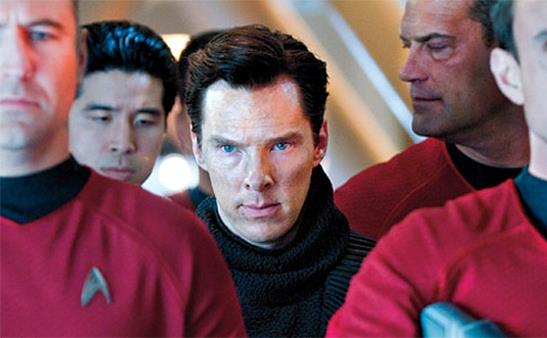 For months now, the biggest question surrounding "Star Trek into Darkness," director J.J. Abrams' sequel to his successful 2009 series reboot, has been the identity of the villain.
Played by British actor Benedict Cumberbatch ("Sherlock"), it's been widely assumed that the character would be Khan, a genetic superman from the 21st century who was awakened in the original series episode "Space Seed" and later sought vengeance against Captain Kirk in the 1982 movie "Star Trek II: The Wrath of Khan." He was played in both by Ricardo Montalban.
Even the revelation late last year that Cumberbatch's character was named John Harrison was seen as misdirection, meant to throw fans off the trail. Other theories have suggested that Harrison, while not exactly the Khan seen in the 1967 TV episode and the 1982 film, would be a new version of the character or perhaps possess some of his DNA.
But now an ad for the new issue of Entertainment Weekly, which features a cover story on "Into Darkness," has surfaced online at EW.com and apparently blown Cumberbatch's cover for certain: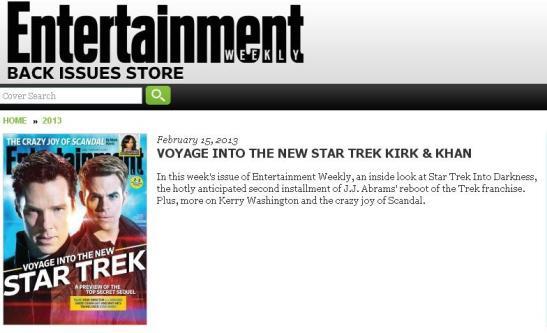 What do you think? Is this the smoking gun that fans have been waiting for? Whoever put together that ad was given the information that one of the two actors on that magazine cover was playing Khan, and it sure isn't Chris Pine. Either that, or someone was either misinformed or made a very large assumption.
Here's our guess: yes, Cumberbatch is playing a version of Khan. He's certainly not going to be the Indian tyrant we remember from the series (yes, he was from India, even if Ricardo Montalban was not) and he might not even have the same issues with Kirk that he did back then -- remember, these new "Trek" movies take place in an alternate timeline, so while characters from the original canon may exist in this reality, they may have taken quite different paths than they did in the original series and movies.
Even so -- even if this is a radically different Khan -- why call him Khan in the first place? Just for some fan service? "Star Trek" is not like Batman or Spider-man comics, where there's an entire established rogue's gallery of villains. Nope, it's a big universe out there -- which makes the apparent decision to revisit a villain we've met twice before seem just a tad small.
"Star Trek Into Darkness" is out in theaters Friday, May 17, 2013.