FEATURED POST
What geeks are buzzing about this week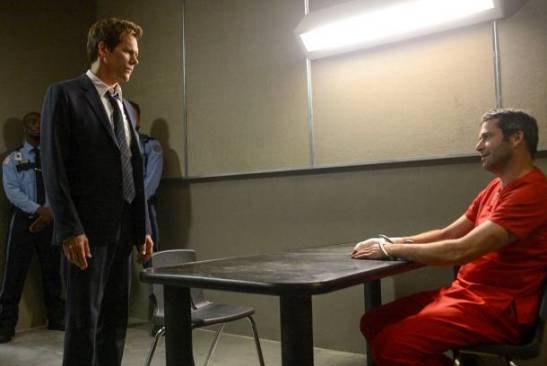 "The Following":
"The Following," the gruesome serial killer saga starring Kevin Bacon in his first TV series lead, premiered Monday night (Jan. 21) with the country still reeling from the Newtown school massacre and other shootings that have happened in the short month since then. With violence in the media largely bypassed (rightfully so, we think) as a cause of real-life mayhem, creator-executive producer Kevin Williamson must be breathing a sigh of relief, because his show is pretty gory stuff. Eyes are gouged out, people are stabbed and beaten, there's a brief scene of animal cruelty ... not exactly dinner-table fare (the show airs at 9 p.m.).
Aside from the rivers of red pooling around it, how did the series pilot fare overall? Well, Bacon and the cast are certainly committed to the material, and the hour moved forward pretty compellingly. It's dark, gripping stuff -- but it does carry a whiff of familiarity that's hard to ignore. There are elements here from "Seven," "The Silence of the Lambs," "Manhunter" and "Zodiac" that prove that either a) Williamson has nothing new to say about this particular topic or b) there is actually little to add that those earlier, seminal films haven't already covered. The central premise -- serial killer Joe Carroll (James Purefoy) has a network of followers ready to do his bidding -- is a bit contrived, but we'll see how it expands in the weeks ahead.
Review-wise, the notices have been mixed. "There's a concept there, yes, but it doesn't really blow our minds," said
The Wrap
, while
Vulture
was more cautiously optimistic, calling it "an apocalypse story as long-form nightmare."
EW.com
opined that "both Bacon and Purefoy are so intensely earnest, the show quickly supercedes its patent 'Silence of the Lambs' set-up,' although
Zap2It
dismissed the pilot (and three subsequent episodes) as "another disappointing attempt by network television to channel the best of cable TV."
Return of Drew Struzan:
There is a lot of discourse online these days about the lost art of movie posters: how gorgeous paintings and impressionistic images have been replaced by Photoshopped floating heads and flying debris. Well, Disney/LucasFilm may not have locked down a director, cast or script yet for "Star Wars VII," but it seems the company is attempting to secure at least one link to the franchise's past glories by asking famed poster artist Drew Struzan to work on the new "Star Wars" saga.
Struzan, whose work for the earlier "Star Wars" films, the "Indiana Jones" movies, "Blade Runner," "Jurassic Park" and many others made him a fan legend before his semi-retirement, told
Fanhattan
that he's already received "a couple calls" from Disney, adding, "I painted 'Star Wars' before most of you were born! But I guess there is always a chance. There's no intention ... But, you know, never say never. All things are possible." We can only hope. Meanwhile, check out Struzan's poster art (under "Illustrated Works") at
www.drewstruzan.com
.


"Cap" comeback:
One of our favorite characters from the "Captain America" comics is Dr. Arnim Zola, who transfers his consciousness into one of many specially designed robot bodies he created originally for the Nazi regime in World War II. The brilliant British actor Toby Jones played Zola in 2011's "Captain America: The First Avenger" as an associate of the Red Skull (Hugo Weaving), and although designs for his robots were glimpsed in the background of some scenes, Zola walked on his own two feet throughout the picture. But his fate remained ambiguous -- until Monday (Jan. 21), when Jones revealed to
HeyUGuys
that he would be returning as Zola in "Captain America: The Winter Soldier," which starts shooting in March.
Jones did not say much more, and given that the new movie takes place in the present day, we have to wonder if we'll see his character in flashbacks or -- and we hope this is the case -- he'll have kept himself "alive" through the decades encased in one of those artificial bodies. Will he somehow be recruited by the same forces that turn the also presumed dead Bucky Barnes (Sebastian Stan) into the title villain? All will be revealed -- but not for a while, as "Cap 2" (as we like to call it) won't show up in theaters until April 2014 (via
The Playlist
).
"Evil Dead" goes green:
Green band trailer, that is. The first two trailers for this April's remake of the indie horror classic "The Evil Dead" have been strictly "red band," meaning you have to be above a certain age to see them. And rightfully so, since the violence, gore and terrifying images on display would not be suitable for little Skippy playing on Daddy's computer. Now, however, a safe "green band" teaser has been issued that tones down the most graphic images while still giving you a good idea of the creepfest that producer Sam Raimi (who directed the original) and new director Fede Alvarez have in store. Already being marketed as "the most terrifying film you will ever experience," the new "Evil Dead" screams into theaters on April 12. Watch the trailer and decide if you want to go any further ... (via
Slashfilm
).