FEATURED POST
The Evil Queen teases 'something so dramatic' about to happen, says Season 2 will be bigger than first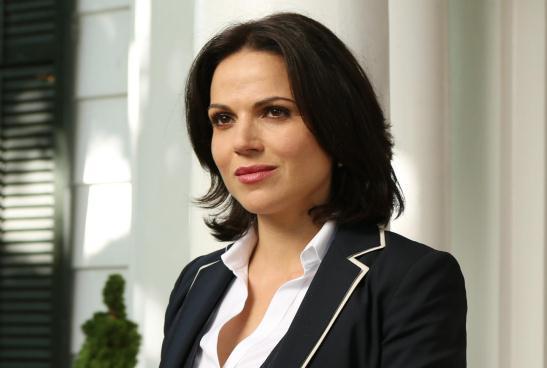 By Lie Shia Ong
MSN TV
Lana Parrilla is oh so good at playing the Evil Queen/Regina on ABC's "Once Upon a Time." When Season 2 of the show premieres Sunday, Sept. 30, we can assume she'll be as bad as ever with magic back in Storybrooke. But fans learned last season that the queen wasn't always bad. Could the possibility of losing her son bring her back to good?
Bing: More about 'Once Upon a Time' | More about Lana Parrilla
MSN TV spoke with the actress about  the many dimensions of her character and also uncovered some hints as to what's about to be revealed in Season 2 .
MSN TV: The new season of "Once Upon a Time" starts up Sunday. What can fans expect this season?
Lana Parrilla: Well, there are a lot of new characters that are going to be introduced. Some really, really cool things that you are not expecting are  going to happen. I can't give anything away. [Laughs] … There's little I can say about the second season because something so dramatic happens in the first episode that then carries on — it's pretty much the story line throughout this season. Basically it's a bigger season on every level from cast to storytelling to visual effects to our sets that are much more elaborate and costumes that are more ornate. Everything is just stepped up a bit. They were like, 'You know what? You did great the first season. We're going to give you a little bit more to play with!' [Laughs]
More: Q&A With Jennifer Morrison of 'Once Upon a Time'
Can you tease anything about how Regina's relationship with Henry has changed and how Mary Margaret and Emma factor in?
Losing Henry in that last episode, the [Season 1] finale, is a reality Regina wished she never had to face. But it has come to that. She's pretty much lost. She has nothing left. She has a town full of people that have woken up and remembered who she is and what's she's done. They're after her and they're hunting her down.
She has a son, whom she loves with all of her heart, and is lost. I see her packing up her bags and leaving, but even that is difficult, and if she does it, then what? She loses her son. So she really doesn't have many options left but to get real honest and truthful … and taking responsibility for some things.
The relationship of you and Mr. Gold/Rumpelstiltskin​, I'm sure, is going to get more interesting this season as well. Do you expect an epic showdown between you two?
Yeah. [Laughs] Yes, it does. Something happens with these two, and it's a pretty big deal. I can't give it away, but there's a major showdown between them. There's something between them that is yet to be told — the story is yet to be told. There's just this connection. These two are very similar and they're very much alike, and there's no other character that we've seen yet like them on the show. I think their connection is undeniable, not only to the audience but to the characters. They know that [without the other] what do you have? [It's the] same with Henry. If she loses Henry, what does she have? As much as [Mr. Gold and the Evil Queen] are rivals and enemies, they are friends on a deep level, I think.
That's the interesting thing about your character and Mr. Gold's character. Both of you have so many layers. What's your favorite part about playing a role with so many dimensions?
I am never bored. [Laughs] There's always something for me to discover. She is extremely complex, and I love that I get to show why she is the way she is and that we get to delve into her past and show the innocence and the purity of the woman that she was once versus the woman she has become. So much of her past has informed me of how to play her in the present. Even when she's casting spells or threatening people, I never lose sight of where she's coming from or what she's dealing with.
Photos: TV's damsels in distress
Her objective really is revenge — to give it back at the people that have made her happy ending nonexistent. She doesn't only do it for herself. She does it for the innocent, who was Daniel, who was taken away and killed. I think a lot of it is for him. A lot of it is getting back at others for him. Now I'm sure if he was alive, he would say that's crazy to do that, 'It's not what I wanted.' But this is the conclusion she's made for herself. This is her way of getting back, and she wants justice, and this is the only way she knows how to do it. I think because of losing Henry she's realizing this maybe isn't the best way.
Some of your fans sent in questions on Twitter and Facebook for you. You mentioned there will be new characters introduced on the show this season. Paige wants to know: Do you have a dream fairy-tale character you'd love to see on the show, and do you have someone in mind who would play them?
It actually was fulfilled already. Jorge Garcia, I've known him for about 16 to 17 years now … never thinking like, 'God, it'd be great if he'd be on our show.' Weeks later I found out he was playing the Giant. I did want to see "Jack and the Beanstalk" — that was a fairy tale I definitely wanted to see on our show for multiple reasons. I love when I read the story as a kid, when Jack found the bean, and I remember when he planted it, and I remember when it grew and he climbed up there into the clouds and once he broke through the clouds there was this huge castle … I just remember thinking, 'Oh my God! This is so cool,' and how I wished I was miniature so I could climb in all these crevices and holes. I just had a wild imagination, and I'm really happy that we're telling this story and even happier a good friend of mine gets to play the Giant.
Related: Jorge Garcia Joins 'Once Upon a Time'
You're filming Season 2 in Vancouver right now. Has there been any funny or memorable moments from shooting so far?
One of the most jarring things, which I thought was so funny — we ended up shooting the second episode first instead of the first episode first because of some shooting locations availability. It was really funny … because we were like, 'Wait, I'm so confused. We have not shot the first episode, so where are we coming from again? Oh, wait! I'm angry at you because of what happened last season?!' … It took us all like a month to figure it out. … We shoot in Steveston, which is a small little town in Vancouver, and it's a really cute little town and it's Storybrooke. When we work there, we literally have like anywhere from 200 to 400 people watching us. It's incredible because it's like outdoor theater for everyone. … I love theater and I love the live audience and it's kind of fun. It's fun shooting there with everyone watching.
I always get paranoid, though, because we have a character who's coming back, and I was worried that it was going to give the story away. Daniel, I can say this because it's already been printed and people took pictures: Daniel is coming back, and I can't tell you how or why, but he definitely makes an appearance, and I was paranoid because he walked out of the van and I said like, 'Oh my God! What are you doing? You're going to give the story away!' But we were like there's no way around it. And I kept saying, 'Cover his head! Put a hat on him or something!' I was so worried that we were going to give the story away, [laughs] but after much thought he's just sitting on the corner. It doesn't give anything away. So that was one humorous moment for everyone because I really panicked over it.
Alyssa wants to know: What do you think about doing a "Once Upon a Time" musical episode?
I'm game! I love that. I think it would be awesome to do that. I don't think the producers are into it, but I am. I'd love to do that.
Any message you want to send to your "Once" fans out there?
Thank you so much for all of your love and support. I hope we continue to keep you enthralled in the show. Enjoy our second season!
The Season 2 premiere of "Once Upon a Time" airs Sunday, Sept. 30, at 8 p.m. ET/PT on ABC.