FEATURED POST
Does 'Star Trek 2' synopsis hint at the villain's ID?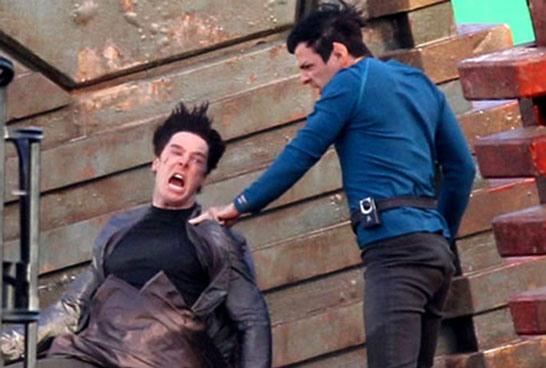 By Don Kaye
Special to MSN Movies


We're still a few weeks away from seeing the first footage from this highly secretive film (nine minutes of which will be shown in front of IMAX screenings of "The Hobbit"), but earlier this week, an official synopsis for "Star Trek Into Darkness" was beamed onto film websites everywhere. And while it does spell out what the basic plotline will be, it leaves out a lot of details, primary among them the identity of the villain, which has been a closely guarded and much-speculated about mystery since the film went into production.
Bing:
More about 'Star Trek Into Darkness'
|
More about 'Star Trek: The Original Series'
But now that the official synopsis has arrived, we think we can glean enough clues from it to take an educated stab at who the bad guy is. If it is who we think, then we can also thank Karl Urban, who plays Dr. McCoy -- and who let the cat accidentally out of the bag months ago.
First, the synopsis:
"In Summer 2013, pioneering director J.J. Abrams will deliver an explosive action thriller that takes Star Trek Into Darkness. When the crew of the Enterprise is called back home, they find an unstoppable force of terror from within their own organization has detonated the fleet and everything it stands for, leaving our world in a state of crisis.
With a personal score to settle, Captain Kirk leads a manhunt to a war-zone world to capture a one man weapon of mass destruction. As our heroes are propelled into an epic chess game of life and death, love will be challenged, friendships will be torn apart, and sacrifices must be made for the only family Kirk has left: his crew."
What does this all mean? Well, for one, we can pretty much rule out the long-held rumor that the villain is Khan, as in "The Wrath of ..." That was a popular one for a while, especially when it was leaked that the production had tried and failed to get Benicio Del Toro to appear in the film. In fact, word on the street was that the script was rewritten after Del Toro passed to change the villain completely -- but that's another discussion.
Notice that the unstoppable force of terror comes from "within" Starfleet and is a "one man weapon of mass destruction" (we'll just ignore how badly written "detonated the fleet" is). The hunt for this person becomes a "personal score" for Kirk (Chris Pine) to settle, and it's hinted that he loses the rest of his family (since "the only family" he has left is his crew) as a result of this person's actions (we're assuming that Kirk's mother and brother Sam are still living on Earth when this catastrophe strikes).
This all leads us to one conclusion: The villain is Gary Mitchell.
Mitchell (as played by Gary Lockwood of "2001"), Kirk's student, best friend and fellow hell-raiser in Starfleet Academy, was assigned to the Enterprise helm on the original series' 1966 second pilot, "Where No Man Has Gone Before" (the pilot was later broadcast as the third episode of Season 1). In that famous segment, the Enterprise attempts to pass through an energy barrier around the edge of the Milky Way. Energies inside the barrier give Mitchell and psychiatrist Elizabeth Dehner (Sally Kellerman) -- who already have latent psychic abilities -- enormous telepathic and telekinetic powers.
Mitchell becomes a superbeing, almost a god, and as a result begins to see the humans around him as insects that he will either dominate or wipe out. Kirk must eventually decide that he has to kill his friend to save the galaxy.
Doesn't that fit neatly into the plot revealed above for "Star Trek Into Darkness"? Our guess is that Mitchell somehow gets exposed to this energy -- perhaps in the same way -- and is taken back to Earth by the Enterprise, where he rages out of control, kills Kirk's family, and threatens the Federation before heading to a "war-zone world" -- the home, we can assume, of the Klingons, who are reported to be in this movie as well. Will Mitchell use the Klingons as his own personal army against the Federation?
Remember, this "Star Trek" universe is parallel to the original one since it was altered in the first new "Trek" movie four years ago. And although the writers have said that the villain comes from canon, it can be someone who died in the original series since this is a slightly different universe. That's a neat way to get Mitchell into the story without violating the original series' timeline.
Finally, if you need any more proof,
here
is that now-famous quote from Karl Urban, which he later retracted, about British actor Benedict Cumberbatch, who ended up being cast as the villain: "He's awesome, he's a great addition, and I think his Gary Mitchell is going to be exemplary."
We're not the betting type, but we might just lay a few bucks down that Gary Mitchell is indeed the villain in "Star Trek Into Darkness." And from the sound of that synopsis, he's going to give the Enterprise -- and the audience -- one hell of a terrifying ride. 
"Star Trek Into Darkness" opens in theaters May 17, 2013.