FEATURED POST
Tim Burton discusses his stop-motion fantasy 'Frankenweenie'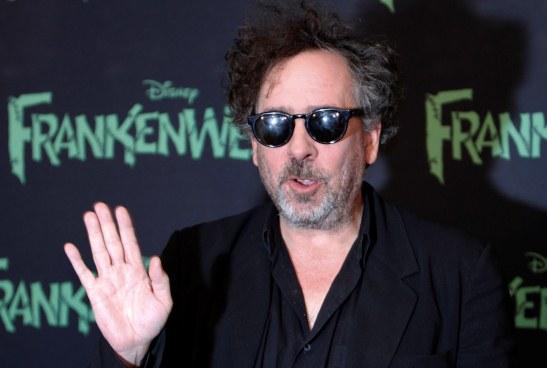 By Don Kaye
Special to MSN Movies
It was 1984 when young animator Tim Burton directed a 30-minute black-and-white short film for Disney called "Frankenweenie," a macabre live-action homage to "Frankenstein" in which a young boy named Victor reanimates his dead dog, Sparky, with electricity, only for the dog to frighten his neighbors and turn them into an angry mob who want to see Sparky put down for good. Disney got one look at the live-action film, decided it was too scary and that Burton had wasted time and money, and fired him while shelving the short.
Bing: More about Tim Burton | More about 'Frankenweenie'
Nearly 30 years later, "Frankenweenie" is back as a feature-length, stop-motion 3-D movie, still in black and white, and still focused on little Victor (voiced by Charlie Tahan) and his quest to revive his beloved dog. This time, however, Victor's experiments draw the attention of some of his weirder classmates, and before long, reanimated pets turned monsters are running through the streets of New Holland (a very stylized version of Burbank as seen in a Hammer horror film).
Related: The best and worst of Tim Burton
Burton directed the film, and it's safe to say that he's come a long way since Disney gave him the sack (the Mouse House is the studio behind the new "Frankenweenie," bringing things full circle). Burton, with all his eccentricities mostly intact, is one of Hollywood's most successful directors, having delivered crowd-pleasing spectacles like "Batman" (1989), "Alice in Wonderland" (2010) and "Charlie and the Chocolate Factory" (2006), while also making weirder, more personal films like "Edward Scissorhands" (1990), "Ed Wood" (1994) and "Big Fish" (2004).
Recent fare like "Dark Shadows" has seen some critics accuse Burton of falling into a formulaic rut alongside his friend and eight-time collaborator Johnny Depp. The latter is nowhere to be found here, although other Burton alumni like Martin Short, Catherine O'Hara, Winona Ryder and Martin Landau all lend their voices. "Frankenweenie" is a return to a more personal Burton film: While it bears imagery and themes we've seen in many of his pictures, it feels like we're seeing more of his heart on the screen (the original was inspired by the childhood loss of his own pet), not to mention his passions. The movie references genre faves from "Frankenstein" to "Gamera" – all touchstones for fans of a certain age who grew up glued to horror and sci-fi films.
The idea of doing a full-length "Frankenweenie" has been in motion, more or less, since 2006. "These things always take a long time to get going," admitted Burton in a recent roundtable interview with reporters at the Grand Californian hotel in Disneyland. "I sort of started looking at older drawings. There was something about the drawings and, you know, loving stop-motion and the idea of doing black-and-white stop-motion in 3-D."
"Because it was such a memory piece, I started thinking about other things besides me and my dog," he continued. "I started thinking about other kids that I remember in school, and other types of kids, and certain weird teachers and things. So all that sort of new stuff and other monsters and things, all that stuff kind of made it feel like a whole new project, and that's when I started to really think about it."
One aspect of the film that Burton wanted to retain from the short – he even said he wouldn't have made the full-length film if the studio balked – was the black-and-white cinematography. "I just find the black and white very beautiful," he explained. "It's part of the emotion of it. And also I was just quite excited about seeing black and white in 3-D, because there's a depth in the black and white and the clarity in the image, which I love. It really works for the stop-motion process – it's like you could touch the puppets."
There is a dark beauty and texture to the images in "Frankenweenie," and the stop-motion is so well-done that it's a recurring wonder to remember that you are watching puppets moving around on actual scale-model sets. The movie is surprisingly dark in other ways as well. With pets being killed and reanimated in ghoulish new forms, among other things, it's asked whether Disney wanted the director to tone down any of the story. "No, I mean, I always felt quite confident that in my mind it was a quite traditional Disney movie," said Burton. "You know, Disney movies (like) 'Bambi,' 'Lion King,' they have dealt with issues that are similar in some ways.
"People remember Disney films because there's a certain element of danger and darkness in them," he added. "If all of that stuff was out of every Disney movie, they wouldn't have any power to them. So I always felt confident that the themes were positive … I never felt like it was pushing the boundaries very much."
Burton is not sure what his next project will be, but audiences will hopefully embrace "Frankenweenie" in such a way that the director's version of Victor Frankenstein joins Burton's pantheon of slightly off-kilter, oddball or lonely characters. "The best thing that ever happens to me is not so much, you know, reviews or box offices," he said. "I mean, you try to make money back for the film and all, but when you get people coming up to you and it's like a real connection (with the film), that's really, really nice. That means more than anything, because that's sort of the reason why you do something."
"Frankenweenie" is out in theaters Friday, Oct. 5.