FEATURED POST
What's ahead for Emma Swan and the rest of Storybrooke in Season 2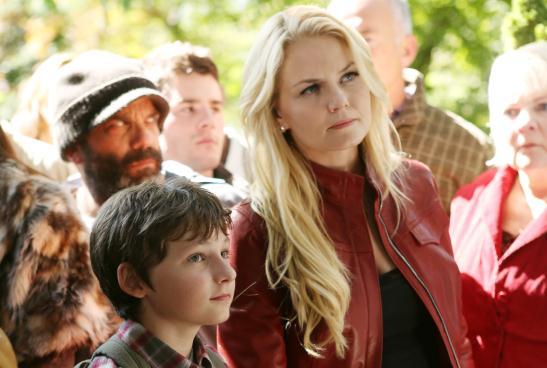 By Lie Shia Ong
MSN TV 

"Once Upon a Time" returns to ABC on Sunday, Sept. 30, and when it does, the magic will also be back in Storybrooke, as the curse was broken at the end of last season.
MSN TV spoke with Jennifer Morrison, the actress who portrays Emma Swan, the daughter of Snow White and Prince Charming, now that she heroically has broken the Evil Queen's spell over the town and its people.
Bing: More about 'Once Upon a Time' | More about Jennifer Morrison
MSN TV: What can you tell fans about the Season 2 premiere of "Once Upon a Time"?
Jennifer Morrison: Oh my gosh! So much has happened. I don't even know where to start! [Laughs] we pick up right where we leave off in terms of everyone being hit with their memories of their true identity, so we really hit the ground running because we pick up exactly where we ended.
There are certain repercussions with Regina (Lana Parrilla) in terms of how people feel about the fact that she's responsible for taking their lives away for the last 28 years.
Related: Damsels in distress on TV
We kind of also kind of then launch into a whole different level of conflicts. … There's a group of people who want revenge and want to go after her and a group of people who don't want to stoop to her level and sort of want to take the high road and settle this in a way where she pays for her actions but isn't necessarily lynched by a mob. There's sort of two factions in town that are at odds with each other, and then both factions are at odds with her. So we kind of launch into a tremendous amount of conflict immediately that involves pretty much every character.
Now that everyone knows who they really are, how will relationships change, especially with Emma, Mary Margaret/Snow White and David/Prince Charming?
Yeah, everything changes drastically. By removing this element of the curse, people are suddenly truly themselves again, which sort of opens up the world emotionally. In the first season there was always a balance of, OK, well, Snow White would do this, but Mary Margaret wouldn't because the curse makes her different. Now that the element is removed and people aren't controlled by the curse, there's just so much more room for emotions to be at the surface and to be raw and to be expressed with confidence. It just sort of immediately heightens the stakes for each character.
More: Official ABC 'Once Upon a Time' page
Obviously there's a lot for Emma to try to process because, first of all, the amount of proof it took for her to believe [in the curse]. Now she has the proof, but just even having the proof doesn't mean she accepts it all. She's still processing all that and in the midst of all this conflict that starts immediately. It's this constant push and pull of emotional events and also so much going on already. I feel like Emma is trying to handle all these things that are happening to her in the midst of trying to make sure that the town doesn't fall apart and Henry is still safe and that things are going to be OK. It's definitely going to be a lot all at once.
Is Emma going to try to get custody of Henry?
Yeah. She was already sort of headed that way at the end of the first season in terms of realizing of trying to find a way where both her and Regina could be in Henry's life, and there was a point where she sort of gave up on that idea. There's definitely potential that she's going to continue heading down that path [of wanting custody.]
Did you change your approach of how you portray Emma this season now that she's a believer when it comes to the curse and the fairy-tale land?
Well, for me, you know, it's interesting because even though she's a believer, she hasn't lost her skepticism. That's what's kept her alive her whole life. She's been through so much with being in the foster system and going through times when she didn't have shelter and was on the streets and was in jail and all the things in her past. Nobody's ever been nice to her in her past. … Possibly the only exception to that now is Mary Margaret, but that relationship is immediately complicated by the fact that she's my mother! So she's definitely going to maintain her skepticism.
… I think what's different is that she does feel like she has a world in which she can start to figure out how to be an emotional being — being surrounded by people who don't seem to be interested in abandoning her any longer. Once she gets to a place where she can start to believe that's true, then she can start to handle things that she emotionally could never handle before. Her first reaction is to shut down. Her second reaction is to make a joke out of it, and her third reaction is to try to process it and figure out how she's going to deal with it. You're going to see her go through that process over and over and over again.
Some of your fans sent in your questions they wanted me to ask. Karolin wants to know what you like most about playing Emma and what has been your favorite episode been to shoot.
I'd say what I enjoy most is that there's just so many different parts of her. In order for her to be a survivor she's had to adapt in every situation in order to find a way of fitting in. That means I get to play a huge spectrum of different emotions and different sides of her. She's at times incredibly tough and unapproachable. Then there's times when she's incredibly vulnerable and open and almost like a little girl and she's everything in between. As an actor, with writing like that, it's really, really fun.
In the first season, I liked Episode 7, where the sheriff died. I didn't like the fact that he died, but I just thought that story line was the first time Emma kind of got to be vulnerable in front of everyone. I also enjoyed Episode 17 as well, which was the Mad Hatter episode. I felt like because I was kidnapped and taken to the middle of the woods, it sort of felt like a play. … We shot all of that in one day, and it felt like doing a play for one day, so that was really fun.
This season [Episode] 5 is really cool. I'm actually not in 5, but that's when they introduce Captain Hook and explain who he is and where he came from. It's a huge episode.
And [Episode] 6 has been fun because that's when you get to see Emma's backstory. So it was definitely fun to be able to after all these months — to find out what her backstory is and to bring it to life.
The Season 2 premiere of "Once Upon a Time" airs Sunday, Sept. 30, at 8 p.m. ET/PT on ABC.