FEATURED POST
'Apparition' star Ashley Greene emerges from 'Twilight'
By Don Kaye
Special to MSN Movies
Although the "Twilight" films are not considered true horror by most fans of the genre, the fact that they have vampires and werewolves as their main characters makes for at least a tenuous connection to the much darker and wider field. With "The Apparition," however, "Twilight" cast member Ashley Greene – who has played the pixie-ish, psychically gifted vampire Alice Cullen in all five films – plunges directly into the other end of the horror pool.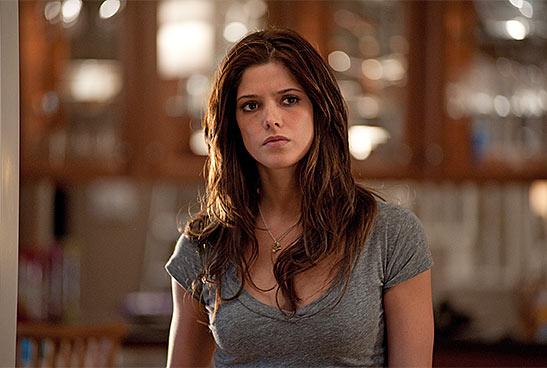 Greene plays Kelly, a veterinarian in training whose new home with her boyfriend, Ben (Sebastian Stan), is haunted by a malevolent entity that feeds off their terror. "It's much more fun to play Alice," says Greene with a laugh as we sit down during a press day for the film. "But it's nice to be able to kind of branch out and do different things and kind of push your limits and your buttons and kind of surprise yourself sometimes with some of the things you can do and some of the places you can go. And I think it'll be nice for people to see me in something other than 'Twilight.'"
Bing: More about Ashley Greene | More about 'The Apparition'
The 25-year-old Greene initially hoped to be a model, but soon turned to acting after moving to Los Angeles at the age of 17. She struggled to land jobs for a while before getting her big breakout in the "Twilight" series. Yet despite getting offers for other horror films in the recent past, Greene says she's shied away from the genre.
Photos: Scenes from 'The Apparition'
"Generally with any horror film, the first instinct is no," she admits. "Because I don't see the appeal in playing this helpless character that's always doing all the wrong things. So it was really nice and refreshing to find a character (in "The Apparition") that is smart and kind of does take charge and makes good decisions and strong decisions. … Kelly's a pretty strong character and she drives a lot of the movie, and I feel like you don't see that a lot in horror films and thriller films."
Greene adds that she was also drawn to first-time director Todd Lincoln's approach to the genre, which relied more on mood and keeping the title being largely unseen. "Just talking to Todd about the direction he wanted to go in was extremely helpful," she says. "He mentioned films like 'Poltergeist' and 'Rosemary's Baby' and really wanted this to be kind of an elevated film and not about cheap scares, plus he wanted it to be smart. … I feel like the unknown is one of the most challenging things -- it's scarier than something being right in your face, and I like the fact that you're not quite sure what's going on in a lot of the film, and there's a lot of anticipation and tension that kind of builds up."
Although her own career has been relatively short as well, Greene has nothing but praise for her novice director, saying, "You always hope for the best (working with a new director). I mean, I knew from talking to him that he's a pretty smart guy and he had a really great vision and he was really detail-oriented and this was his baby, so I had full faith that he was going to make this film the best that he could."
With outdoor locations filmed in California and indoor sets shot in Berlin, "The Apparition" proved to be a formidable physical challenge for the actors as well. But Greene says that her most taxing scene was an emotional one. "There a scene where Kelly sees this video that was really, really difficult for me," she recalls. "It was this combination of realizing what she's up against, and the reality setting in that this is not her imagination, mixed with this kind of betrayal and nothing being what she thought it was. Her whole world crumbles down in this one scene."
With "The Apparition" coming out now, Greene is currently filming her role as Lisa Kristal, daughter of legendary rock club owner Hilly Kristal, in the movie "CBGB." But first, of course, fans will see her one last time as Alice in this November's finale, "The Twilight Saga: Breaking Dawn, Part 2." Like many members of the cast, who were largely unknown before landing their roles in the romantic vampire franchise, Greene has mixed feelings about its ending.
"I'm going to miss it," she admits. "It's been really fun playing Alice and being able to work with the different directors and add layers to her. You know, it's really fun whenever you get to work with your friends, and having these fans that are so passionate and so supportive and so respectful and loving the work that you're doing is a very nice feeling. It's been really great, but it is nice to move forward as well because I feel like it has opened up so many doors for me that it's really exciting to take on new roles and discover new things. So, 'bittersweet,' I think, is probably the most appropriate word."
"The Apparition" is in theaters on Friday, Aug. 24.