FEATURED POST
What geeks are buzzing about this week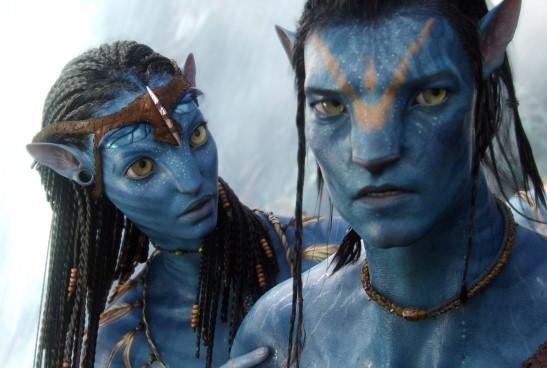 By Don Kaye
Special to MSN Movies
How many "Avatar" sequels are there going to be?
We're not exactly sure, but James Cameron said a while back (as did Sigourney Weaver) that as many as three more movies set on the planet Pandora could be coming our way in the next decade. Producer Jon Landau has walked that back, however, saying that while "Avatar 2" and "Avatar 3" are going to be filmed back to back, there are no current plans for an "Avatar 4."
And what exactly is happening with the "Avatar" franchise anyway? Well, production was once supposed to begin this fall, but that's not happening yet. Landau told Collider that the scripts for both films are "pretty far along," and that preproduction work has already begun at Manhattan Beach Studios (south of Los Angeles) and the WETA Digital effects shop in New Zealand. There was originally talk of "Avatar 2" coming out in 2014, but 2015 now seems a lot more realistic.
Bing: More about 'Avatar' | More about James Cameron
What will the story line of the next two "Avatar" movies be? Only Cameron knows that right now, but we're hoping that he gets off Pandora and explores some of the other planets in that solar system – and maybe tells a more original and mind-opening story than "'Dances With Wolves' in space," which is pretty much what "Avatar" was when you took away all the eye candy.
Pining for "Star Trek" info? Capt. Kirk throws us some tidbits

As usual, J.J. Abrams and his entire team of actors and filmmakers have kept their mouths shut regarding any details about "Star Trek 2," which arrives next May (in fact, we still don't know if that will even be the title). But Capt. Kirk, aka Chris Pine, opened up a little – and we mean just a little – in a new interview with England's Total Film.
The first thing Pine said is that "Trek 2" won't follow the "darker second movie" route taken (successfully, we should say) by movies ranging from "The Empire Strikes Back" to "The Dark Knight." Pine said firmly, "We're not making Batman. That's not our deal … there's comedy, which I think J.J. does a great job of, but, like the first one, there's some serious issues being dealt with. And I'd say the threat is even greater in this one."
Ah, yes, that mysterious threat, personified by "Sherlock" and "Tinker Tailor Soldier Spy" star Benedict Cumberbatch (by the way, we finally got around to watching the BBC's "Sherlock": It's stupendous, and so is Cumberbatch). We still don't know the name of the villain that the British actor is playing, although series icons like Khan and Gary Mitchell have been thrown around. But Pine did hint that something ominous was afoot: "The force (the Enterprise crew) are met with is much more frightening. It's relentlessly action-packed and in terms of character development, it goes places you'd never expect."
If there was one thing that was a bit of a letdown in 2009's "Star Trek," it was the threat/villain. Yes, we know that Romulan renegade Nero (Eric Bana) changed the course of reality in that story (destroying Vulcan in the process), but his motivations seemed petty and he himself was a fairly ordinary bad guy. We've lobbied for a while for a truly cosmic threat to confront the crew of the Enterprise with, and if Cumberbatch is the leading edge of that menace, then we'll be truly eager to see how this all plays out … as long as his name isn't Khan, of course.
Spoiler alert: How many Iron Men are in "Iron Man 3"?
Stop reading right here if you don't want to know anything about potential plot points from "Iron Man 3," which is coming out next May. Latino Review – which gets a lot of its scoops right – has learned some interesting info about Tony Stark's (Robert Downey Jr.) new armor and how he plans to use it against the Mandarin (Ben Kingsley) in his fourth big-screen outing (counting "The Avengers," of course).
Apparently Tony is going to skip a few versions of the armor in this film: He's going from Mark 7 directly to Mark 47. With the Mandarin controlling a legion of bad guys suited up in Extremis armor, which makes the weaponry and the human inside it pretty much one entity, Tony realizes he can't take the whole crew on by himself. So his new armor allows him to control a series of Iron Man drones, reportedly numbering around 40.
That's right: 40 Iron Men in "Iron Man 3," with 39 of them meant to distract, destroy and keep the Mandarin's army guessing which one houses the real Tony Stark. Now we will admit to a little bit of, shall we say, disappointment here, simply because we already saw Tony (and Don Cheadle in his War Machine gear) battling an army of Whiplash's drones at the end of "Iron Man 2." Will this particular series always end with a battle of armored suits? When your main character spends most of his time in one, we suppose that's just the way it's going to be.
Having said that, we know we'll be psyched to see Stark's drone army fighting the Mandarin's men when the movie rolls around next spring. It sounds like writer-director Shane Black is aiming high and wide, which is a good thing considering it's the first Marvel movie to follow up the jumbo-sized "Avengers."