FEATURED POST
Writer J. Michael Straczynski on finishing the prequels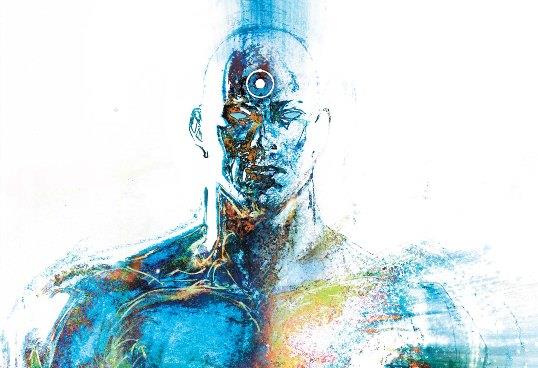 It was one year ago that DC Comics announced "Before Watchmen," a series of eight miniseries that would serve as prequels to the landmark 1986 comic book by writer Alan Moore and artist Dave Gibbons. The initial reactions ranged from surprise to outrage: "Watchmen" was not only considered one of the greatest achievements ever in the history of comic books, but also seen as untouchable -- even though Moore himself once discussed the idea of prequels long ago.
Despite Moore's own typically cranky reaction and those of fans in the "untouchable" camp, work proceeded on "Before Watchmen" with a sterling lineup of writers and artists, including Brian Azzarello, J. Michael Straczynski, Len Wein, Jae Lee, Lee Bermejo, Andy Kubert and others. It was Straczynski who took on the four-issue stories featuring future Watchmen Nite Owl and Dr. Manhattan, along with a two-issue tale starring one-time arch-villain Moloch.
We got a chance to interview Straczynski via email about "Before Watchmen" and his other current projects, including his acclaimed series of "Superman: Earth One" graphic novels, his upcoming "The Flickering Light" and his Joe's Comics line. Best known as the creator of sci-fi TV classic "Babylon 5," and also acclaimed for a six-year run writing "The Amazing Spider-Man," Straczynski's résumé includes comics, novels, film and TV -- and is heavy with the kind of quality genre work that indicated his "Before Watchmen" books were in good hands.
MSN Movies: What were your early concerns about doing these books and have they gone by the wayside now that you've gotten into them?
J. Michael Straczynski: I think that the most obvious concern we all had was the question of fan reaction. If there's a third rail in the comics business, touching the "Watchmen" universe is probably it. We all knew that the moment the announcement was made there would be a run on pitchforks and torches at hardware stores across the planet. Which is why, as [DC co-publisher] Dan DiDio pointed out several times, he picked writers and artists who wouldn't be easily scared off.  
As expected, the firestorm was pretty intense in the early stages. But once the books began to arrive and folks could actually see what was being done, they were able to evaluate the books from a perspective of what they were not what they might have been. Overall, the reaction was positive. Some fared better than others, but in general, they were perceived as good, solid, quality books. Which is all anyone can really ask for.
 
We know how Alan Moore felt about them, but what would you say to him if you had the chance? Have you spoken at all with Dave Gibbons?
I spoke briefly to Dave Gibbons at San Diego Comic Con back when Dan was still in the nascent stages of putting all this together, and he seemed both excited and conflicted. Which was perfectly understandable; something would be very wrong if he didn't feel that mix of emotions.  
What would I say to Alan Moore? Depends on the subject. If it were a general conversation I'd thank him for creating maybe the best Superman story ever, "Whatever Happened to the Man of Tomorrow?" If it were a conversation about "Watchmen," I guess I'd say to Alan whatever Alan said to Len Wein when he quite happily took over "Swamp Thing," which Len created, assuming he said anything at all about it.

Do you feel like you and the other writers and artists have all done their best to honor the original work while expanding upon it?
There's absolutely no question that the work was approached from a position of reverence and respect. When we all first met up together in New York in the early secret stages, the single greatest concern voiced over and over was how best we could honor the "Watchmen" legacy while creating a space for new stories to happen. We flipped through copies of the book in search of references and timelines like kids in Bible Study chasing verses. If anything, in retrospect, I wonder if we went too far in that direction and handcuffed ourselves more than we should have.
What was it about each of these characters (Dr. Manhattan, Nite Owl, Moloch) that made you interested in exploring them?
In terms of the first two, they're almost like the bookends of the "Watchmen" universe, being both the most powerful and potentially the least powerful characters in that universe. Dr. Manhattan, seeing all of his actions past, present and future as already made feels that he has no choices at all; Nite Owl, unable to see the big picture, feels that he has all the choice in the world. [Some of the aforementioned critics, eager to jump on the book, said that it violated the rules of the "Watchmen" universe by showing Dr. Manhattan having choices and making changes, when he knows he can't do that, never stopping to think that this might just be the story where he figures that out ... which, of course, is exactly what it's about.]
To further reinforce the idea of choices, and the bookend-ish nature of these two characters, I picked a moment in Nite Owl's first issue to use in intersecting those two stories: the instant when Captain Metropolis picks out the names of heroes to partner up, and Dr. Manhattan changes the slip of paper with his partner, Rorschach, to that of the Silk Spectre. The conclusion of the Dr. Manhattan mini features some very unusual layout techniques designed to reinforce how so much of this comes down to matters of perspective. There's something we do with the layout that I'm not sure has been done before; at least I've never seen it. But then, I don't get out much. 
In terms of Moloch, that ended up being kind of a personal favorite because it's about his arc from innocence to crime to redemption to sacrifice and atonement. He's such a tragic character and the Russian in me is drawn to such stories.  
How do you think the "Before Watchmen" project will be viewed once it is completed and with some perspective?
Any assessment I might make would be colored by the specter of enlightened self-interest.  So I will say only that we set out to tell some good stories that would be complementary to the original "Watchmen," layering in some areas of interest and background that readers might not have known about.  If readers feel we succeeded, those stories will endure; if not, not. Once the work is done it's owned by the audience, and only they can make a reasoned assessment about it.
Where does "Superman: Earth One" stand?
Volume 2 came out just a bit ago, and has done very well for itself ... well enough that DC has asked me to write volume three, which will sew up many of the threads from the previous two volumes. In particular, we will learn more about the destruction of Krypton and who was behind it. The next volume is due out in the fall.
You just got financing for "The Flickering Light." What can you tell us about that project?
It's based on a true story that I spent about a year researching. Leni Riefenstahl, German film-maker and sometimes propagandist for the Third Reich, was shooting a movie in Berlin in 1942 called Tiefland, for which she needed extras and bit players who looked Spanish ... of which there weren't many in Germany at that time.  So she made a deal with a Gypsy (Roma/Cinti) concentration camp to rent nearly 100 men, women and children for her movie. Our story is told from the point of view of one of the camp prisoners who is pulled into this, and along the way rediscovers love and hope from his experiences. 
As I write these words I'm actually in Berlin for the Berlin Film Festival, where we're laying the foundation for the foreign sales that will be concluded at Cannes. We're still in the process of casting our two leads, and with the support of Reliance/Motion Picture Capital we plan to put the film into production in November of this year as my feature directorial debut.
What are your thoughts on the movie version of "World War Z," for which you wrote what was, by all accounts, a terrific script that did not get used?
I haven't seen the finished movie (or any iteration of it) . Once I got the project up and moving, and Marc Forster brought in another writer to do his version of the story, which has pretty much nothing to do with the book, they slammed the door so hard the hinges came off ... so I don't really have much more than that to say on the subject.
Any other comics coming up after "Before Watchmen" is done, besides "Superman," and before you start your movie?
This April we will be relaunching the Joe's Comics imprint via Image. Ten Grand, the first of our planned four titles, will be debuting at C2E2 in Chicago with a special variant cover just for the convention. Ben Templesmith is doing the art and it's just a stunningly beautiful book. Sidekick, our second title, will debut at San Diego Comic Con. It's gonna be a pretty intense year but I'm having an absolute blast. What more can anyone ask for than to have a ridiculous amount of fun at what one does for a living?


Before Watchmen: Dr. Manhattan #4 is available in stores Wednesday, Feb. 27.