FEATURED POST
Sequel is most anticipated movie of this year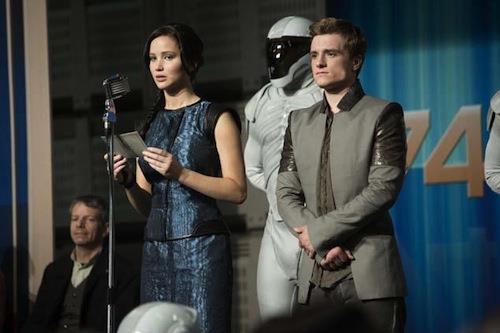 The winner of this year's
MTV Movie Brawl
is...(drum roll please)..."
The Hunger Games: Catching Fire
," which now claims the title as the "most anticipated movie of 2013."
Bing:
More about 'Catching Fire'
|
More about Jennifer Lawrence
From
MTV
:
Sam Claflin, one of the newest cast members to join the series, shared his excitement about the Movie Brawl victory exclusively to MTV News. "I'm so happy and proud to say I'm a part of 'The Hunger Games: Catching Fire,' " he said. "Just want to say a big thank you to all the fans worldwide for voting. I'm thrilled to know they are just as excited as I am for the next chapter."

This year's journey to victory was no cake walk for Katniss Everdeen and the rest of the tributes. Though the movie wiped the floor with first-round opponent, "After Earth," it faced a fierce battle against "The Host," ultimately besting Stephenie Meyer's sci-fi flick by taking 54-percent of the total votes. From there, "Catching Fire" moved on to the most heated matchup of the Brawl, this one against another YA franchise player, "Percy Jackson: Sea of Monsters." After millions of votes, the surprise powerhouse only trailed "Catching Fire" by less than 4,000 when the semifinals polls closed, ending a hard-fought battle and dashing the dreams of Lermaniacs everywhere. It seemed that the Jennifer Lawrence-led follow-up would have to fight for every victory until the end.

Once the second consecutive trip to the finals was confirmed for "The Hunger Games" franchise, that's when the real battle began. In a tournament that notched 10 million votes, the results pointed to a clear, 100,000-vote win for "Catching Fire" over "The Mortal Instruments." The strong showing from the Shadowhunters proved that the YA adaptation is a force to be reckoned with.

That is a pretty decisive vote over "Mortal Instruments." This makes up for last year's Movie Brawl, where Robert Pattinson's "Cosmopolis" beat out "The Hunger Games."
Thoughts? Share them in the Comments.
Check out MSN Movies on Facebook or Twitter.For more "Hunger Games" news, like the Hunger Games Blog on Facebook.