FEATURED POST
Stand-alone movies based on more major characters revealed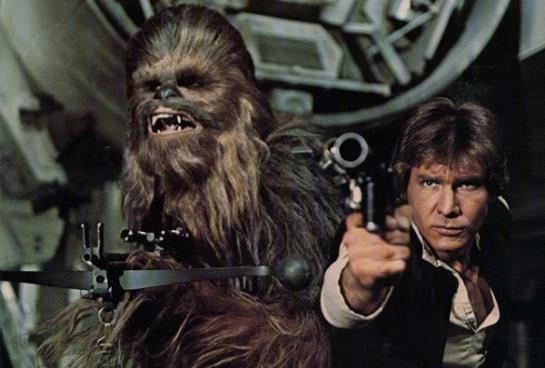 Just a couple of days after it was reported that one of the "Star Wars" spinoff movies would center around Yoda, films starring two more beloved characters from the original series appear to be in the works.
According to
Entertainment Weekly
, the roguish smuggler Han Solo and the mysterious bounty hunter Boba Fett will each get their own stand-alone movie, separate from the new "Star Wars" trilogy that's also being planned. Following rumors of a Yoda movie, Disney CEO Robert Iger confirmed on Tuesday (February 5) that movies separate from the trilogy would be coming as well from LucasFilm, which Disney now owns.
The Han Solo movie will explore a younger version of the character and delve into his back history and origins before he teamed up with Luke Skywalker and the Rebel Alliance in the original trilogy, while the Boba Fett feature will focus on an adventure starring the masked mercenary as he navigates the galaxy's most treacherous bad guys.
With the Solo story reportedly taking place between the end of "Star Wars - Episode III: Revenge of the Sith" and the beginning of "Episode IV: A New Hope," a new, younger actor will have to take on the role -- although it's possible that Harrison Ford, who played Solo in the original trilogy, could show up in flashbacks or framing sequences.
The Boba Fett movie will take place either between "A New Hope" and "The Empire Strikes Back," or between the latter and "Return of the Jedi," the film in which he met his end. Shown in the prequels as the young son of the warrior from which the Imperial stormtroopers were eventually cloned, an adult Fett could be played by anyone (or Temuera Morrison, who played his father in the prequels).
These films will tentatively be released in between installments of the new trilogy, the first film of which is being directed by J.J. Abrams from a script by Michael Arndt ("Toy Story 3") for a summer 2015 release. No directors have been mentioned yet for any of the three spinoff movies. The scripts for at least two of the films are being written by Simon Kinberg ("Mr. and rs. Smith") and Lawrence Kasdan ("The Empire Strikes Back").
Many questions remain: who should play Solo? Could other characters like Jabba the Hut or even Darth Vader appear? Who should direct these movies? All that has yet to be determined, but if these plans come to pass, we'll be spending a lot of time in that "galaxy far, far away" starting in 2015!