FEATURED POST
Reaction to Guillermo Del Toro's monster epic is positive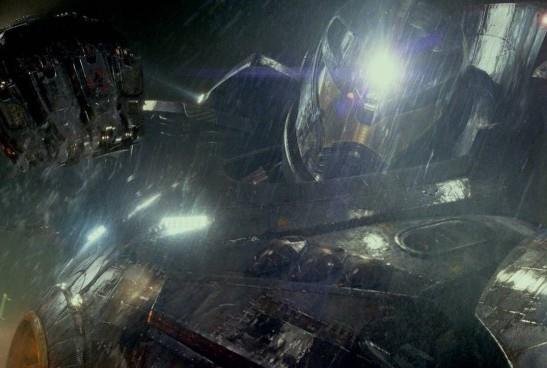 "Pacific Rim,"
the
giant-monsters-vs-ma​ssive-robots
epic from director Guillermo Del Toro, just held its first test screening on Sunday night (February 3), with positive results.
A few comments showed up at Twitter, and one extended review at IMDB, but
all
were uniformly in agreement that Del Toro has delivered a winning summer blockbuster with the film, which takes place in a future where humanity must use gigantic battle robots to defend itself against a never-ending swarm of creatures from another dimension.
Perhaps the most interesting tweet came from a colleague of Del Toro -- director Rian Johnson, whose "Looper" (released last fall) was one of the strongest science fiction movies of the past decade. Johnson tweeted: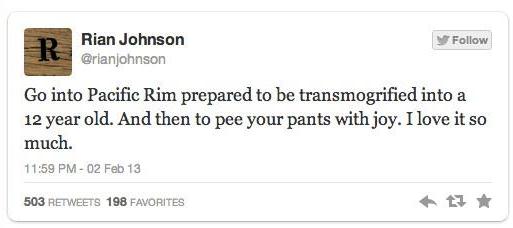 While most people who get to go to test screenings usually aren't allowed to tweet afterwards, Johnson apparently felt strongly enough about the movie to throw his own name and credibility behind it early and asked permission to do so.
Other tweets described the movie as "amazing," and a longer post at IMDB called it "probably the best summer monster movie I've seen," adding that "the FX are flat out incredible (the ones that were done) and the story is solid."
We're rooting for Del Toro, one of the genre's best directors and most passionate enthusiasts, who has seen project after project get lost in studio development hell since his last film, "Hellboy 2: The Golden Army," hit screens way back in 2008. If these early reviews are any indication (and with the exception of Johnson's, all should be taken fairly lightly at this stage), "Pacific Rim" could be one of this summer's most colossal surprises.
"Pacific Rim" is out in theaters Friday, July 11.