FEATURED POST
Which geek movies were the summer's big winners?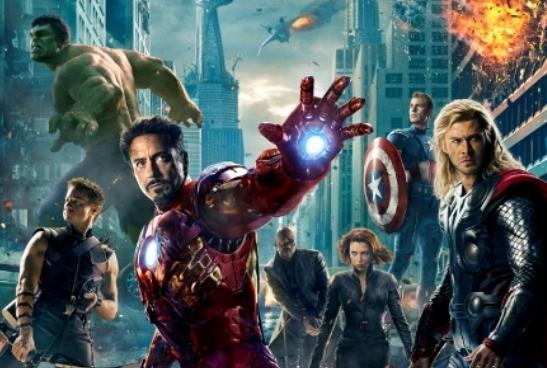 By Don Kaye
Special to MSN Movies
Labor Day weekend has come and gone, marking the official end of 2012's summer movie season. On the box-office front, it was a four-month period of remarkable highs and lows, going from the smashing opening of "The Avengers" to the crash-and-burn of "Total Recall" (the last big-studio genre release aside from the usual August horror output), with the success (or lack thereof) of geekier fare mirroring this year's rollercoaster ticket sales overall.
Bing: More about 'The Avengers' | More about 'Men in Black 3'
On the actual quality front, things were just as unpredictable. A couple of the major releases lived up to their hype and expectations, while plenty of others failed to deliver on numerous levels. As we look at what worked and what didn't during the past season, we'll try to (unscientifically) average out both artistic and financial success so that the "winners" aren't just the movies that earned the most coin.
And with that, as a man in clown makeup once said, "away we go …"
(Note: Remember to double the budget before looking at the movie's grosses to see if it was profitable, since half the box office goes to theater owners)
"The Avengers"

Did it work as a movie? They said it was impossible, this whole Marvel game plan: "Let's make a bunch of superhero movies that all lead to one big team-up film." Boy, were they wrong. "The Avengers" not only succeeded in knitting together the various strands of Marvel's screen universe, but it was a genuine good time at the movies – we're talking "Raiders of the Lost Ark" or "Star Wars" level. Along with the strong cast, tons of credit must go to writer-director Joss Whedon, whose love of this world and skill with these characters emanated off every frame.
Did it work at the box office? Um, we'd say so. Now at $620 million domestically and just over $1.5 billion worldwide as we write this (on a $220 million budget), "The Avengers" is the third-highest-grossi​ng movie of all time.
"Men in Black 3"

Did it work as a movie? Surprisingly, this long-in-development third entry in the sci-fi/comedy franchise was not the disaster that early buzz hinted at. While most of the original film's success was based on the chemistry between Will Smith and Tommy Lee Jones, both were outshined this time by Josh Brolin as the younger version of Jones' Agent K, doing much more than a simple impersonation (kudos also to Michael Stuhlbarg's turn as an eccentric alien). The movie even ended on a moving note. We're not talking a classic, but it entertained us.
Did it work at the box office? "MiB 3" was plagued by reports of massive cost overruns, so it's hard to say yet if the movie will be profitable for Sony. But with $179 million in the bank here and $624 million worldwide, it's far from a failure.
"Snow White and the Huntsman"

Did it work as a movie? Yes and no. This is a tough one and sort of a split decision, since there were many elements that clicked and a couple of major ones – like the central performance from Kristen Stewart and a lot of the script – that didn't. But we're going to put "Snow White" in the winners' column for the sheer beauty of its visuals, terrific performances from Charlize Theron and Chris Hemsworth, and for being a bit offbeat and weird for a summer movie.
Did it work at the box office? We don't know if it was the premise, the imagery or Kristen Stewart and Chris Hemsworth's combined star power after "Twilight" and "Thor" and "The Avengers," respectively, but "Snow White" managed to dig up $394 million worldwide. That was just enough to make the $170 million film slightly profitable, but not too shabby at all considering that it was one of the summer's few "original" releases.
"The Dark Knight Rises"
Did it work as a movie? When all is said and done, "The Dark Knight Rises" may well be considered the least effective of Christopher Nolan's Batman trilogy on its own terms, but in context it was a successful summation and conclusion of the story Nolan was telling. Once again, he aimed high and mostly hit the mark, with a huge, ambitious (if somewhat hole-ridden) story, stupendous action sequences and great work from his cast (especially Anne Hathaway and Joseph Gordon-Levitt). The movie's ending was also surprisingly poignant – a first for Nolan. This and "The Avengers" displayed two kinds of comic book moviemaking at their best.
Did it work at the box office? "TDKR" was probably never going to top or match "The Dark Knight," but we will also never know how much this film's box office was affected by the horrible shootings in Aurora, Colo. Nevertheless, as we write this, Nolan's $250 million Bat-finale has earned $431 million in the U.S., while its global total has just passed the vaunted $1 billion mark, making it the second Bat-film to be among the 10 highest grossing movies of all time.
"ParaNorman"

Did it work as a movie? Portland, Oregon's LAIKA stop-motion studio has produced just two animated features so far, yet both – "Coraline" and "ParaNorman" – are among our favorites of the past few years. "ParaNorman" is both gorgeous to look at (in 3-D) and genuinely well-written and macabre. This is a movie that understands the horror genre even as it gears its storytelling toward a younger audience. Entertaining, fun and chilling, "ParaNorman" turned into one of the summer's hidden surprises.
Did it work at the box office? We don't have budget numbers for "ParaNorman," but it earned $41 million in just two weeks of release in the U.S. (and another $13 million overseas), which means it might finish out OK when it runs its course. It's too early to tell.
"The Possession"

Did it work as a movie? Late August has become a dumping ground for horror films, and most of them deserve to be forgotten. But "The Possession" is a different story. It's no game-changer, but it devotes more time to character development than most studio genre outings, tweaks the possession angle by having the demon come out of Jewish traditions instead of Christian ones, and delivers on some striking, chilling imagery. A good cast (including terrific young actress Samantha Calis as the one who's possessed) helps this solid, if minor, effort as well.
Did it work at the box office? "The Possession" opened this past weekend and was expected to earn $20 million to $22 million for the four-day holiday frame – on a budget of only $14 million. This is why studios love horror: It can be done on the cheap and usually ends up turning a tidy, if unspectacular, profit. And sometimes, it can be even be good.