FEATURED POST
'You'll never see it coming,' says Dallas Roberts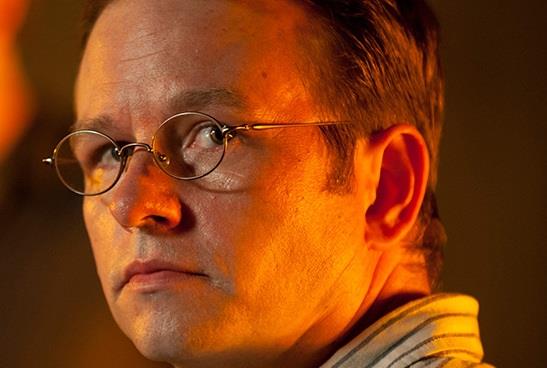 Dallas Roberts says that "Walking Dead" fans "will not feel cheated" when the AMC series closes out its third season later this spring. 
Roberts, who plays the Governor's (David Morrissey) right hand man Milton Mamet, told
ET Online
that this year's finale is "not a soft close for sure. As (the season) starts to wrap up, it gets stronger, crazier and weirder. Although you'll never see it coming, when it cuts to black at the end of season three, there will be millions of mouths agape."
That should be good news to fans who have taken the rollercoaster ride on what many agree is the horror hit's best season yet, as the brutal conflict between the Governor's minions in Woodbury and the prison group led by Rick (Andrew Lincoln) only gets more intense.
In the middle of it all is Milton, who's loyal to the Governor but, says Roberts, would probably prefer to be left alone in his lab as he continues searching for a cure to the zombie plague.
"I love that exact thing about him," says the actor, who has also appeared on "The Good Wife," which airs directly opposite "The Walking Dead" on Sunday nights. "I love that he's afraid of the people who are alive almost as much as he's afraid of the people who are undead. The danger for him is really in social interactions. Those are almost as scary for him as being out in the woods alone."
As for whether Milton would lay down his life for Woodbury, as the Governor asked him recently, Roberts replies, "I think so," and also explains why this seemingly rational scientist is so loyal to the increasingly unstable and sadistic Governor.
"I think The Governor commands respect and power with force and brutality and whatever is necessary," muses Roberts. "I don't think Milton wants to get into fisticuffs with the guy, but they're passed that. They've lived together a while and built Woodbury from just a group of survivors to a thriving town. Milton will never be the top dog, but The Governor allows him to eat the scraps from the Top Dog's table. If we're the United Nations, The Governor is America and I'm England."
"The Walking Dead" airs Sundays at 9 p.m. ET/PT on AMC.