FEATURED POST
Film legend to join S.H.I.E.L.D.?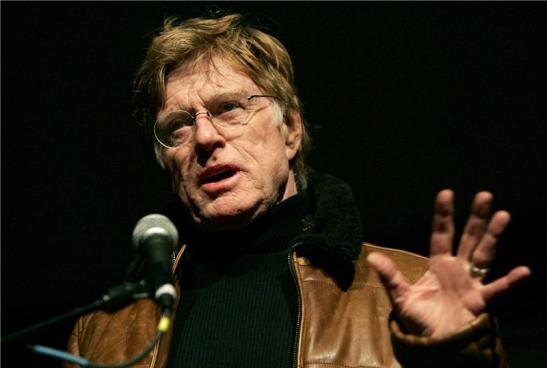 A report posted online this morning says that filmmaking and acting legend Robert Redford is "in discussions" to join the cast "Captain America: The Winter Soldier."
Deadline
broke the news that Redford, known for iconic performances in movies like "Butch Cassidy and the Sundance Kid" and "All the President's Men" -- not to mention creating and running the Sundance Film Festival -- may possibly join the movie as a character in a "senior leadership role" in S.H.I.E.L.D. The high-tech government agency run by Samuel L. Jackson's Nick Fury has been a connective thread between all the recent Marvel films.
It's unclear whether Redford's character would report to Fury or vice versa, and if the actor would also appear in other upcoming Marvel films. The Deadline piece hints that this could be the case. In addition to Jackson, "Captain America: The Winter Soldier" brings back Chris Evans in the title role, along with Scarlet Johansson (Black Widow), Cobie Smulders (Maria Hill), Toby Jones (Armin Zola), Sebastian Stan (Bucky Barnes) and Anthony Mackie (Sam Wilson/The Falcon).
Marvel has been no slouch at attracting A-list, Oscar-caliber talent to its movies: starting with Robert Downey Jr. back on the first "Iron Man" in 2008, the studio's films have recruited the likes of Jeff Bridges, Gwyneth Paltrow, Don Cheadle, Tommy Lee Jones, Mark Ruffalo, Ben Kingsley, Mickey Rourke, Edward Norton, Anthony Hopkins and more.
But Redford, who directs and stars in the upcoming drama "The Company You Keep" (out April 5), is almost in a class of his own, not just for his own acting resume but for his tireless support of independent cinema through the Sundance festival, filmmaking labs and cable channel.
Marvel, of course, has no comment, so we'll wait for official word. But in the meantime, tell us what you think of Robert Redford possibly joining the Marvel Universe!
"Captain America: The Winter Soldier" is out in theaters April 4, 2014.