FEATURED POST
Peter Jackson on the set of 'The Hobbit'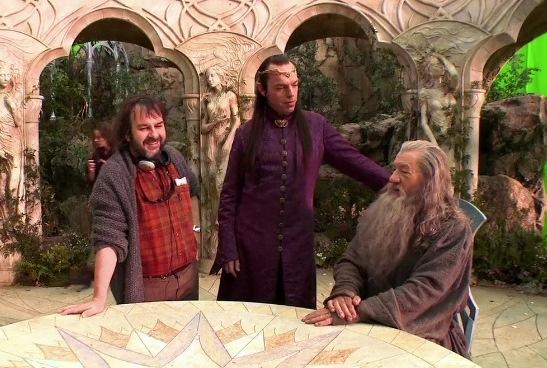 By Don Kaye
Special to MSN Movies
When Parallel Universe and several other media outlets finally meet with Peter Jackson toward the end of our long day on the sets of "The Hobbit" in Wellington, New Zealand, he is understandably a bit tired: After all, this is day 230-something of shooting, and that is even before it's announced that "The Hobbit" is going to become three movies instead of two. Nevertheless, Jackson greets us cheerfully and tells us that the project – as it stands at the moment we meet him – will finish shooting on schedule on day 254. The man is certainly proficient at keeping these gigantic projects running on time, and with everything we've seen so far, it's incredible to think that this one person is in charge of it all.
Bing: More about 'The Hobbit: An Unexpected Journey' | More about Peter Jackson

What's even more startling is to think about how close he came to not being in command. As well-documented previously, Jackson did not want to direct "The Hobbit" for a long time, despite his massive artistic and commercial success with "The Lord of the Rings." The desire to work in other places beside Middle-earth, as well as more mundane legal and financial differences with the studio (New Line, at the time), led him to first stay away completely, and then come back only as a co-writer and producer. Even when he did eventually take his place in the director's chair – which many felt should have belonged to only him – more and different financial problems (with partner studio MGM) threatened to derail the whole enterprise.
And yet here we are on a chilly May day in New Zealand, seven months out from the Dec. 14 release of "The Hobbit: An Unexpected Journey" -- the first of what will now be three films directed by Jackson – and the man sits down wearily but enthusiastically in the middle of a vast soundstage/storage facility (pieces of a woodland set are piled high behind him) to talk about how he ended up getting behind the camera again, and knowing he wanted to.
"When Guillermo (Del Toro, originally slated to direct) left, we didn't have a green light and we didn't have a movie," Jackson recalls. "I was there as a caretaker, but it wasn't like anything much could be done 'cause there was no budget, there was nothing really. We didn't know what was going to happen with MGM. But we were working on the script with Fran (Walsh) and Phil (Philippa Boyens) and Guillermo for a period of time beforehand. We were starting to work up the characters, and so I was beginning to get connected to the material quite well.
"I never wanted to do 'The Hobbit' in the first place 'cause the idea of having an ensemble of 13 dwarves terrified me … I thought it was a nightmare that I thought would be much more interesting to see what somebody else did with it, but the weird thing with this is that having ended up where I am, the fact that there are 13 dwarves in it is the great joy of the movie. I've actually swung 180 degrees around now. It's like I suddenly think, 'Wow, this movie is really cool because of all these characters, these eccentric dwarves.' And we've given each of them personalities and things, and they are very much the heart of the story. Bilbo is the soul of the story, but the dwarves and their wanting to reclaim their homeland is very much the heart of the story."
The story of "The Hobbit" takes place some 60 years or so before the events of "The Lord of the Rings," with Bilbo Baggins played as a much younger man by Martin Freeman (of "Sherlock" fame), but naturally with other characters returning from "Rings" and Jackson himself back behind the camera, "The Hobbit" is designed to feel like it's cut from the same cloth as the previous film trilogy, with some differences.
"Obviously it shouldn't feel like anything entirely different," says Jackson. "The way that I went into it when I got involved as a director was that I'd go into it as exactly the same filmmaker that did 'Lord of the Rings,' like I'm returning to Middle-earth -- in the sense that it's a real place. I'm there to tell another story, but the characters within the story, as well as the story itself, since you're dealing with 13 dwarves, gives you a different tone and a different feel in places than 'Lord of the Rings' did. 'Lord of the Rings' was incredibly good and evil, black and white. The world was at stake. The tension that was involved in the story was pretty basic. Whereas this one has slightly more of a fairy-tale quality. … The elements of the story give you room to change the tone slightly, but in terms of the look and the feel and the filmmaking style, I wanted to keep it pretty consistent and keep everything feeling like it's the same world."
Jackson is asked about expanding "The Hobbit" into (at that time) two films, and whether we'll actually see, for example, scenes of what Gandalf does when he's offstage in the book in the extended screen adaptation. "(J.R.R.) Tolkien wrote this book as a children's book in 1936, I think it was, and then later on he wrote 'The Lord of the Rings,' explains Jackson. "He was toying with the idea of republishing 'The Hobbit' as a rewritten book that would tie in to 'Lord of the Rings.' That never really happened, but a lot of the material ended up in the appendices of the later editions of (third "Rings" novel) 'The Return of the King.' We've got access to all this material, so we are able to delve into those appendices and search for little clues about bits of story and some of them are only half formed. You get the feeling that maybe if he ever did sit down to really flesh it out we would have got a lot more information from some of those writings."
Making a 1,000-page epic into three movies (as Jackson did with "Rings") is one thing; lengthening a 300-page book into a second trilogy of films is daunting on its own, but when you add production delays, personnel changes, financial setbacks and even labor disputes (yes, there was one of those too, with some New Zealand crew people) to the mix, one has to wonder if the filmmaking process could even be enjoyable for the director at this point. But Jackson says that once the cameras started rolling, the magic began happening again.
"Making the movie has been a lot of fun," he insists. "Since we've started shooting it's been pretty plain sailing, touch wood. It's been just a joy. I've been having a blast. It was an incredibly painful couple of years leading up to it, yeah. That was the most stressful time. So stressful that I got an ulcer, which was awesome, but anyway, the ulcer was actually quite good because it gave everybody six weeks of extra preproduction time, which I think everyone was delighted (about) … they all got an extra six weeks to prepare for the movie, so I think there were a lot of people that were quite happy about that. It was tough, but once we got it running, it's been fantastic. It's been a lot of fun. I hope the fun that we've had is a spirit that goes into the movie. I hope you see that on the screen."
And with that, Jackson is whisked away to resume supervising the filming of scenes that we can't talk about right now because they're in the second film, "The Desolation of Smaug," which is out next year. As we watch him walk away, we can't help but feel that Peter Jackson was, no matter what, destined to direct "The Hobbit." And it's nice to see that, in his heart of hearts, he finally seems to know it too.