FEATURED POST
Movie will be in theaters in IMAX 3D this spring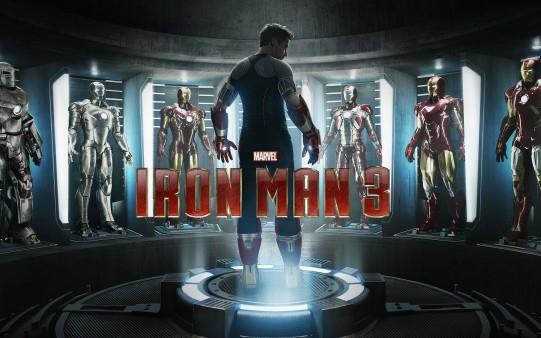 We already knew that "Iron Man 3" was going to be released in 3-D, but news has arrived that the next Marvel blockbuster will be getting the IMAX treatment as well. IMAX and Marvel announced the news today (Tuesday, Jan. 22), confirming that the film will get digitally blown up for the large-screen format -- a format that some filmmakers, notably Christopher Nolan, actually prefer to 3-D. "Iron Man 3" is scheduled to be out in theaters Friday, May 3.

Bing:
More on 'Iron Man 3'
|
More on Robert Downey Jr.
"Iron Man 3" was shot in neither 3-D nor IMAX, which means it will be converted for both. What effect that has on the film image itself remains to be seen, but the effect on the box-office bottom line is what Marvel (a subsidiary of Disney) is looking at: According to
The Wrap
, "The Avengers" earned $15 million through IMAX screenings while "The Dark Knight Rises" snagged around $19 million from them.
Marvel has pretty much asserted at this point that every one of its films will either be in 3-D, IMAX or both. "Thor," "Captain America: The First Avenger" and "The Avengers" were converted for both formats, while "Iron Man 2" was upgraded to IMAX. Other upcoming films, like "Thor: The Dark World" and "Captain America: The Winter Soldier," will also get the IMAX 3-D polish.
"Iron Man 3" is Marvel's first post-"Avengers" movie and the opening entry in the studio's "Phase Two," which will encompass another three or four standalone films -- although they'll presumably link together in some way -- leading up to "The Avengers 2" in 2015. Joining "Iron Man 3," "Thor: The Dark World" and "Captain America: The Winter Soldier" on that list will be "Guardians of the Galaxy" and possibly "Ant-Man."
Robert Downey Jr. stars as Tony Stark for the fourth time in "Iron Man 3," with Gwyneth Paltrow and Don Cheadle returning as Pepper Potts and James "Rhodey" Rhodes, respectively. The villain this time will be the Mandarin (Ben Kingsley), an international super-terrorist  who has traditionally been Stark's greatest and deadliest villain in the comics.
The plot  is top secret, but the trailer does show Stark's Malibu mansion being attacked and destroyed by the Mandarin's minions, and writer-director Shane Black (replacing Jon Favreau) has hinted that Stark will have his feet put to the fire in this story. Rumors have suggested that the film also has something to do with the popular "Extremis" story line from the comics, which dealt with Stark injecting himself with nanotechnology that all but fused his biology with his Iron Man armor.
Incidentally, "Iron Man 3" recently took to the streets of Hollywood for a couple of reshoots, and footage of the sequence has been captured on YouTube. Check one clip out below and see the rest at Slashfilm.


"Iron Man 3" will be out in theaters Friday, May 3, 2013.