Jennifer Lawrence's Oscar win takes Lionsgate stock to new heights
Studio's NYSE shares hits 52-week high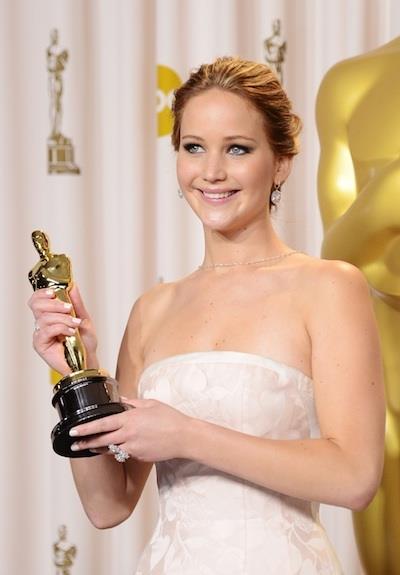 Lionsgate
stock reaches a 52-week high after
Jennifer Lawrence
nabbed a Best Actress Oscar on Sunday night.
Bing:
More about Jennifer Lawrence
|
More about Lionsgate
From
THR
:
The gain came after Jennifer Lawrence won the best actress crown at the Academy Awards on Sunday night. She won for her role in "Silver Linings Playbook," but she also has the hero role as Katniss Everdeen in Lionsgate's "Hunger Games" franchise.

The stock of the mini-studio climbed 25 cents at the opening Monday morning on the New York Stock Exchange to $20.99, a 52-week high well above its 52-week low of $11.26.

Investors have been looking for a strong performance from the upcoming Hunger Games sequel, and Lawrence's added exposure and Oscar win could possibly further support audience interest.

Matt Harrigan, an analyst with Wunderlich Securities, said the "Hunger Games" sequel is already "hard-wired" for box office success without Lawrence's "Silver Linings" achievement.

But Harrigan added Lawrence's Oscar stardust underlines Lionsgate's ability to spot "more affordable (at the time!) talent and ability to manage budget template on projects."

I would not be surprised if Lawrence's team is now working on her contract re-negotiation with Lionsgate. Lawrence was
reportedly paid
just $500,000 for her role as Katniss Everdeen in "The Hunger Games"—a large pile of cash but tiny when you consider the film grossed almost $684 million last spring. Although her contract was re-negogiated after the film's success so Lawrence would be paid in the $10 million range for "Catching Fire," an Oscar win brings her bankability quotient up even more.
Thoughts? Share them in the comments.
Check out MSN Movies on Facebook or Twitter.
For more "Hunger Games" news, like the The Hunger Games on Facebook.