Across the Universe: Playing With Fire
The year's most debated sci-fi movie, 'Prometheus,' revisited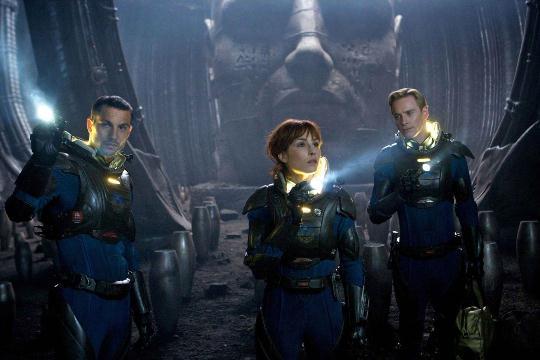 By Don Kaye
Special to MSN Movies
Almost since it was announced, "Prometheus" was one of the most hotly anticipated movies of the year. At first slated to be a prequel to director Ridley Scott's original sci-fi/horror masterpiece "Alien," the movie changed into something else when Scott himself sat in the director's chair after first just taking a producer role. With Scott bringing in "Lost" guru Damon Lindelof to rewrite an initial script by Jon Spaihts, the movie shifted its priorities and remained situated in the "Alien" universe while telling an original and supposedly ambitious new story.
Bing: More about Ridley Scott | More about 'Prometheus'

That story follows the crew of the title starship as they follow into deep space what is presumed by Dr. Elizabeth Shaw (Noomi Rapace) to be messages left behind in the remnants of seven ancient Earth civilizations. When they arrive at the planet that the messages have sent them to, they find a long-dead alien outpost of some sort. It becomes apparent that the "space jockey" glimpsed in the original "Alien" – a long-dead giant carcass – is part of a race of advanced beings that seeded Earth with the ingredients of what became human life. But they've left behind the seeds of other life forms as well …
Designed as both terrifying action thriller and mind-blowing "big-idea" science fiction, "Prometheus" shocked would-be fans by succeeding as neither. Although the movie's first 30 minutes or so set up the plot and premise in beautifully efficient style – helped by some of the most gorgeous visuals seen in the genre in years – "Prometheus" unravels completely in its second hour. Characters are either underdeveloped or prone to doing utterly stupid things only to service the plot, monsters and concepts are thrown at the screen in frenzied and random fashion, and the movie finally commits the unforgivable sin of setting up a sequel without resolving its own story line and themes first – a huge cheat to viewers that smacks of cynical cash-grabbing.
It's such a shame because "Prometheus" could have been the sort of intelligent, large-scale sci-fi film that comes around only once in a while. The error that Lindelof and Scott made was believing their own hype without doing the extra amount of work to live up to it. The movie seems self-satisfied with its own presumed importance, yet all it does is take its premise and all but throw it away and turn into a standard shock show. Even a final, direct nod to "Alien" is just clumsy fan service that comes at the end of a long line of increasingly ham-handed plot turns.
"Questions Will Be Answered" proclaims the sticker on the four-disc Blu-ray/DVD combo set of "Prometheus" released last week – kind of a lame way to get people to buy the set when the questions should have been answered in the movie the first time around. Yet the hype around the movie's arrival on home video has centered on some 37 minutes of footage – either previously unseen or expanded scenes – included as a bonus feature that, it was hinted, might unlock secrets left unresolved in the movie's final cut. The short answer? It doesn't.
Yes, there's an alternate beginning that features a glimpse of more Engineers (as the "space jockey" race are now called), an alternate version of the scene where the remaining Engineer on the planet is awakened (and speaks), and a clutch of scenes that provide some of the actors with character-building moments (one shows a badly needed more human side to Charlize Theron's reptilian corporate mission sponsor). But these scenes certainly don't answer any questions or provide any greater clarity to what we've already seen, which is probably why Scott did not want to re-edit them back into a "director's cut" that could be sold more easily to buyers. The scenes are interesting and in some cases compelling, but not essential.
A word itself on the Blu-ray package: If you do love the movie – and it has its fans, for sure – the four-disc collection is the way to go even if you can't watch the 3-D disc (which we couldn't, although "Prometheus" was one of the best 3-D theatrical experiences we've ever had). Even in 2-D the movie is nothing short of stunning, and it's one of those odd films that one feels compelled to own on high-definition disc even if one doesn't love the movie. The bonus features are extensive and comprehensive, with the piece de resistance being a four-hour documentary on the making of the film that leaves no stone unturned. There are also great commentary tracks from Scott, and a joint one (although recorded separately) from Lindelof and Spaihts, the latter of whom has been speaking out more about his original version of the story.
"Prometheus" was such a tremendous missed opportunity. On paper, its blend of hard sci-fi, horror, action and speculation about the origins of humanity itself should have put it up there with all-time sci-fi landmarks like "2001: A Space Odyssey," "Forbidden Planet," "Close Encounters of the Third Kind" and Scott's own twin peaks, "Alien" and "Blade Runner." But somewhere along the line, the ship took a wrong turn and did not end up on the planet it set out to find. The most frustrating thing? The film begs for a sequel, but it may not have made quite enough money to justify setting one in motion – leaving us with all those questions still unanswered.