'Amazing Spider-Man 2' officially begins filming
Plot and cast confirmed for latest movie in rebooted franchise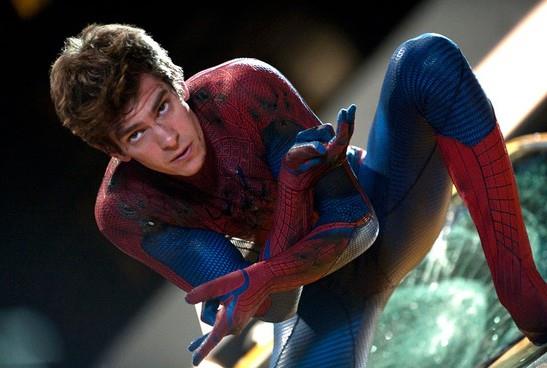 "The Amazing Spider-Man 2" has officially started filming in New York, which means it's as good a time as any for Sony Pictures to give us a synopsis of the movie and confirm its cast.
Actually, much of the cast has been confirmed already, but the press release sent out by the studio makes it official that Paul Giamatti has joined the film (
reportedly
as the Rhino) along with Colm Feore ("Thor") in an unspecified role.
The press release reads:
Columbia Pictures announced today that filming has begun on "The Amazing Spider-Man 2" in New York. The film is the first in the history of the franchise that will be filmed entirely in New York City and New York State.
The sequel to last year's critical and box office hit "The Amazing Spider-Man," the film stars Andrew Garfield, Emma Stone, Jamie Foxx, Shailene Woodley, Dane DeHaan, Colm Feore, Paul Giamatti, and Sally Field.
In "The Amazing Spider-Man 2," for Peter Parker (Andrew Garfield), life is busy -- between taking out the bad guys as Spider-Man and spending time with the person he loves, Gwen (Emma Stone), high school graduation can't come quickly enough. Peter hasn't forgotten about the promise he made to Gwen's father to protect her by staying away -- but that's a promise he just can't keep. Things will change for Peter when a new villain, Electro (Jamie Foxx), emerges, an old friend, Harry Osborn (Dane DeHaan), returns, and Peter uncovers new clues about his past.
The film is directed by Marc Webb from a screenplay by Alex Kurtzman & Roberto Orci & Jeff Pinkner, with a previous draft by James Vanderbilt, and based on the Marvel Comic Book by Stan Lee and Steve Ditko. Avi Arad and Matt Tolmach are the producers.
Okay, so a few questions here: who is Colm Feore playing? Will he turn up as Norman Osborn, a.k.a. the Green Goblin? We know Dane DeHaan is playing his son, but will Norman himself make an appearance after being an offscreen presence in the first film?
Second, what "new clues" does Peter learn about his past? The whole "untold story" angle was largely dropped halfway through "The Amazing Spider-Man," so are they planning to revive it for this picture?
Lastly, how will the Rhino fit into all this? You've already got one villain with Electro, and possibly two or more if the Osborns wreak any kind of havoc (Harry eventually turns bad, as anyone who has read the comics or seen the three Tobey Maguire movies knows). With Electro, Rhino and at least one Osborn in the mix, will "The Amazing Spider-Man 2" hit "Spider-Man 3" levels of overstuffed villainy?
"The Amazing Spider-Man 2" is set for release in 3D on May 2, 2014.
They only made the 1st one to hold on to the intellectial rights with a death grip, because if they let it lapse, Marvel would once again retain it, and be able to option it to a company that might actually do it justice, like the one that made the Avengers movies. I say let it go, let someone have it that can do something with it, instead of remaking it over and over and over.
It sucks as it is that so many different companies currently own rights to different pieces of the marvel universe. The way it is now, it will be virtually impossible to see cross overs like Hulk vs Spiderman, or Secret Wars.
Are you sure you want to delete this comment?