Across the Universe: A Nice Piece of Fiction
Horror and sci-fi from the Jewish perspective
By Don Kaye
Special to MSN Movies
There have been tons of horror movies based on Christian notions of evil: From "The Exorcist" on down, the Christian God and his numerous enemies from below have populated horror films good and bad. There have also been movies based on ancient Egyptian traditions (starting with "The Mummy" back in 1932), and even large numbers of horror films (hard to see here) produced in countries where Islam and Hinduism are the main religions. But what about Judaism?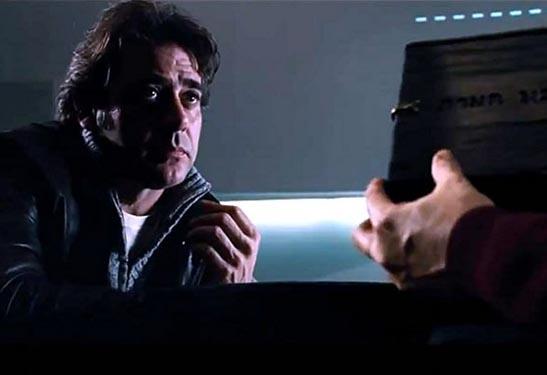 The truth is that there have actually been very few films produced in the horror, science fiction or fantasy genres that are expressly derived from Judaic beliefs. But with the opening of "The Possession" this Friday (Aug. 31), the Jewish faith takes center stage as a divorced father (Jeffrey Dean Morgan) attempts to rid his daughter of a dybbuk, known in Jewish folklore as the malevolent dislocated soul of a dead person. It's a fascinating premise that has rarely been tapped before, just as much of Jewish folklore and mysticism remains ripe for genre exploration. Let's have a look at what has come before…
Bing: More about 'The Possession' | More about Jeffrey Dean Morgan
"The Golem" (1920): Filmmaker Paul Wegener made three films based on the Jewish legend of the clay man that comes to life, but this one – a sort of prequel to his first one, made in 1915 and now lost – is the best known. Wegener co-wrote, co-directed and starred as the title creature in this now-classic silent epic about a rabbi who creates a giant out of clay and infuses him with life through a mystic ritual in order to protect the Jewish ghetto of medieval Prague. More a dark fantasy than a horror film, "The Golem" is still memorable for Wegener's impressive performance as well as the stunning German Expressionist sets and cinematography. The golem legend, which goes all the way back to the Talmud, has also had an influence on everything from "Frankenstein" to the HAL 9000 computer in "2001: A Space Odyssey."
Related: The many faces of demonic possession
"Metropolis" (1927): While not explicitly drawing from Jewish tradition, this science fiction milestone (made in Germany at the height of the Expressionist movement) is influenced heavily by the story of the Tower of Babel. In the film, the wealthy, privileged elite of the futuristic title city enjoy lives of leisure on the backs of the city's underclass of workers, who toil over its machinery in vast subterranean chambers. In the Biblical story of the Tower, it is constructed as a symbol of humanity's vanity and increasing arrogance that is stopped by God himself. The Biblical myth's notion of humans speaking one language, only to have that language "confounded" by God and shattered into many different tongues, also has loose parallels to the inability of the rulers and workers of Metropolis to find common understanding.
"It!" (1966): The golem legend got a fresh workout in this loopy British production, which looks and feels like a lesser Hammer film even though it wasn't. A sort of cross between "Psycho" and "The Golem," the film follows assistant museum curator Arthur Pimm (Roddy McDowall) – who lives Norman Bates-style with the corpse of his dead mother – using an ancient Hebrew inscription to resurrect a stone statue and use it for his own plans of vengeance and destruction. McDowall ratchets up the camp factor as the movie drags along, but the monster and special effects are silly, and the ending, in which the British government drops a nuclear warhead on the indestructible golem, is an unintentional jaw-dropper. Lip service is paid to the original Jewish mythology, but somehow it works better when set in medieval times instead of '60s London.
"Pi" (1998): "Black Swan" director Darren Aronofsky's first film is a low-budget ($60,000), black-and-white psychological thriller that edges into surreal sci-fi territory. Sean Gullette plays Max Cohen, a numbers theorist who is obsessed with proving that all of nature can be explained through mathematics. As Max begins to break down, suffer debilitating headaches and lose touch with reality, he is pursued by both Wall Street bankers and a group of Hasidic Jews, the latter of whom believe that Max has found a number that is the true name of God. Eerie and intense, "Pi" was a brilliant debut for Aronofsky that touched on the Jewish mystic tradition of Kabbalah, a rich mine of ideas and concepts that have yet to be fully explored in any film since.
"The Unborn" (2009): David S. Goyer has done sterling writing work on the "Dark Knight" movies with Christopher Nolan, among others, but he has not exactly impressed us as a director. Working from his own script, Goyer does try to put a Jewish spin on a rather generic possession tale by invoking the dybbuk, but it's never truly made clear whether it's a dybbuk or the spirit of a dead boy that's taking over the body of pretty but utterly bland lead Odette Yustman. The mythology and a few creepy images aside, this is studio horror hackwork, plopping a forgettable 20-something lead in the middle of standard jump scares but nothing truly disturbing or gruesome (have to keep that PG-13 rating for the teens, you know). Gary Oldman and Idris Elba collect paychecks as the exorcists, but show up just to get flung around in the CG-heavy ending.
Do you know of other horror or sci-fi films with a Jewish slant? Let us know!
Are you sure you want to delete this comment?