'Walking Dead' earns largest audience yet
AMC show sets another record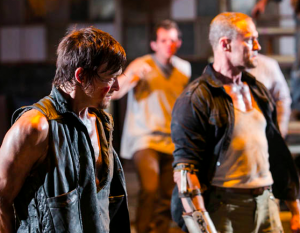 By Tim Molloy
TheWrap


"The Walking Dead" earned its biggest audience yet Sunday, setting another record.

The zombie drama earned 12.3 million viewers, beating the record of 10.9 million set by the season 3 premiere in October.

Bing: More about 'The Walking Dead' | More about Andrew Lincoln

In the key 18-49 demographic, the series earned a 6.1 rating. "The Walking Dead" has a legitimate shot at finishing the season as television's top-rated scripted drama in the demo.

Related: 'Walking Dead' predictions

"Sunday Night Football," last year's top show, is likely to end this season on top again. But "Walking Dead" could give "The Voice" and "American Idol," which finished behind "SNF" last season, a run for their money if it continues to post ratings like Sunday's.

Sunday's episode marked the premiere of the second half of the season after a winter break. The show thrived despite competition from the Grammy Awards on CBS.

The show's 7.7 million viewers in the key demo represented a 6 percent increase over the ratings for the Oct. 14 season premiere.

In addition to the 9 p.m. premiere, the show aired encores at 11 p.m., midnight and 2 a.m., delivering 16.6 million viewers for the night.

Following the premiere, AMC premiered a new episode of Talking Dead, the talk show about the series, which scored 4.1 million viewers.

"When you look at numbers like this, the first thing that comes to mind is how grateful we are to the fans of this show.  They embrace The Walking Dead in a way that we wanted to believe was possible but we never take for granted, said AMC president Charlie Collier.

The cast and crew put everything they have into making this show. They're a phenomenally talented group who truly give their all. We congratulate everyone involved.







Related stories from TheWrap:
How 'Walking Dead' may become TV's top scripted show




TWD is total fantasy.  watch it, have fun, and root for your favorite character - cuz they may get the "phone call" (sorry, but your character will no longer be with us).   and since its shot in georgia, they use locals as extras...even HINES WARD, the former steeler, has been zombified.
its a cult type show..in a good way for a change.
Are you sure you want to delete this comment?