Across the Universe: Mommie dearest
The most terrifying mothers in horror and sci-fi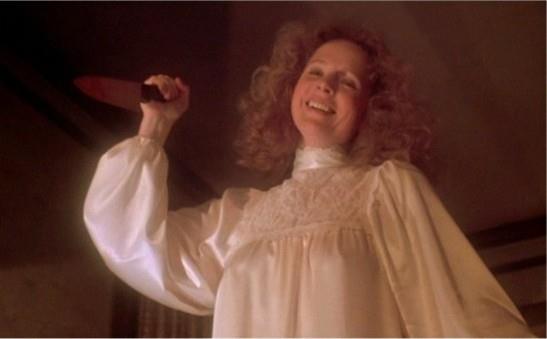 By Don Kaye
Special to MSN Movies


Mother. Mom. Mama. Mommy. She symbolizes love, comfort and well-being. She's the first one we cry for when we're little or complain to when we're older. She's always there for her child with a reassuring embrace, a hot meal, a handy infusion of cash or a simple word of wisdom.
Bing:
More on scary movie mothers
|
More on 'Mama'
Most of the time, anyway. For every loving mom we've ever seen on the screen, there have been some frightening portraits of motherhood as well, and some of those love their children with an even greater ferocity. The horror and sci-fi genres have been home to some of the most terrifying and bizarre representations of "mother" ever seen. With the latest, the succinctly titled "Mama," about to be unveiled, here's a look at some moms we're glad to say we don't have to send flowers to on Mother's Day ...

Norma Bates ("Psycho," 1960):
The original evil mother never actually appears in the Hitchcock classic at all -- unless you count her mummified corpse. Norma Bates, of course, is long dead when the film opens, but her disturbed son and killer, Norman (Anthony Perkins), has made her personality a part of his own. Even though we never really meet her, the damage that the domineering Mrs. Bates leaves behind is all we need to see.
Mumsy ("Mumsy, Nanny, Sonny and Girly," 1970):
This surreal and little-seen 1970 British film (released in the U.S. as "Girly"), follows a freakish family who lure men and occasionally women to their secluded mansion to play a bizarre game that almost always ends in their deaths. Mumsy (Ursula Howells) oversees it all, while Sonny and Girly, who dress like schoolchildren and sleep in cribs despite being in their 20s, do most of the dirty work. You can see it now via Netflix.
Dorothy Yates ("Frightmare," 1974):
What's with the British and their mothers? In this cult classic, Sheila Keith, one of the creepier actresses in U.K. horror cinema, plays a woman who returns home after being locked in an asylum for 18 years for cannibalism. Unfortunately, her appetites have not changed. Keith is brilliant, and the entire movie -- one of several gems from British horror auteur Pete Walker -- has the inescapable feel of a nightmare.
Margaret White ("Carrie," 1976):
Piper Laurie received a
rare-for-a-horror-fi​lm
Best Supporting Actress nomination for her portrayal of Carrie's religious fanatic mother in Brian De Palma's classic adaptation of Stephen King's first novel. Just like in the book, Laurie's Margaret White is a force of nature whose iron grip over her daughter is as terrifying as Carrie's ultimate revenge on her mother and her high school tormentors.

Nola Carveth ("The Brood," 1979):
This early film from director David Cronenberg features Samantha Eggar as a mentally disturbed woman who, as a side effect to a new form of therapy called "psychoplasmics," is able to psychically generate a flock of malformed children who murder whomever she directs her anger toward. Cronenberg's visceral shocker is also one of his most personal films: He was embroiled in a nasty custody battle at the time with his ex-wife.
Pamela Voorhees ("Friday the 13th," 1980):
The "Friday the 13th" series is forever symbolized by the hulking, hockey mask-wearing killer Jason Voorhees, but it was his mom who slaughtered a campful of counselors in the original 1980 slasher classic. We certainly know where Jason got his chops from, as Mrs. Voorhees finds all kinds of inventive ways to off the kids before getting her own head lopped off. Her son took over from there and we know the rest ...

Mother ("Mother's Day," 1980):
Directed by Charles Kaufman, this notoriously grimy exploitation hit finds three women raped and tortured (with one of them killed) by two homicidal hillbillies at the direction of their insane mother (Rose Ross), who actually trains her sons in tactics of assault and murder. It was remade in 2010 by Darren Lynn Bousman ("Saw II -- IV"), with Rebecca De Mornay as the mother in a decidedly different story.
The Alien Queen ("Aliens," 1986):
She's fiercely protective of her children and will do anything to protect them. She's also 15 feet tall, has two sets of arms, snapping jaws that extend out from her body and a bad attitude. She is the Alien Queen, introduced in the final moments of James Cameron's masterful sequel as the source of the eggs that eventually spawn more deadly aliens. When she goes head-to-head with Ripley (Sigourney Weaver), this match-up of mothers quickly proves to be one that no one would want to get between.
Vera Cosgrove ("Dead Alive," 1992):
Before he made Oscar-winning movies about elves and wizards, Peter Jackson was one of the most splatter-happy horror directors around. The culmination was "Dead Alive," often cited by many as the goriest movie ever made. At the center of it all is the domineering Vera, whose downbeaten son Lionel must do anything to survive when Mom is bitten by a rat-monkey and eventually becomes a giant deformed zombie queen.
Beverly Sutphin ("Serial Mom," 1994):
Kathleen Turner really tears it up (sorry) as the title character in John Waters' typically taste-neutral satire, which finds Turner's Mrs. Sutphin giving the business end of a knife -- or a poker, or a car or a phone receiver -- to anyone who offers her the slightest insult or criticism. Waters has America's fascination with true crime squarely in his sights, with Beverly never showing any sign of remorse.
More movies with monster moms: "Strait-Jacket" (1964), "The Baby" (1973), "The People Under the Stairs" (1991), "Scream 2" (1997), "The Girl Next Door" (2007) and, of course, "Mommie Dearest" (1981).
"Mama" is out in theaters Friday, Jan. 18.