Across the Universe: Look in the 'Black Mirror'
British sci-fi series takes us 10 minutes into the future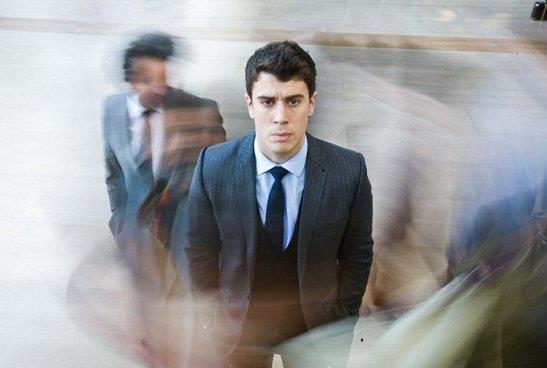 "Black Mirror" is the name of a science fiction anthology series produced and telecast in the U.K. via Channel 4. The first series of three episodes aired in December 2011, with the second series broadcasting this month, wrapping up next Monday (Feb. 25). The first series is available on DVD in England but has not been shown or released in the U.S. as far as we can figure out.

That's a shame, because the three episodes we've seen (the entire first series) are all solid stuff. The British have a great tradition of science fiction, and "Black Mirror" taps into that as well as the concept of the anthology series, which dates back to the earliest days of television. Each story (all but one written by series creator Charlie Brooker) is a self-contained narrative with its own set of characters and settings, none of which are repeated the following week.
The three segments we've seen are all set in a near future, with two of them recognizable as not far off from our own world, and one of them set in a reality that's vastly different but is not too implausible to think of. Each deals with the effects of technology -- usually a technology that's an enhanced version of something we have right now -- on the society, the people who make up the fabric of that society, and their relationships with others around them.
The first episode, "The National Anthem," is actually the least oriented toward sci-fi, which in a way makes it even more nightmarish and bizarre. When a beloved princess of the Royal Family is kidnapped, her abductor's ransom request is horrendous, shocking and almost funny: Prime Minister Callow (Rory Kinnear) must perform a depraved, disgusting sex act live on national television by 4 p.m. that day or else the girl will be executed and the footage uploaded to YouTube. As the clock ticks down and efforts to find the princess or fake the broadcast prove fruitless, Callow must make an agonizing decision.
The story is less about what the prime minister must do and more about the way events unfold now in real time on TV, online and on social networks. Public opinion about what action the PM should take changes at a moment's notice as his press officer worriedly watches the way the situation is trending on Twitter. And of course, as awful as the ransom demand is, there's not a soul in Britain who plans to be anywhere but in front of a TV at the appointed time. The final outcome offers a stark glimpse of how public and private realities are two very different things.
Episode 2, "15 Million Merits," is a look at a dystopia that pokes satirical fun at our own obsessions with programs like "American Idol." In a nameless future society, citizens ride exercise bicycles all day to generate power for their own living spaces and the entertainment provided for them there as well as "merits," which act as money. Everyone wears the same gray clothes and the primary forms of entertainment seem to be porn and "Hot Spots," an "Idol"-like show where people express their talents and hope to get "off the bike" by winning.
When a citizen named Bing (Daniel Kaluuya) hears a fellow citizen named Abi (Jessica Brown Findlay) singing one day, he thinks she's good enough to win on "Hot Spots" and gain both stardom and freedom. He uses his own savings to pay the expensive entrance fee to the show for her, and she reluctantly decides to do it -- but with results that leave both her and Bing devastated pawns of the ruling powers that control them. The lesson here -- that everything can be sanded down and turned into fodder for a society thirsting for endless distraction -- is a bit on the nose, but Kaluuya and Findlay are excellent enough to carry the show emotionally.
Last and even more searing emotionally is "The Entire History of You," in which everyone wears a "grain," an implant in their necks that records their entire life and saves it for playback. Arriving late at a dinner party, lawyer Liam (Toby Kebbell) spies his wife, Ffion (Jodie Whittaker), being especially friendly with a man named Jonas (Tom Cullen). Over the course of the evening and well into the next day, Liam uses his own recordings -- and eventually those of Jonas and Ffion -- to find out whether his suspicions about their relationship are true.
There's a reason why Robert Downey Jr. has optioned this story (the only one not written by Brooker, but by Jesse Armstrong) for adaptation as a feature film: The idea that we could be able to review events in our lives -- over and over again, if necessary -- is a powerful one with enormous implications. Yes, we can view happy memories and delight in them, but can reliving bad ones bring back only those ill feelings? And can our own embarrassing moments or regrets haunt us for our entire lives if they're on a little disc?
Two of the finest genre programs ever produced were the original "Twilight Zone" and "The Outer Limits," anthology shows that wrapped morality plays inside tales of sci-fi and horror. "Black Mirror" seems to want to aspire to that same benchmark, using genre material to comment on our own foibles and the repercussions of technological advancement. Find a way to see the series if you can, and let's hope in the meantime that it somehow reaches the U.S.