Across the Universe: Restricted Area
Whatever happened to Oren Peli's 'Area 51'?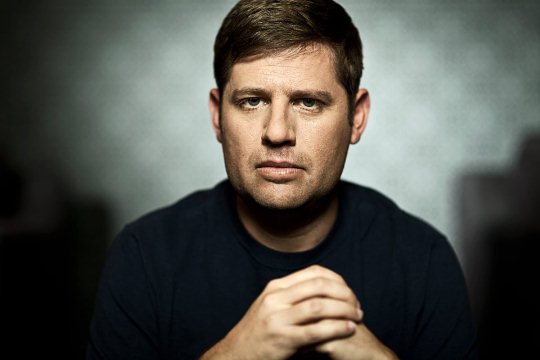 By Don Kaye
Special to MSN Movies

Armed with a home video camera, using his own house as the set, and casting two unknown actors as a young couple who are assaulted in their home by a terrifying invisible entity, writer-director-prod​ucer Oren Peli put himself on the map and turned the horror genre upside down with his now-seminal 2009 debut, "Paranormal Activity." The tiny yet utterly frightening film was picked up by Paramount Pictures, which initially wanted to remake it. But wiser heads prevailed and the original was released, to astounding box office success and critical acclaim.
Bing: More about Oren Peli | More about 'Area 51'

Peli, teaming up with producers Jason Blum and Steven Schneider, has since become a genre kingpin in his own right, producing films and TV projects like three more "Paranormal" sequels, the ABC series "The River" and movies like "Insidious," "Chernobyl Diaries," Rob Zombie's "The Lords of Salem" and Barry Levinson's upcoming "The Bay." Yet one project remains mysteriously out of sight: Peli's own directorial follow-up, "Area 51."
The film was announced shortly after "Paranormal Activity" became such a huge success and seemed like a natural next step for Peli into science fiction: What little was revealed about the plot indicated that it was about a trio of young investigators who find their way into Area 51, the infamous secret military base in Nevada where, legend has it, the U.S. government has stored the bodies of extraterrestrials whose ship crashed to Earth decades ago. Supposedly shot in the same "found-footage" style as Peli's debut, the movie has been described as "The Blair Witch Project" meets "Alien" – about as enticing a mix as genre fans could imagine.
Filming on the project began in late 2009 with a cast of (again) relatively unknown actors, and its production status on the movie database IMDB.com lists the film as "completed." In spring 2011, it was reported that some rewrites and reshoots were on tap for the movie, but little has been heard since. Peli refuses to comment on upcoming projects at all (we know: We've asked him twice now) and his partners are equally evasive. All Jason Blum would say in a new interview with the British site Hey U Guys was, "We're still working on that movie, but I do think it will see the light of day in the not-so-distant future."
So what's the deal? Does Peli have cold feet about "Area 51" being compared to his blockbuster directorial debut? Have his producing duties pulled him away from completing the movie to his satisfaction? Or are the filmmakers and studio uncertain about releasing another movie about aliens on Earth in a market that has seen a string of underperformers dealing with that subject (including J.J. Abrams' Area 51-inspired "Super 8")? It could also be that the many theories about Area 51 itself have been largely debunked, especially in Annie Jacobsen's widely noted 2011 book, "Area 51: An Uncensored History of America's Top Secret Military Base."
Whatever the reason for its delay, we hope that "Area 51" does eventually come out (the latest intel suggests that a late 2013 release could be in the cards). We're curious to see what Peli does next as a director and if he can move the "found-footage" genre forward, and we've been fascinated by the subject matter for years. But for now, Oren Peli's "Area 51" remains as elusive and mysterious as the legendary base itself.