Across the Universe: 'Crawlspace' tough to get through
The latest in Australian sci-fi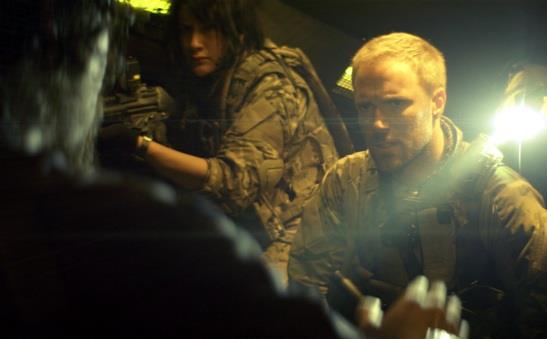 By Don Kaye
Special to MSN Movies


"Crawlspace" is the writing and directing debut of Justin Dix, a special effects supervisor who has worked on a number of films, most notably "Star Wars: Episode II -- Attack of the Clones" and "Episode III -- Revenge of the Sith." Judging by "Crawlspace," he's also watched a hell of a lot of other sci-fi pictures, because the movie is a mashup of ideas, sequences and even shots directly influenced by or taken from a number of genre classics.
Bing:
More on 'Crawlspace'
|
More on Australia cinema
As "Crawlspace" opens, we are told that Pine Gap, a joint U.S.-Australian government facility in a remote part of the Australian desert, has come under some sort of attack and that all communication with the place has been lost. A military team is sent in to extract the scientists working at the base, only to find that the underground facility is being assaulted by forces from within -- and that a deadly experiment there has had disastrous consequences.
"Crawlspace" looks decent enough for what seems like a fairly low-budget film, and Dix's experience in special effects does not fail him here. What does fail him, however, is his script: The opening raid by the military team almost feels like it should be the final 20 minutes of the movie, since everything after that is a mix of chases and exposition as we follow a bunch of characters we've only perfunctorily gotten to know.
As the movie moves along, however, it's impossible to not spot the obvious lifts from plenty of genre films, ranging from "Aliens" (a big influence here) to "Scanners" to "The Andromeda Strain." While the source of the danger in "Crawlspace" (a title we don't fully understand, based on the plot) is actually a somewhat compelling idea, it's never fully fleshed out and gets an out-of-left-field twist at the end.
The actors are all OK and the movie's 86 minutes feature just enough action and gore to keep things moving at a pretty good clip, but with its high quotient of unoriginality, "Crawlspace" doesn't amount to much more than the kind of thing you might leave on while flipping through the cable channels before going to sleep.
Yes, "Crawlspace" is disappointing, but there have been a good number of sci-fi films from Down Under that have merited acclaim over the years. Check these out:
The "Mad Max" trilogy:
The high point of Australian sci-fi cinema to date, the three films starring Mel Gibson as
cop-turned-post-apoc​alyptic-warrior
Max are not just marvelously surreal genre films but, especially in the case of the masterful "The Road Warrior" (1981), some of the most influential action cinema of all time. "Mad Max" (1979) and "Mad Max Beyond Thunderdome" (1985) both have their charms as well, even if "Thunderdome" is a bit unsatisfying.
"Dark City" (1998):
Although it stars American and British actors, "Dark City" was directed by an Australian (Alex Proyas) and filmed at Fox Studios Australia. A box-office failure on release and a cult classic ever since, this futuristic noir remains as visionary and dazzling now as it did 15 years ago.
"Daybreakers" (2010):
Brothers Michael and Peter Spierig wrote and directed this dark tale about a near future in which most of the world's population has turned into vampires and a bloodsucker-owned corporation is desperately trying to develop a blood substitute. The Spierigs brought American actors Ethan Hawke and Willem Dafoe, among others, down to their homeland to film the picture, which is interesting if uneven.
"Undead" (2003):
What the heck, let's include the Spierigs' debut here as well. Meteorites fall from the sky and turn the local townspeople into zombies, until a bunch of aliens(!) show up to get the plague of walking dead under control. There's plenty of mayhem to be had in this horror/sci-fi comedy, even if the filmmaking is a bit out of control.
"Long Weekend" (1978):
An eerie tale in which a couple camping in the wilderness have their carelessness toward nature answered in increasingly terrifying ways. Remade in 2008 (with Jim Caviezel of "Person of Interest" starring), the original is a little less polished and a bit dated, but somehow more frightening.
"Crawlspace" is available now on VOD and in theaters.