Across the Universe: Trust no one
Conspiracy theory movies to blow your mind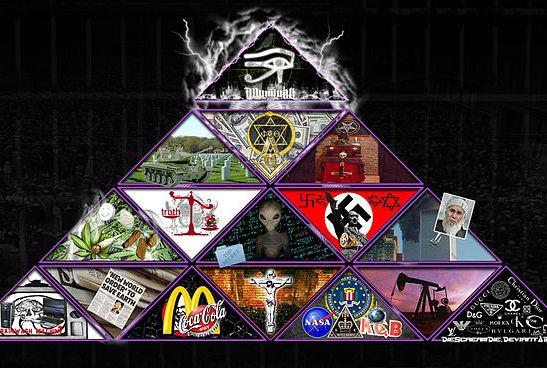 Everyone loves a good conspiracy theory, and there are plenty of folks out there who also take them very seriously (as we can sadly see from some of the political discourse of the past dozen years). But whether you believe in plots to control the world, secret societies or invisible alien takeovers, there's no doubt that these kinds of tales are fascinating to follow purely as stories. They can start with something as seemingly unambiguous as an assassination, a theft or a mysterious crash -- and can end with events of world-changing or apocalyptic proportions.
That's why a show like "Zero Hour" (premiering Thursday at 8 p.m. on ABC), with its globe-spanning plot and shadowy villains, has the potential to be a hit on the network that also brought us enigmas like "Lost" and "Flash Forward." But beyond television, there's a long, rich history of conspiracy-minded movies out there as well. We've listed some of our favorites below (and since this is Parallel Universe, we've leaned on the more sci-fi oriented ones). Eyeball some of these and we guarantee you'll never look at the world around you in quite the same way.
"The Manchurian Candidate" (1962):
John Frankenheimer was either the most imaginative director of his time or the most paranoid. This classic thriller uncovers a Communist plot to use mind-controlled assassins in an attempt to take over the U.S. government. It's wild, over-the-top and will have you utterly unable to turn it off.
"Seven Days in May" (1964):
A rogue general (a frightening Burt Lancaster) plots a coup d'état against what he perceives as a weak president (Fredric March), with only his second-in-command (Kirk Douglas) standing in the way. Frankenheimer was at it again with this unbelievably tense drama that's both more subdued and more chilling than "Manchurian Candidate," because it seems a lot more plausible.
"Soylent Green" (1973):
It's 2022 and the world is breaking down from overpopulation, environmental destruction, food shortages and poverty. A New York detective (Charlton Heston) investigates the seemingly random murder of a wealthy businessman (Joseph Cotten) and stumbles upon a horrific conspiracy about the nature of a new miracle food called Soylent Green. We won't spoil it if you haven't seen it -- but you've got nine years to figure it out.
"The Parallax View" (1974):
Director Alan J. Pakula ("All the President's Men") was just behind Frankenheimer in the paranoia sweepstakes, and this thriller starring Warren Beatty was perhaps his creepiest. Beatty plays a reporter investigating the title corporation, which recruits and trains political assassins. But why? And who runs the Parallax Corporation? "The Parallax View" plays like a horror movie -- and is scariest than most.
"Futureworld" (1976):
This semi-sequel to "Westworld" is set two years after the events of that movie, with the Delos amusement park about to be reopened after its androids went on their deadly rampage. But the park's owners now have a nefarious plan to replace world leaders and members of the media with androids to ensure that their interests are left alone. Wait -- did we say this was science fiction or a documentary?
"Capricorn One: (1978):
Remember the urban legend that the Moon landing was faked (and by no less than Stanley Kubrick)? This rather corny yet endearing timewaster takes it one step further, with the U.S. government faking a Mars landing and then plotting to get rid of the still-living astronauts when their empty rocket blows up. Look for O.J. Simpson as one of the crew.
"Invasion of the Body Snatchers" (1978):
Yes, there have been several versions of this sci-fi classic, but this remains our favorite and also the most unnerving. By setting it in a large city (San Francisco) instead of the original's small town, director Phillip Kaufman gives us a portrait of urban alienation and paranoia that makes its worldwide alien conspiracy even more chilling and somehow more real.
"They Live" (1988):
One of John Carpenter's most unsung and underappreciated gems, this wicked satire establishes that the aliens are already here, disguised as politicians, members of the wealthy elite and captains of media -- and that they use a subliminal TV signal to hide their true appearance and keep us pumped with subliminal messages. Its budget and acting never match its ambitions, but you'll still be seeing aliens everywhere after watching this.
"The Arrival" (1996):
More alien shenanigans in this one, with Charlie Sheen (before he became a punch line) starring as a radio astronomer who discovers an extraterrestrial signal beaming to Earth -- and promptly gets fired for it. Only later does he learn that his former boss is one of the aliens, already here and prepping the planet for takeover by raising its temperature. "The Arrival" is smart and moody even if it's not plausible -- but the Earth's temperature has gone up lately.
"The X-Files" (1998):
Was there ever a greater conspiracy series than "The X-Files"? The show's influence is still being felt today in shows like the just-ended "Fringe" and others. When Mulder and Scully made the jump to the big screen halfway through the series' nine-season run, some mysteries were revealed, yet the air of dread and imminent apocalypse remained intact. We miss the good old days of black oil and cigarette-smoking men ...
"From Hell" (2001):
Were Jack the Ripper's infamous and gruesome 1888 Whitechapel murders actually part of a Masonic plot stretching to the highest reaches of the British empire? Enter Inspector Abberline (Johnny Depp), whose "psychic" visions lead him toward revealing the sordid truth. Not a great film, "From Hell" (adapted from Alan Moore's comic book), still presents a tantalizing "what if," especially since Jack has never been identified.
"Angels and Demons" (2009):
Although "The Da Vinci Code" is more popular and exposed a supposed "secret history" of Christianity, we prefer this Ron Howard-directed adaptation of an earlier Dan Brown novel much more (and, thankfully, Tom Hanks' hair is way better). Vials of antimatter, a plot to destroy the Vatican, banned books, secret underground labyrinths and even the Illuminati -- they're all here and all nutty fun ... just what a conspiracy theory should be.