Across the Universe: Not So Super
What are the worst movies based on comic books?
By Don Kaye
Special to MSN Movies

With the arrival of "Dredd" this Friday (Sept. 21), the film's creators hope to erase the bad memories of the first "Judge Dredd," a 1995 adaptation that starred Sylvester Stallone as the Mega-City One law enforcement officer. Stallone's obnoxiously bellicose performance was just one of many misfires in this poorly conceived and executed take on the "Dredd" mythology that left fans flabbergasted and instantly ranked the film among the worst ever based on a comic book or graphic novel property (it's out this week on Blu-ray if you don't believe us).
Bing: More about 'Dredd' | More about 'Batman and Robin'
But "Dredd" is not the only movie out there to bring shame to the comics universe. Yes, things are going pretty good these days with epics like "The Avengers" and "The Dark Knight," but there have been plenty of duds along the way as well. Here's a list of some of the ones that really made the wrong impression. Luckily, the comics are still there if you want to pick them up instead.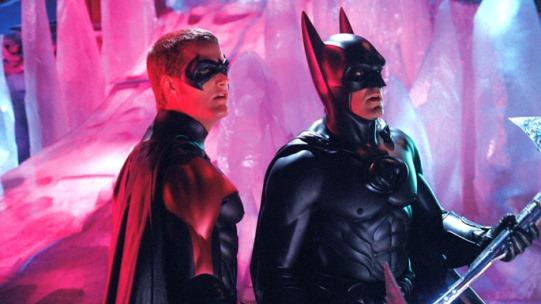 1. "Batman and Robin" (1997): The only good thing about director Joel Schumacher's disastrous franchise killer is that it paved the way for the series reboot that gave us the "Dark Knight" movies. From Arnold Schwarzenegger's cheesy Mr. Freeze to George Clooney's smirking Bruce Wayne, from the camp costumes and script to the ridiculous action sequences, "B&R" is possibly the most insulting big-budget comic book bomb of all time.
2. "Green Lantern" (2011): This highly anticipated space opera was supposed to kick-start the DC Universe on film; it ended up consigning it back to the black hole of development (at least for now). Director Martin Campbell had no feel for the material and star Ryan Reynolds was saddled with a by-the-numbers script that made Hal Jordan into yet another reluctant, passive semi-hero. Add a lousy love interest (we know they're married now, but sorry) and misconceived villains, and we ended up with a galaxy-spanning bore.
3. "Spawn" (1997): Some of the movies based on comics were victims of studios not treating them as serious moneymakers, so the films themselves were often shoddily and cheaply made. "Spawn" is a perfect example of a studio just trying to knock off a comics-based film to make a quick buck from a popular title. The result was a mess, badly directed, terribly written and poorly cast and acted, with special effects that looked like something out of a bad video game. Poor Spawn has never been the same since.
4. "Spider-Man 3" (2007): Never did a successful comic book film series fall so fast. After the heights of "Spider-Man" (2002) and the awesome "Spider-Man 2" (2004), the third entry in Sam Raimi's series was a complete train wreck, packed with too many villains, too much goofy humor and not just one but two – two! – musical numbers. The fact that the movie was such a huge box office smash only made it certain that the series would continue, although the reboot we ended up getting this year failed to recapture the original magic.
5. "Fantastic Four" (2005): The movie that put the question "Who the hell is Tim Story?" on fans' lips (answer: He directed "Barber Shop" before being handed this), "Fantastic Four" was everything but. Cheap and small-looking, with a horrible script that refused to treat its subject with respect, and cast with the worst candidates available (Jessica Alba and the waxwork-like Julian McMahon among them), this had to be one of the movies that convinced Marvel to launch its own studio. Sequel "Rise of the Silver Surfer" was almost as bad. A reboot is badly needed.
6. "Ghost Rider" (2007): When a guy makes one bad comic book movie ("Daredevil"), why would you hire him to make another one? That's the sad question that remains unanswered about Mark Steven Johnson's version of "Ghost Rider," which features one of Nic Cage's most bizarre performances, an exceptionally weak villain (Wes Bentley) and heroine (Eva Mendes), and a terrible story to stick them in. The effects are OK, but the movie is listless and clumsy. And, yes, the 2012 sequel, "Ghost Rider: Spirit of Vengeance," was just as awful.
7. "Superman III/IV" (1983/1987): The first two "Superman" movies are still considered genre landmarks, while "III" and "IV" (subtitled "The Quest for Peace") are notoriously horrendous low points for not just the character or the books, but movies in general. The fact that the producers of "III" decided to discard Brainiac as the villain in favor of Richard Pryor tells you all you need to know, while "IV" was positively amateurish in its execution. The series has yet to recover.
8. "The League of Extraordinary Gentlemen" (2003): Playing fast and loose with legendary writer's Alan Moore's popular take on some of classic literature's greatest heroes, this inert dud of a film did away with all the moral complexity of Moore's work and replaced it with a brain-dead, leaden, inept adventure story. "League" is infamous as the movie that led Sean Connery to retire from acting, and we can't say we blame him.
9. "X-Men Origins: Wolverine" (2009): We don't hate "X-Men: The Last Stand" as much as some of our friends, but even we couldn't find anything nice to say about this Logan-centric prequel. Only Hugh Jackman's ease with the character keeps this remotely watchable, but even he can't make those CG claws believable (Liev Schreiber's a pretty good Sabretooth, too). The parade of lame cameos from characters like Deadpool, Gambit, Blob and Emma Frost only adds to the misery.
10. "The Spirit" (2008): Just because you once wrote brilliant comics like "The Dark Knight Returns" doesn't mean you can direct a movie, a lesson sadly lost on one-time legend Frank Miller. Setting Will Eisner's famous but now somewhat obscure crimefighter in a "Sin City"-like visual aesthetic, Miller quickly shows that he's in way over his head, with a string of bad casting choices and one inept scene after another. Stick to the books, Frank.
11. "Jonah Hex" (2010): Never has 75 minutes (yes, that's the running time) felt so long. This troubled, patched-together take on DC/Vertigo's scarred cowboy was directed by someone named Jimmy Hayward, whose previous claim to fame was the animated "Horton Hears a Who." Hayward not only proves unable to make a coherent live-action movie, but the script was a mess, sticking Hex in the middle of one of those generic steampunk/supernatur​al stories that studios like to hang period pieces on. This movie actually looks and feels unfinished as you watch it.
Dishonorable mention: "Steel" (1997), "Elektra" (2003), "Catwoman" (2004), "Cowboys & Aliens" (2011), "Howard the Duck" (1986), "Captain America" (1990), "Barb Wire" (1996), "Whiteout" (2009), the whole "Teenage Mutant Ninja Turtles" series …

You sir probably are the biggest idiot ever. Spawn is probably one of the best super hero films ever. The main actor should have been canned but the rest of the cast was fine. As a matter of fact, no one could have probably been better than John Leguizamo. X-men wolverine had a great story line, was entertaining and was a great reboot. Not having the bombed new spiderman movie box office terrible crap of a movie is a crime, a reboot is suppose to be better than the original, this should have never been made. League of extraordinary gentlemen was a great film with an excellent cast. Anyone with a degree of superhero movie taste would have mentioned the 2003 film "Hulk" in the top 3. Do us a favor and stick with rating oscar crud.
Are you sure you want to delete this comment?