Across the Universe: 'Mama' said knock you out
Guillermo del Toro and filmmakers talk new chiller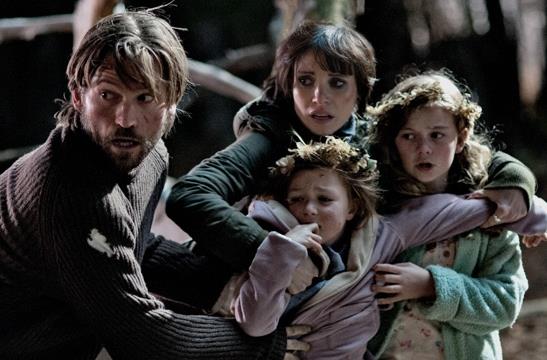 By Don Kaye
Special to MSN Movies


"Mama" begins with an act of desperation that leads to the disappearance of two little girls and the deaths of their parents. It's five years before the girls are found, reduced to a feral state but alive and physically unharmed, and placed in the care of their uncle Luke (Nikolaj Coster-Waldau from "Game of Thrones") and his rock musician girlfriend, Annabel (Jessica Chastain of "Zero Dark Thirty"). As Annabel and Luke struggle to provide the girls with a normal life again, they soon realize that the children may have had help while living on their own -- and that the help has come home with them in all its deadly fury.
Bing:
More on 'Mama'
|
More on Guillermo Del Toro
"Mama" was directed by Andres Muschietti, making his feature debut from a script he co-wrote with his sister Barbara and Neil Cross ("Luther"). The script itself was inspired by an eerie short film of the same name (see below) also made by the Muschiettis. "Usually, you have a story, and then you pick out a little piece of that story and make a short out of that," said Barbara at a recent roundtable interview with several journalists. "But with this, we just made that short, and then we were left with a lot of questions, and that's what inspired us to (keep going)."
Related:
Feral and wild creatures in movies
The short film caught the attention of a man known well around this website, Guillermo del Toro, who likes to take new filmmakers under his wing and produce films for them when not directing his own movies, like the awe-inspiring "Pan's Labyrinth," the thrilling "Hellboy" and the upcoming "Pacific Rim" -- in fact, del Toro was working on the latter
giant-robots-vs.-mon​sters
epic at the same time he was overseeing "Mama" as its executive producer. 
"We planned it very strategically from the beginning," the always boisterous del Toro said. "I planned it so I could be with Andy and Barbara during preproduction and through the first few weeks of shooting." Del Toro actually arranged for the production of "Mama" to move into the same Toronto soundstage complex where he was shooting "Pacific Rim" so that he could go over the day's schedule in the morning for "Mama" with Andres before heading down the hallway to work on his own movie. "It was seamless ... but it could have gone wrong."
Making movies where things could easily go wrong -- but never quite seem to -- appears to be the zone where del Toro enjoys working. Just as his own films often feature stylistic and narrative risks, "Mama," while anchored by the always-luminous and solid presence of Chastain, is largely dependent on the two young actresses, Megan Charpentier (the Red Queen in "Resident Evil: Retribution") and Isabelle Nelisse, who play the two little girls at the center of the story.
"One of the things that was foremost in our minds was to get children that could do this in a credible way," said the soft-spoken Andres. "So it came down to finding the right actresses, and it was not easy. We did a casting call in Toronto and didn't find them, so we expanded the search to New York, Los Angeles, Great Britain ... finally we found these two little girls from two completely different backgrounds."
"There are moments in the movie that I find astonishing, and I've worked with kids in other movies I've produced or directed," added del Toro, who has gotten amazing performances out of children going back to his first film, "Cronos." "There are two moments that stand out for me beautifully. One is the first encounter with Luke, where (the older girl) doesn't have the glasses on and then she puts them on and says, 'Dad?' I get chills every time I see it. The second is the scene where Annabel is struggling with (younger child) Lilly, who slaps her, before Annabel warms her hands. It's really intense and beautiful and a moment of pure truth between the characters."
The little girls are in fact extraordinary in the movie, but it's Chastain -- whose fiery locks are hidden under a short black Goth wig -- who gives it a mature emotional weight. "When we cast her, she was not yet a known commodity to the studio," said del Toro about the now-red-hot actress. "On the other hand, to her agents and managers, a thriller was not the safest bet for her as an actor. But fortunately, having movies like 'Pan's Labyrinth' and 'The Orphanage' helps to say that we're going to make a movie artistically, with integrity and for the right reasons. It's not being done in an exploitative way. As soon as we met, she said, 'I love it. I want to do it.'"
"Mama" is not your conventional modern horror film in other ways besides its casting. "We have a tonal shift, which I did in 'Pan's Labyrinth' and we did on 'The Orphanage' (which he produced), where we start as a horror story and end up on a really moving note," said del Toro. "I hate to say poetic, but it's really sublime at the end. I was prepared for that not going over well (with Universal, the movie's distributor), but the studio was supportive. I wish I could tell you that I went into a conference room and slammed my hand on a desk, but it was really super easy."
The tonal shift leads to an ending -- which, of course, we won't reveal -- that is completely logical and, frankly, the only really correct one for the film. But it's also a resolution that would make any corporate, mainstream film studio wary. "I made sure I had final cut as producer," said del Toro, who has been at the center of studio battles over his own projects (his own proposed movie for Universal, an adaptation of H.P. Lovecraft's "At the Mountains of Madness," was canceled last year when he refused to make the movie suitable for a PG-13 rating instead of an R). "I was amassing my weapons in case they were needed. We financed the movie in a way that we had autonomy in our decisions and could preserve the ending.
"After all those preparations, we sent it to the studio and the studio was like, 'We love it.' We were like, 'Really?' In my experience, that normally doesn't happen."

"Mama" is out in theaters Friday, Jan. 18.