Across the Universe: From 'Battlestar' to Baton Rouge
Katee Sackhoff stars in 'Haunting in Connecticut 2'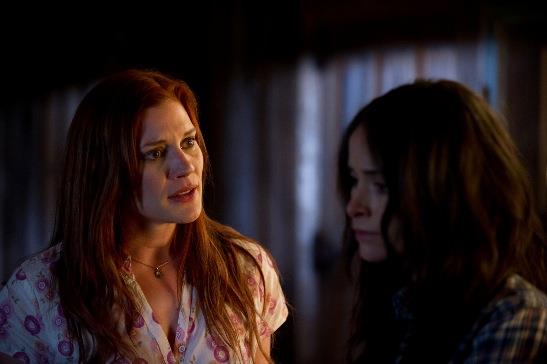 "
The Haunting in Connecticut
" was a sleeper hit for Lionsgate and Gold Circle Films in 2009, so it's no shock that a sequel, "The Haunting in Connecticut 2: Ghosts of Georgia," is arriving this week. The rather awkward title does indicate that this is a stand-alone story, unrelated to the first movie except for the fact that it's about a haunting and that it's based on an allegedly true story.
In this case, the movie follows the travails of Lisa and Andy Wyrick (Abigail Spencer and Chad Michael Murray), who move into a rural house in Georgia with their young daughter. The child immediately begins seeing "people" on the property who aren't there, and the family soon uncovers the source of the visitations and the evil behind it. Thrown into the mix is Lisa's sister Joyce, who comes to stay after her latest breakup and is also prey to the forces in the house.
Joyce is played by
Katee Sackhoff
, star of the current A&E crime series "Longmire" but best known to sci-fi fans as Starbuck, the hard-drinking, hard-living, hard-fighting pilot on the modern-era version of "Battlestar Galactica." In addition to her superb work on "BSG," Sackhoff has also appeared on "24," "CSI" and other series, and has other genre films coming up, including "Riddick" and "Oculus." We had a chance to speak with Sackhoff by phone about all these things and "The Haunting in Connecticut 2."
MSN Movies: How did this project get onto your radar?Katie Sackhoff: 
Well, you know, what's so funny is that I actually am engaged to one of the producers (Scott Niemeyer).
Oh.
We've been together for seven years. I was around when they did the first "Haunting in Connecticut," and I really enjoyed it. When this one was coming around, I'd just finished another movie and the pilot of "Longmire" and was trying to find something to fill a couple months before I had to go back for that. And (my fiancé) was like, "How do you feel about dyeing your hair red? You could just slide into this role and it would really give you something to do. It would really help us out and we all think that you'd be great in it." And it was a weird moment for me because I had made a very conscious effort to never work for him. I am such a pigheaded person. I never wanted help in this business. I wanted to know that I did it on my own. So it was interesting for me. But that's kind of how the role came about and how I found out about it.
I actually didn't want to do it for a couple of weeks. And then I finally had somebody say to me that you've been working since you were 15. Nobody's going to think that he you gave you a career.
This character seems a little more vulnerable than and not quite as able to take care of herself as someone like Starbuck. Is that a fair assessment of Joyce?
Oh, 100 percent. When I finally decided I would do the role, I really got excited about trying to make her as authentic as possible. We didn't get to meet the actual family until we were almost done filming, so we kind of were just left with what was on the page. So I kind of did some backstory on her. I decided that if this is a woman that's moving in with her little sister and needs help because another man has broken up with her, and she drinks too much, she's obviously masking something, and she's got some deep pain that she's not wanted to deal with ever. I used that as an opportunity to try and make her probably the weakest character I've ever played. But I wanted to maintain a bravado to her because she acts like she's OK until she's not.
Is it better to not meet the real person in a situation like this because maybe you don't want to be influenced by them? Do you just want to play the character as you see it?
It's a different thing. You know, when I played Starbuck I didn't ever want to see the original because I didn't want to constantly be doing things that he would be doing. But I think when you were playing somebody that's real and still alive, you want to make them as authentic as possible. Obviously with a movie like this you're going to take some creative license there, and we did. But I would have actually loved to have met them sooner. They didn't live where we were -- they were actually in Georgia and we were shooting in Baton Rouge -- so it wasn't just like we could just come on down. They had to actually go on vacation, basically, to come to the movie set.
How did the house come about? Was it built for the movie or a found location?
It was actually a location they'd found just outside Baton Rouge. It was on this farm owned by a family, and they had this really old beautiful house that they'd been maintaining for film production, actually. Since Louisiana's got the tax credit (for film production), so many people had been coming there that they realized that they had this amazing opportunity to have people use their home. They actually moved themselves into a trailer on the property to be able to have the house be available to people. It was such a rare beautiful find because the house was stunningly perfect. It was really great.
Do you believe the story? Do you tend to believe what the family went through was a true experience or at least seemed real to them?
If you'd asked me this 10 years ago, I would've said that, no, I don't believe. But I think that everybody is open to different experiences in their life. And if they said this did happen, then I do believe them. I, myself, have had one or two experiences, actually, where nothing else made sense. Nothing else could have justified what I'd seen other than just having to accept that I saw something that was paranormal to some extent. I wasn't asleep; I didn't make it up. So I'm going to just have to make the decision for myself and let it go, and do the same thing for them.
You continue to be involved in science fiction projects, and one big movie you have coming up is "Riddick," the sequel to "Pitch Black" and "The Chronicles of Riddick." Can you talk about that?
It was just great. "Riddick" is phenomenal. I've been a fan since I was -- I'm not going to say little 'cause that ages all of us -- but I'm a huge science fiction fan. I love Vin Diesel. I love (writer-director) David Twohy and what he's done with the series. To have been able to be a part of it is a dream come true. I couldn't be more thrilled with the opportunity and how it turned out. I'm just ecstatic.
And coming up after that is a movie called "Oculus."
"Oculus" is a movie with myself, Rory Cochrane, this Australian kid named Brenton Thwaites who was just cast in the new "Transformers," and Karen Gillan, who was in "Doctor Who." It's another scary story and it's absolutely terrifying. It was written and directed by a man named Michael Flanagan, who had written another movie that I'm getting ready to produce. And so I was already aware of him, and when the opportunity came up, I kind of jumped because he's a phenomenal writer. We don't have a release date for "Oculus" yet, but they're going for sometime in fall.
Do you miss Starbuck or "Battlestar Galactica"? Do you look back at her fondly, and do you stay in touch with the other cast members?
I don't miss the show as much as I miss the opportunities. I think that it was a
lightning-in-a-bottl​e
experience and, you know, there was so much camaraderie and ownership of each role that we all had. There really was this trust that the producers and the writers gave us and said, "Do whatever you want to do. If you don't feel you'd say it, don't say it, change it." So we had a lot of individual ownership over our characters that really felt special. You don't get that. I haven't had it since. I don't miss the people, though, because Tricia Helfer is my best friend, I see her constantly, and I hang out with Michael Hogan all the time. So I see everybody quite a bit.
The show has continued to linger on with people. Why do you think it's retained such a great position in people's minds and fan culture?
Honestly, I think that because it was science fiction we were able to get away with more than a regular show that was based in reality would have gotten away with. At a very precarious time in our history, we were able to talk about things that were inappropriate and hard to talk about and that made people feel uneasy. And so it became a very, very relevant and important show. We were allowed to be so groundbreaking because it was science fiction -- and we got away with it.


"The Haunting in Connecticut 2: Ghosts of Georgia" opens in limited release and on VOD on Friday, Feb. 1.