Across the Universe: 'The Last Exorcism Part II'
Star Ashley Bell repossesses disturbing role in sequel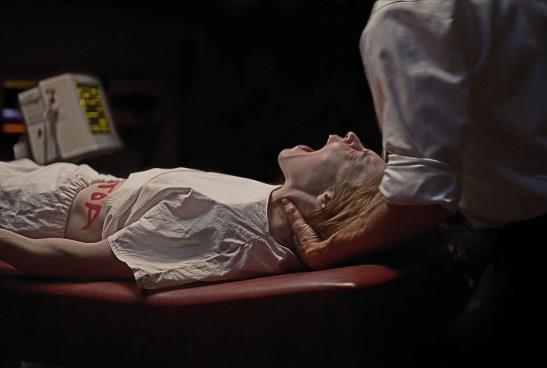 "The Last Exorcism" was a 2010 horror film, shot in "found-footage" style, about an evangelical minister named Marcus (Patrick Fabian) who has lost his faith after years of "exorcising" people who aren't actually possessed by demons but think they are. He decides to retire and come clean about the fraud he's been perpetuating with the help of a documentary crew, but he first embarks on one last trip for one last exorcism -- of a farmer's daughter named Nell (Ashley Bell)
"It changed everything for me," says Bell of the first film's success when we speak on the phone a few months before the sequel's release. "That was my first lead role in a film, and it completely changed everything for me. Without having done that film, I wouldn't have been in consideration for all these other really strong characters I've gotten a chance to play and just this whole world I've been exposed to."
Bell received an Independent Spirit Award nomination for Best Supporting Actress for her performance as Nell, which was genuinely harrowing and also quite skillful: For much of the film's running time the viewer is never quite sure if poor Nell is simply mentally unstable or truly possessed. Bell's exceptional ability to contort herself physically adds to her unsettling presence on-screen (and leaves one feeling sore just watching her).
"I love this physical track that I'm on," enthuses Bell, who was recently seen in the gritty post-apocalyptic action film "The Day." "It was so unexpected from the first film, too. You know, the night before we shot the barn scene, I showed (director) Daniel Stamm the back bend that I did and he was like, 'Great, let's do that tomorrow.' Ever since then I've been allowed to do a lot of my own stunts, and I'm really enjoying this path I've been on."
While the first film was Marcus' story, "The Last Exorcism Part II" is squarely Nell's tale, as she is found in the woods with no memory of the first movie's events but with the entity that did apparently inhabit her body back and ready for more. "Playing Nell just struck me so deeply," says Bell about the role. "I fought to play her in the first one, and it was just incredible to inhabit that character. She really stuck with me. I never thought I'd get a chance to step into her again -- or into those Doc Martens again (laughs) -- so when the opportunity to do the sequel came along, I was really excited to go back and see what else there was to experience."
The experience does promise to be different this time: The found-footage format has been dropped in favor of a traditional approach by director Ed Gass-Donnelly ("Small Town Murder Songs"), who replaces the first film's Stamm. Bell says, "It was absolutely seamless working with Ed. He is so brilliant and such a perfect fit. What was exciting about Ed was that from the second I met him, I felt like he's not just a director, but a visionary. He had such a strong idea and vision for what he wanted the second one to be, how he could bring it to life, and he created an incredible world. It was wonderful to be able to work him  and he's amazingly talented."
But Bell says that many of the other creative elements remain in place: "It's the same minds as the first one -- (producer) Eli Roth, Strike Entertainment and Studio Canal -- and they made it scarier than the first. I'm very excited for audiences to see it, because when I read the script, I was so shocked and so scared. I didn't know how they could outdo the first film."

"The Last Exorcism Part II" is out in theaters Friday, March 1.