Across the Universe: Witches brew
Our favorite screen witches and warlocks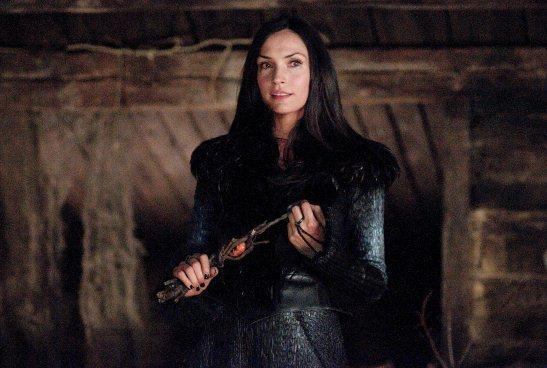 "Hansel and Gretel: Witch Hunters" arrives in theaters this week, starring Jeremy Renner and Gemma Arterton as grown-up versions of the famous fairy-tale siblings, now armed to the teeth and scouring the countryside for every witch they can find. Famke Janssen plays Muriel, a particularly evil sorceress who plans to sacrifice as many children as she can during an upcoming gathering of her brethren -- an event that Hansel and Gretel clearly want to cancel.
Witches and their male counterparts, warlocks, have been a staple of horror and fantasy screen fare since the earliest days of cinema, first achieving prominence in the 1922 cult classic "Haxan: Witchcraft Through the Ages" and achieving pop culture status when the Wicked Witch of the West took flight in "The Wizard of Oz." We don't know if Muriel will join their ranks, but here are some of the necromancers we've enjoyed watching over the years:
Related:
Twisted fairy-tales

The Wicked Witch of the West ("The Wizard of Oz," 1939):
OK, she's not that scary these days (unless you're under 10 years old), but she's still the original. Margaret Hamilton was the quintessential Wicked Witch, and her look and performance remain indelibly part of pop culture. All right, we admit it: She still scares us sometimes.
Julian Karswell ("Night of the Demon," 1957):
Got to give the men some attention too. Irish actor Niall MacGinnis is sensational and unsettling as the supremely arrogant and malicious warlock who aims to shatter Dana Andrews' skepticism and take his life at the same time.
Asa Vajda ("Black Sunday," 1960):
Mario Bava's first official film as director, this Gothic masterpiece turned Barbara Steele into a horror icon as she played both the resurrected witch Asa and her latter-day descendant in a blazing portrait of both corruption and innocence. Plus there's a vampire in it!
Elizabeth Selwyn ("The City of the Dead"/"Horror Hotel," 1960):
This one scared the crap out of us as kids, with Patricia Jessel playing the witch who controls the small New England town of Whitewood and demands a sacrifice every year. Jessel (who died just eight years later at 47) is thoroughly unnerving, as is Christopher Lee as the head of her coven.
Mocata ("The Devil's Bride," 1967):
More ghastly shenanigans from the male side of the aisle as this supreme warlock (played by Charles Gray, who played the narrator in "The Rocky Horror Picture Show") sets out to claim new victims for his satanic cult. You know things are pretty dark when Christopher Lee plays the good guy.

Angelique ("Night of Dark Shadows," 1970):
Played by Lara Parker, 19th-century witch Angelique returns from the dead to seduce Quentin Collins (David Selby), the present-day incarnation of her lover Charles Collins. Parker is a seductive, erotic presence in this atmospheric second spin-off of the original TV series (both of which are far better than the Tim Burton mess from last year).

Helena Markos ("Suspiria," 1977):
Italian horror master Dario Argento's masterpiece keeps its horrid witch, who "runs" a dance academy as a front for her coven, offscreen for almost the entire length of the film, but her appearance is just the final nightmare after the hangings, disembowelments, rains of maggots and reanimated corpses that happen at her command.
Alexandra, Jane and Sukie ("The Witches of Eastwick," 1987):
Cher, Susan Sarandon and Michelle Pfeiffer inhabit these three suburban sorceresses in George Miller's movie, making witchcraft as sexy and fun as possible -- even when they have to team up to ward off the advances of the devil himself, played by Jack Nicholson (naturally).

Nancy Downs ("The Craft," 1996):
There are four teen witches in this sleeper hit -- Neve Campbell among them -- but none more dangerous than Nancy (Fairuza Balk), the first of the four to use her powers for murder and who leads the pack in outright evil intent. Balk gives an intense performance in an underrated film.
Elly Kedward ("The Blair Witch Project," 1999):
Hanged in 1785 for witchcraft, Elly haunts the woods of Burkittsville, Md., for the next 200 years, doing all kinds of nasty things to anyone who crosses her path. Elly is so frightening because we never see her: She is the invisible yet terrifying presence at the heart of this still creepy movie.

Bellatrix Lestrange (the "Harry Potter" films, 2007--2011):
Brought to life by the awesome Helena Bonham Carter in the last four "Potter" pictures, Bellatrix is one of the darkest characters in the series -- quite a distinction in a franchise stuffed with witches, wizards, monsters and magical beings. Her feral intensity and gleeful malevolence add a touch of horror to the "Potter" proceedings -- as all witches should.


"Hansel and Gretel: Witch Hunters" is out in theaters on Friday, Jan. 25.