Across the Universe: Scripting 'The Hobbit'
Philippa Boyens discusses writing the new trilogy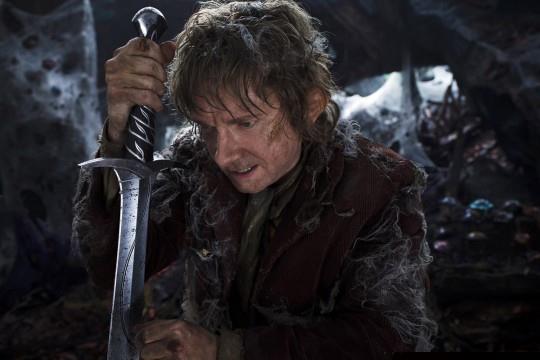 By Don Kaye
Special to MSN Movies


Since the late '90s, Philippa Boyens has worked with director Peter Jackson and his wife, co-producer/writer Fran Walsh, on all their films, including "The Lord of the Rings" trilogy, "King Kong" and "The Lovely Bones," as a co-screenwriter and producer. Their teamwork has been seamless, and it's hard to tell what Boyens' individual contributions are -- but that's meant as a compliment, since she clearly has a chemistry with Jackson and Walsh that, especially on the "Rings" films (for which she won an Oscar), has clicked over and over again.
Bing:
More on Philippa Boyens
|
More on 'The Lord of the Rings'
Now the trio have adapted Tolkien's pre-"Rings" book, "The Hobbit," initially as two movies and now as three, with the first, "An Unexpected Journey," out this week. We spoke with Boyens about adapting the book, working with Guillermo Del Toro (who was initially brought on board to co-write and direct) and making a "Hobbit" that fit perfectly with "The Lord of the Rings."
MSN Movies: The first time, on "Rings," you had to sort of compress some of the story, but this time, it was about expansion. So talk about the difference and going in one direction as opposed to the other.


Philippa Boyens: Actually, it was a surprise. I think if we hadn't written "The Lord of the Rings" first, this would have been one film, probably. On some level you could imagine "The Hobbit" as one film, but when you actually go into that world, which is what we did, you see how much story is in that little book. What we began to understand was there's way more in there than you imagine just in terms of action, sheer action. Even when we broke it down into two films, one of the questions was, "What do you leave out?" You can have a sequence in "The Hobbit" where Professor Tolkien talks about a thunderous battle going on between stone giants. It's like two sentences long, but you can imagine what Peter Jackson's going to do with that, though, as soon as he gets his hands on it. Do you leave out the stone giants? No. God, no. You don't want to leave out the stone giants. You don't want to leave out the goblins. You don't want to leave out the spiders -- you know, it's huge.
We were also were writing for people like Sir Ian McKellen, who had created Gandalf; we were writing for Andy Serkis, who is playing Gollum. These are incredibly wonderful, talented actors. We never wanted to underwrite the story for them or not explore the characters that they had already created to the fullest. And likewise for Bilbo Baggins and for Thorin as well. So all of those organic elements just came to be here and that's why this little children's book -- it suddenly became one of those things where you just had to let the story find its own level, and truthfully, honestly, when we did that, it became these three films.

When you're writing these action scenes or fleshing them out, how much of that is actually on the screenplay page, and how much of it ends up being devised in the digital labs and on the set?

I think even one thing we know from doing "The Lord of the Rings" and one thing certainly I learned as a writer is if you don't care about the action that's taking place, it doesn't matter how good the effects are. It doesn't matter how good the visuals are, you know -- if this isn't being driven by your investment in the character and their story, people don't care. I mean, they'll enjoy looking at it, but they won't necessarily care. And I think that if you ever ended up in that situation, you would not be doing justice to Professor Tolkien's work because he understood war; he understood battles because he'd been in them and in one of the worst mankind's ever seen, World War I. A lot of his writing was informed by that. So that's where you find some of the scenes that we came to in terms of writing those battle sequences.
When you were writing, did you know already that, say, Ian McKellen was coming back, making you able to relax and know that you have his particular voice to write to?


Yes, that was an assumption. I don't know the logistics of how tied down his deal was, but that's certainly, you know, there was never any point at which we did not imagine him saying the words.
When the decision came about to then expand from two films to three films, did that have an effect on this script for this film? Did you have to change things around?
Yes, it did. There are certain pieces of the backstory that we wanted to tell, such as the Battle of Moria, which is in the appendix, which we would never have got the chance to tell if we didn't take that chance to do three films. So, you know, you can say in reportage that orcs and dwarves hate each other and they are ancient enemies, or you can take that chance to show something -- you know, show how powerful and deep that hatred goes, which is one of those things that we wanted to do.

Can you talk about the actual writing process? Do you and Peter and Fran get together in a room? Do you pass things back and forth? How does it work between the three of you?
We always start together. We start often with a whiteboard. We like it 'cause we get to write with the director, and we always start together, the three of us as three writers. You know. Pete's a really good writer in and of himself, but at some stage he steps back and you can see the director's hat coming on. But one of those things he does know and one of the places where we start, which I think is always critical with screenplays, is tone. What is the tone of this film, what kind of film are we writing, why are we doing it, why do we want to tell the story, what is it about the story. We start with the big questions and then we look at the landscape of the film, literally the action plot, the character arcs, all of those sort of things.
We do all of that together, then we start with the first draft and often we break it up and we'll go and do it, but everyone gets a pass through each sort of moment. And then by that stage, we're usually into preproduction and Pete begins to take on more and more of the role of the director and we start seeing concept art coming through that starts to inform the way you write stuff. And then it tends to go through the rewriting process, the revision process of me and Fran, as she has famously said, sitting in bed in our pajamas and writing and rewriting, working it out with the actors, working it out with Pete, as the director. We're lucky. We're very, very lucky as screenwriters to be able to do what we do as part of that organic process. It's liberating, I have to say.
How did Guillermo fit into that mix, and how much of his fingerprints would you say remain on the final product?
Number one, he's a phenomenal filmmaker and in many ways I would still love to have seen his "Hobbit," you know. It would have been different to this, but it would have been brilliant, I'm sure. One of the things that I think he did for us was he was incredibly excited to do it and he brought fresh eyes to this world. And we were probably a little jaded, you know. There was probably that thing of stepping back into a place where you'd been there before, but he helped me personally go back there with really fresh eyes and helped me see the world through his eyes. And it was great; it was wonderful. Having said that, you know, once he made the decision (to leave), we kind of did start again because we were no longer writing for Guillermo. We were writing for Peter. And they are different filmmakers. You know, they have different visions for it, so that's what we did, But one of the best experiences of my life was getting to see the way Guillermo's mind works. It's extraordinary.

With this particular story, you have a group of 15 people this time around to write for, including 13 dwarves. We see a couple of the dwarves step forward in the first movie, but do you try and give everyone a chance to shine at some point or another?
Having written for a large cast (on "Rings") already made this a lot easier, and one of the things I learned on "The Lord of the Rings" is you don't rush that piece of storytelling. There is a natural place at which you find a spot for the audience to get to know and fall in love with each character. Forcing that can be the wrong way to do it; in other words, it's quite a lot for the audience to take on when 13 dwarves tumble through the door. So we had an understanding of just allowing that to organically happen.
You'd never write a screenplay with 13 dwarves; you just wouldn't do it. Until you understand that -- and it's buried there in the storytelling -- that there's far too few of them, that they need an army, that they are absolutely crazy, 13 dwarves taking on this quest, this path. Taking on a dragon. They're nuts. So as soon as we reached that in the storytelling and refocused it in that way, it became less of a problem. I think the audience, the ones that I've seen so far, anyway, go with that storytelling.

"The Hobbit: An Unexpected Journey" opens in theaters Friday, Dec. 14.