Across the universe: The journey continues
Part 2 of our surprise set visit to 'The Hobbit'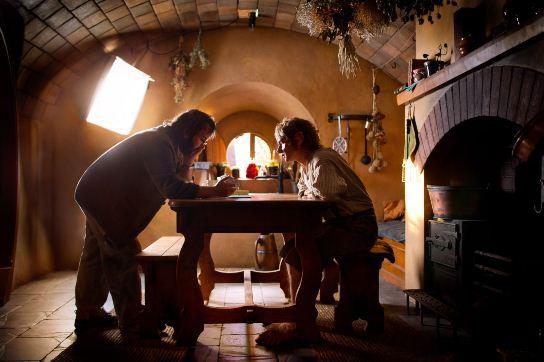 By Don Kaye
Special to MSN Movies


Our visit to the world of "The Hobbit," on location down in Wellington, New Zealand, has taken us to two separate studios (to watch scenes we can't tell you about yet, because they'll appear in the second movie, "The Desolation of Smaug," and we're here to talk about "An Unexpected Journey"), the headquarters of Weta Digital -- Peter Jackson's pioneering visual effects shop -- and Weta Workshop, a cool, unassuming little building where all those nifty weapons, costumes and creatures are created.
Bing:
More about 'The Hobbit: An Unexpected Journey'
|
More about Peter Jackson
But a movie always comes down to the people, and in this case "The Hobbit" is full of them. In addition to returning "Lord of the Rings" cast members like Ian McKellen and Orlando Bloom, "The Hobbit" features a bunch of new faces -- 14 of them, in fact -- who are the main heroes of J.R.R. Tolkien's tale.
Those 14 folks would be the 13 dwarfs headed on a quest to reclaim their gold from the Lonely Mountain which is guarded by the monstrous dragon Smaug, plus the one little hobbit, Bilbo Baggins, who joins them on their mission. Played at a later age in "Rings" by Ian Holm, Bilbo is portrayed here, some 60 years earlier in his life, by Martin Freeman, the British actor who may be best known to American audiences for his excellent work as John Watson in the BBC series "Sherlock."
Sitting down in the commissary during a lunch break, the compact Freeman looks every inch what you'd imagine Bilbo to look like (fans were campaigning for him to get the job), and speaks softly to the assembled reporters about what it was like to play the beloved character for the first time. "Well, the first week or two even, maybe, was the Gollum's cave scene for me. That was the first day on set, so I was working with Andy (Serkis) as Gollum, which in itself is interesting. Fascinating as a baptism of fire. But friendly fire, because he's so good, that character is so beloved, and he knows that character, obviously, as well as anybody knows anything..."
Freeman continues, "So the first days on set for me were about finding out everything -- you find out so much in those first few days. You just come along, in a way, and be open and ready and receptive. And bring whatever you've got to bring, but don't bring too much because it's not a done deal yet. And it grew as the weeks and months went on, really."
The natural question is whether Freeman looked closely at Holm's work in the original movies and based his own performance off that. "I'd say not really," he replies. "I knew it, and I've watched the films again, obviously, in more detail before I came to this. I looked at Ian's more when I needed to... I don't really know how much I should say, but there were points where it was relevant for me to look very closely at Ian's performance. But generally, no. Because -- I know why I'm cast, do you know what I mean? We're not that dissimilar, physically, or whatever else.
"All I was told, which I think was flattery, and probably bollocks, was, 'You are the only person to play it.' So I thought, 'Well, if they think that, then I've to trust that.' And there's only so much you can run with someone else's thing. (Holm's performance is) very helpful, in the way that it's brilliant as he is always brilliant, and it's a beautiful establisher of that character, and a very loved one, for obvious reasons...But I think the work for that connection was done in the casting of me, rather than what I'm then going to do on top of it."
On the larger scale of things, Freeman admits that having a part -- especially the lead -- in a legendary work like "The Hobbit," not to mention other iconic works like "Sherlock" and even "The Hitchhiker's Guide to the Galaxy," does not leave him daunted at all. "No, I'm not. And again, that's not because I think I'm great, it's just because I think it wouldn't be helpful. And that's not to say that...I could still be really scared. But no, I'm not.
"Of course there are times when I get insecure about it. Every actor is riddled with insecurity, of course. But weirdly, I don't really find that I'd be daunted with taking on roles or anything. And I think it's partly because I wasn't steeped in 'Hitchhiker's,' or 'Sherlock,' or Conan Doyle, or Tolkien. If you'd say, 'You're joining the Beatles now,' then I'd be like, 'Jesus!' But this is not my Beatles."
Freeman cheerfully calls the rest of the ensemble "remarkable," which is as good a way as any for him to exit, while dwarfs in full costume, wigs and makeup are brought to the table in twos and threes. One actor flies solo, however, and that is Richard Armitage, who plays the leader of the dwarfs' company, Thorin Oakenshield. Armitage's dark hair and piercing eyes could make him a natural to play James Bond, but instead he's here now as the bearded (his is the only one that's real), officious and stern leader who wants to reclaim his family treasure from Smaug the dragon.
"I knew 'The Hobbit' was being made, but I would never have connected myself with a dwarf," says Armitage with a laugh. "I didn't really ever think that it would happen, because I figured, why would they want a 6-foot-2 guy to play a dwarf? And even through the early days of rehearsal and shooting, I didn't really unpack my bag for about three weeks, 'cause I thought that I was going to be on the plane going home. But yeah, it's worked out all right."
Unlike the more comic Gimli in 'The Lord of the Rings,' and some of the company in 'The Hobbit,' Thorin is a more melancholic character with a dark edge -- he is haunted by his family history of "dragon sickness." "His father and his grandfather have been touched by this dragon sickness," explains Armitage. "It's this attraction to gold which becomes their downfall, and has always been at the back of his mind. I think the burden of taking his people back to their homeland, which is so massive, makes him a lonely figure. He knows that his grandfather failed, and his father failed, so if he doesn't do it, there's no other member of his line that will ever do this."
The other dwarfs are much more comic in appearance and demeanor, starting with Peter Hambleton as Gloin, Mark Hadlow as Dori and Jed Brophy as Dori's brother, Nori. "There's various sets of brothers," says Hambleton. "And my older brother Oin, who I respect and revere enormously, gets on my nerves quite a lot. So there's all sorts of different textures of loyalty, affection, family feuds, family versus family, where our family is a bit suspicious of that gang over there. So there's plenty of little friction-y things, and individual idiosyncrasies, but we're very united and rock-solid as a team."
"In terms of our personalities, we were given quite a lot of scope; in terms of the personalities, we were allowed to bring to the characters," says Brophy about giving each dwarf his own flavor. "But the story has very clearly defined people telling it, and in terms of the fans and in terms of the people who know the story, they have to pay tribute to that as well. So there's a fine balance between us bringing too much personality that's not written, but enough to make them individual from each other. So in terms of making them individual, we had a great deal of scope, and Peter's great at pulling back on if you do too much. But he's rather see too much than too little."
We meet more of the other  dwarfs: John Callen as Oin, William Kircher as Bifur (the "guy with the axe in his head" is Kircher's description of himself), Graham McTavish as Dwailin and Stephen Hunter as Bombur. Then lunch is over and it's time for all involved to get back to filming. Kircher has the last word: "We're all very privileged to be working on this, and that goes for all of the cast. It is our adventure as a group of actors. All of the actors in this, whether they're from New Zealand or Kiwi, or the U.K., everyone mirrors the story of the film. We're all in there at the start, and we're all on this insane adventure. And we're really doing the stuff."
To be continued next year with more from the set of "The Hobbit: The Desolation of Smaug."
"The Hobbit: An Unexpected Journey" is in theaters December 14.