NBC's Season 4 'Community' premiere is an homage to 'Hunger Games'
Get ready for 'The Hunger Deans'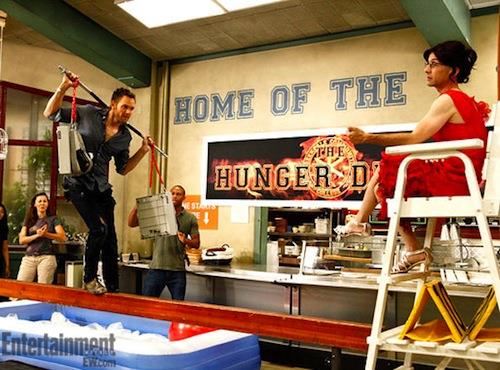 Fans of the NBC sitcom "Community": Let the games begin.
For its Season 4 premiere
"Community"
will pay a homage to
"The Hunger Games"
with 'The Hunger Deans.' 
Bing:
More about 'Community'
|
More about 'The Hunger Games'

From
EW.com
:
Now NBC has finally released a preview clip from the episode itself, complete with a snarky introduction by Joel McHale, Danny Pudi, and Jim "The Dean" "Also an Oscar Winner, How Weird Is That" Rash.

As the video explains, Greendale is facing a quandary: Too many students have signed up for a class called The History of Ice Cream. The solution? "The Hunger Deans," a tournament testing strength and agility. Those who win its events will also snag a spot in the ice cream course. (The losers, presumably, will just have to go home and eat ice cream by themselves.) Spoiler alert: The Dean makes an excellent Effie Trinket.

This sneak peek won't disappoint:
Originally set to air on October 19, 2012, the premiere was delayed and will now broadcast on February 7, 2013, 8 p.m. ET/PT.
Check out MSN Movies on Facebook or Twitter.For more "Hunger Games" news, like the Hunger Games Blog on Facebook.