Wall Street predicts 'Catching Fire' will 'be biggest movie of 2013'
It's possible, but there will be stiff competition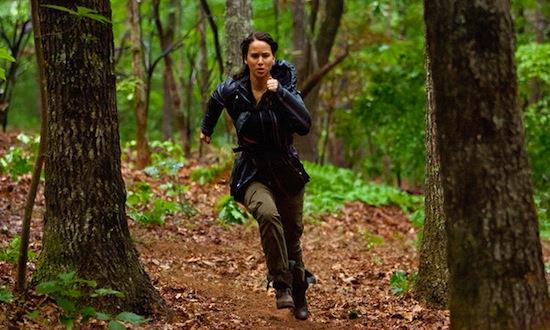 According to
Forbes
, Wall Street predicts that
"The Hunger Games:  Catching Fire"
will be "the biggest movie of the year."  That, on top of
Fandango
's announcement that it was voted "The Most Anticipated Blockbuster" of 2013, puts some major pressure on the second installation of this franchise.
Will it perform as well as, or even surpass,
"The Hunger Games"
?
Although "The Hunger Games" had a domestic gross of $408M, it's overseas gross was only $278.5M, bringing its worldwide grosses to $686.5M.  That is an impressive profit margin when you consider that the movie had a $78M production budget. 
Bing:
More about 'The Hunger Games'
|
More about 'Catching Fire'
But compared to that other mega teen franchise, "The Twilight Saga," it is evident that "The Hunger Games'' overseas audience is not as strong as its home audience.  Not yet, at least.
As an example, let's compare the numbers to the highest domestic-grossing "Twilight" movie, "Eclipse"—it had a $300.5M domestic gross, but $398M overseas.  The numbers for the last installment, "Breaking Dawn, Part 2," are even more astonishing:  $289.2M domestic, but a whopping $524.7M overseas, for a worldwide gross of $813.9M. 
Forbes seems to agree:
"I think Catching Fire is going to be huge in the U.S. but when you take the international box office into account, the film will struggle to be the top grossing of 2013. The first 'Hunger Games' movie was the only film of the ten highest-grossing at the global box office that earned less overseas than it did in the U.S. Only 40% of 'The Hunger Games' $687 million came from outside of the U.S. Compare that to 'The Avengers,' the highest-grossing film of 2012 with $1.5 billion at the global box office. Sixty percent of that film's gross came from overseas.... Unless 'Catching Fire' suddenly catapults the 'Hunger Games' movies to greater popularity overseas, the film will struggle to top the box office for the year."
There will be serious competition at the box office in 2013, with many movies that appeal to the geeks and teens:  "Iron Man 3," "Man of Steel," "Star Trek Into Darkness" and the second "Hobbit" film.  It's going to be a fantastic year of movies!
Share your thoughts in the comments.