Philip Seymour Hoffman on why 'The Hunger Games' is good for kids
Actor says he's a fan of Suzanne Collins' trilogy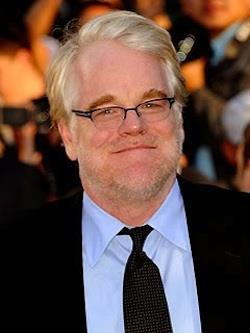 Philip Seymour Hoffman
, who'll be playing head gamemaker Plutarch Heavensbee in the next three installations of "The Hunger Games" trilogy, explains to the
Wall Street Journal
why he's a fan of
Suzanne Collins'
work, and why it's something kids should see:
Bing:
More about Philip Seymour Hoffman
"It's unbelievable what this woman has done," the actor said in an interview. "She literally tells our modern history of war and the awful things that have happened through these science-fiction novels. In the modern day, we send children off to die to protect our way of life, basically. It's very powerful the way she does it."

His amazement at Collins' books made him say, "I'm in. I want to be a part of that," he said. Despite the film's bloody premise, he said the full story gives a very different message than simply "kids who kill each other." According to him, if the films are done well, they are something kids should see.

Hoffman said since his role in the "Catching Fire" book isn't very big -- Plutarch Heavensbee takes over from Seneca Crane as Head Gamekeeper. But the film's writers added more to his character. Then when he films "Mockingjay," everything changes.

"I'm looking forward to the next two [films], because his job becomes very different," Hoffman said of Plutarch's role. "The story becomes very different and everyone will see what happens."

"Catching Fire" is out in theaters Friday, Nov. 22.
Check out MSN Movies on Facebook or Twitter.
For more "Hunger Games" news, like the The Hunger Games on Facebook.


Uh....hate to break it to him but we don't "send children off to die". The Amercian Armed Forces are all Volunteer and you know what you are doing when you sign that paper. Plus I am fairly sure there are no teenagers or children in the ranks. The fact a soldier may be younger than him does not make that soldier a 'child'. There is no "required service" as in Europe when a boy reaches 18 and no one is forcing people to join the army. But as always the truth has to be twisted to prop up the Hollywood need to preach down our throats. And that's the saddest part of all. Now if he wants to see real 'child soldiers' he can go to Somalia and look at the ten-year-olds carrying around AK-47's and wearing bandoliers of ammunition while they get high on cot.
Are you sure you want to delete this comment?