'Prometheus 2' script being worked on, says star
Sequel to Ridley Scott's sci-fi epic could happen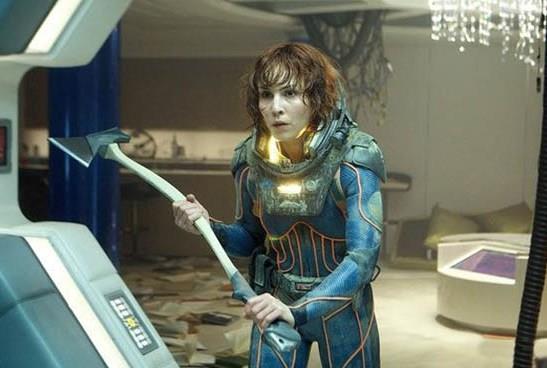 Although director Ridley Scott's "Prometheus" was not a screaming blockbuster and one of the more divisive genre films of last year, the movie's star says that work on a sequel is underway.
While doing press for her upcoming movie "Dead Man Down," Swedish actress and "Prometheus" star Noomi Rapace was asked by
The Playlist
about the possibility of a "Prometheus 2" happening. Her reply:


     "They're working on the script. I met Ridley in London a couple of weeks ago. I would love
     to work with him again and I know that he would like to do another one. It's just like we
     need to find the right story."
She's right about that. "Prometheus" had all the makings of a modern sci-fi classic: the director of "Alien" and "Blade Runner" behind the camera, the co-creator of "Lost" working on the script, a cast featuring the likes of Rapace, Michael Fassbender, Idris Elba and Charlize Theron, and a story set in the "Alien" universe that would tackle cosmic questions about the origins of humanity.
But while the 3D film was still one of the most awe-inspiring visual experiences we had in a theater last year, the narrative got bogged down by some of the stupidest character behavior ever seen from supposedly brilliant scientists, motivations and plot points that seemed to be deliberately left vague for a potential sequel, and a sop to "Alien" fans that came off as unnecessarily forced into the picture.
Still, "Prometheus" made around $400 million around the globe, so the audience could potentially be out there for another chapter. If Rapace has any say in it, she admitted she would like to see a sequel that gives more time to the themes left half-developed by the first picture:

     "Most people I've talked to who see the movie, see things that are quite different. Some    
      people see the movie many times and discover new things. There are all these religious
     aspects and there are very interesting conversations...if we do a second one, there are a 
     lot of things to explore in there and to continue." 
With Damon Lindelof not coming back to write the second movie (he reworked the original's more "Alien"-centric screenplay by Jon Spaihts), it's not clear who exactly is toiling on "Prometheus 2," and how closely the always busy Scott is overseeing it at the moment. But the bigger question remains: should a "Prometheus 2" move forward? And can a sequel correct the massive flaws that stopped the first film from being the genre masterpiece we all wanted it to be?