Across the universe: 'Battlestar' redux
New 'Galactica' prequel debuts online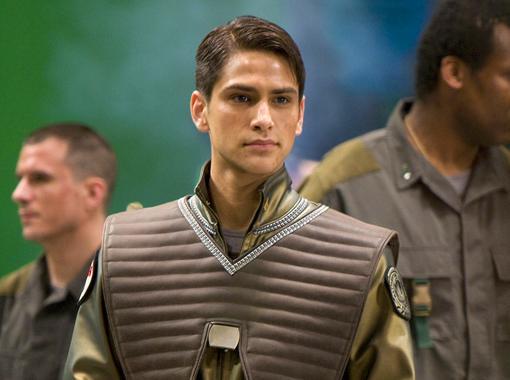 By Don Kaye
Special to MSN Movies


It's been three and a half long years since "Battlestar Galactica" ended its acclaimed and groundbreaking run on the Syfy channel, successfully reimagining the original short-lived series -- which was more a cheesy "Star Wars" rip-off than anything else -- as a gritty, dark, militaristic science fiction drama. In the interim, one prequel series, the rather dreary "Caprica," launched and crashed after just one season. But now a new prequel movie, "Battlestar Galactica: Blood and Chrome," is here. Originally announced as a full TV series, then cut back to a single movie, "Blood and Chrome" is debuting online in 10 parts before airing next year on Syfy.
Bing:
More on 'Battlestar Galactica'
|
More on 'Blood and Chrome'
"Blood and Chrome" follows a young William Adama (Luke Pasqualino, in the role played in the series by Edward James Olmos) as he gets his first space assignment on the Galactica, the newest ship in the Colonial fleet, and also has his first encounters with the dreaded Cylons during the first Cylon War. The film is meant to showcase pivotal moments in both Adama's early life and the struggle against the Cylons, with a flavor closer to "BSG" than "Caprica" ever achieved.
While it will air as one complete film on Syfy early next year, the film has been broken into 10 chapters -- like a serial -- with the first two posted online last week
here
and
here
on Machinima's YouTube channel. The chapters will keep being posted over the next four weeks, with the complete movie airing next February on Syfy before its release (in unrated form) on Blu-ray, DVD, On Demand and digital download.
Pasqualino is no Olmos, with his weariness and gravitas, but he does radiate a youthful impatience, daredevil attitude and hunger for battle that we know will eventually serve the older Adama well. The two chapters so far introduce the character and the world of the first Cyclon War, more or less capturing a slightly lighter and "Top Gun"-ish version of the grim tone that made the series so bracing and compelling.
The writing may not be quite as sharp as we've been used to in the past, but the second chapter in particular propels the plot forward in a way that "BSG" fans will approve of. It involves Adama and co-pilot Coker (Ben Cotton) getting caught up in a secret mission to transport a mysterious woman (Lili Bordan) close to the edge of Cylon territory. Several shots of their Raptor gliding silently through the wreckage of a destroyed Battlestar are quite epic and eerie.
You either have the option to watch "Blood and Chrome" in serial fashion online or wait until February when you can see the movie in its entirety on Syfy and/or Blu-ray/DVD. Diehard fans may not be able to handle the wait, but we're also thinking that watching the film in one sitting may ultimately be a more satisfying experience. As it stands now, "Blood and Chrome" certainly shows the potential to end the "BSG" drought for fans and, if nothing else, is breaking ground once again in the way it is being offered for viewing. Could a successful launch lead to a whole new series? We frackin' hope so.
"Battlestar Galactica: Blood and Chrome" premieres on Syfy and on Blu-ray/DVD in February 2013.